Automotive
Published on October 13th, 2023 | by Daniel Sherman Fernandez
0
BYD DENZA N7 EV Is Designed To Rival The KIA EV6 GT
DENZA N7 is a premium family vehicle which offers all-wheel drive and rear-wheel drive options
Thanks to its blade battery pack, this DENZA N7 claims that its driving range is very impressive 630 km and 702 km respectively.
This means, it has a longer battery driving range than the KIA EV6 GT. The AWD KIA EV6, delivers 218PS from 4,400 to 9,000 rpm. There is a pair of powerful rear-mounted motors producing 367PS from @ 6,800 to 9,400 rpm to deliver a combined power output of 585PS and 740Nm of torque.
Interestingly, this BYD vehicle has more than just good looks. It is also the world's first mass-produced vehicle coming equipped with the DEVIALET car audio system. This cooperation witnesses DENZA become the first brand to apply DEVIALET's audio system and serves as a paradigm of international cooperation in the global automotive industry.
By the way, major interesting fact, this DENZA electric family vehicle combines BYD's world-leading power batteries, electric motors, electronic control systems with Mercedes-Benz's intelligent manufacturing capability, vehicle tuning, and quality management systems.
Another interesting fact, DEVIALET is a French acoustical engineering company operating at the intersection of luxury and cutting-edge technology. DEVIALET's mission is to elevate sound to its rightful place in people's lives by delivering uniquely meaningful audio experiences through iconic products.
So, what's the actual size of this 'almost' shooting brake electric vehicle? The DENZA N7 has a width-to-height ratio of 1.2:1 and a 0.618 golden ratio design based on the pure electric exclusive CTB platform (also used in the BYD SEAL sports sedan) and its dimensions are 4860 × 1935 × 1602mm (length × width × height) and a wheelbase of 2940mm.
The DENZA N7 features two front face designs for consumers to choose from, adopting the family-style π-Motion kinetic aesthetic design language. It is considered the world's first intelligent hunting SUV, combining the advantages of an SUV, hunting gear, and coupe.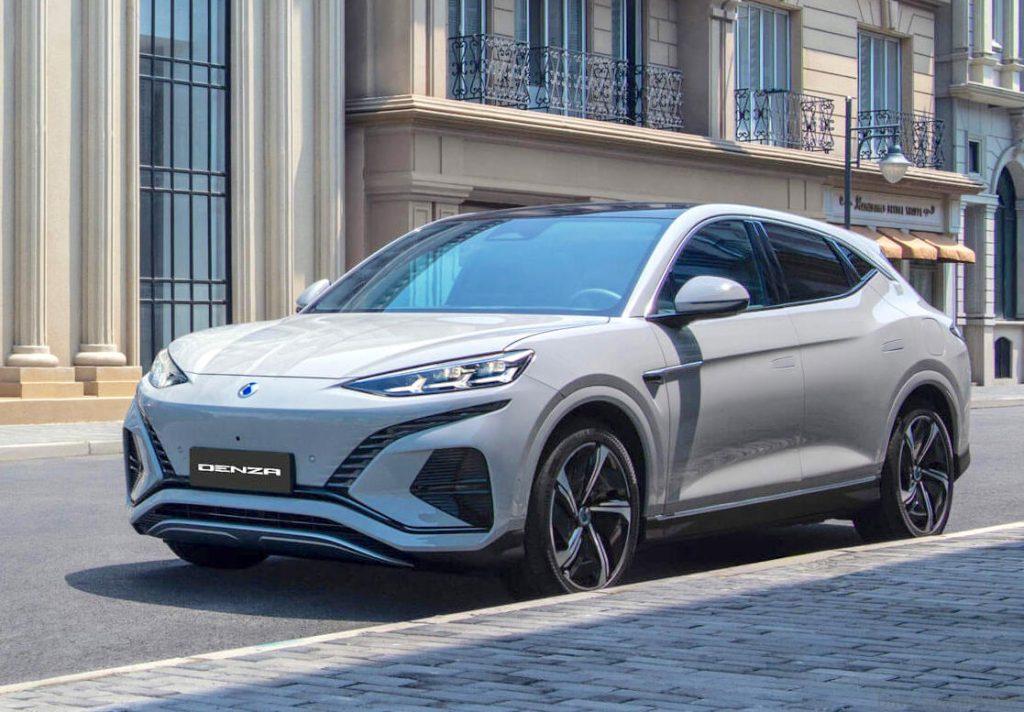 Inside, the Denza N7 boasts six screens, including a 17.3-inch central control screen, a 10.25-inch LCD instrument panel, a 10.25-inch entertainment screen for the co-pilot, an AR-HUD (Augmented Reality Head-Up Display), and dual intelligent air vent display screens. The 17.3-inch screen has a 2K resolution and is powered by a high-performance processor from Qualcomm. It will be compatible with the future 'HarmonyOS' system.
In terms of advanced driving assistance capabilities, the Denza N7 offers two versions of its NOA system, differing mainly in radar and sensors.
For power, the Denza N7 comes in two versions: single-motor and dual-motor four-wheel drive. Both versions are equipped with a 91.392kWh power battery. The single-motor version has a maximum power of 230kW and a CLTC range of 702km. The dual-motor four-wheel drive version delivers a maximum power of 390kW, accelerates from zero to one hundred kilometers per hour in just 3.9 seconds, and has a CLTC range of 630km.
In terms of power supplementation, the Denza N7 can achieve a peak charging power of 150kW with a single charging gun, and up to 230kW with dual charging guns. It can replenish up to 350km of range in 15 minutes and provide an additional 100 kilometers of range in just 4 minutes.
So, what is the DENZA D7 selling price. Well it starts from RM194,000 to a reasonable RM246,000 before logistics and dealer margins are added on top.
We guesstimate a possible selling price in Malaysia to start from RM230k up to RM288k. Sounds inviting when you read the above features, size and specifications. Yes?