Automotive
Published on October 23rd, 2023 | by Subhash Nair
0
EP Manufacturing Breaks Ground On New Car Plant In Melaka
EP Manufacturing Berhad (EPMB) are constructing a new manufacturing hub for EVs and EEVs.
Last week, local OEM and automotive parts manufacturer EPMB signed a Memorandum Of Understanding with Chinese car brand Great Wall Motor (GWM). The MOU essentially positions EPMB as the main contract assembler of GWM vehicles in Malaysia.
Now, EPMB has announced the next step in this partnership, which is to create a new automotive manufacturing facility in Melaka. The company held a ground-breaking ceremony at the site of the new manufacturing hub last week.
EPMB are working with another Chinese auto conglomorate besides GWM. The partner in question is BAIC International Development Co, a company that markets brands in China such as Arcfox and Beijing, but its more well known for their commercial vehicle brand Foton. EPMB is expected to assembled BAIC's BJ40P and X55II sport utility vehicles ("SUVs"), right-hand drive ("RHD") internal combustion engine ("ICE") vehicles.
Thew new factory would be established over several phases at the HICOM Pegoh Industrial Park. It would cost over RM100 million to construct but would also create around 1,000 new job opportunities in the state of Melaka.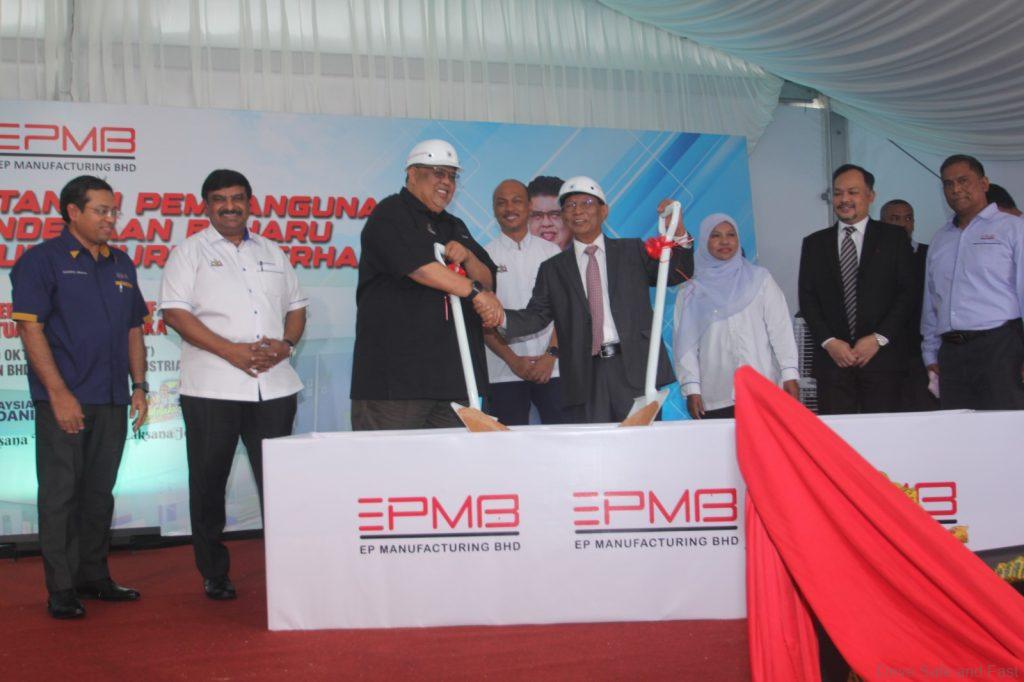 The facility will have the capacity to produce up to 30,000 vehicles annually, including electric vehicles, pick-up trucks and regular ICE passenger cars.
Datuk Wira Arham Abdul Rahman, CEO of MIDA, applauded the company's latest milestone and said, "Congratulations EPMB and BAIC for the strategic collaboration in shaping the future of sustainable mobility. Such collaboration with BAIC is a testament of their confidence in Malaysia's attractiveness as an investment destination and underscores the nation's cutting-edge automotive manufacturing capabilities, with EPMB leading the way. This new manufacturing facility, dedicated to energy-efficient vehicles (EEVs) and electric vehicles (EVs), perfectly aligns with the Low Carbon Mobility Blueprint (LCMB), National Automotive Policy (NAP) 2020 and Malaysia's New Industrial Master Plan 2030 (NIMP 2030) aspirations. These policies are rooted in harnessing opportunities in ESG sensitive markets and swiftly adopting technology to enhance the technological ecosystem of our manufacturing sector and Malaysia's commitment towards sustainable transportation."
Mr. Ahmad Razlan Mohamed, Group Chief Executive Officer of EP Manufacturing Berhad, expressed, "We are excited to share news of the initiation of our inaugural automotive manufacturing plant. The establishment of an Electric Vehicle (EV) manufacturing facility is a pivotal step in realizing our comprehensive vision of developing a 360° supply chain for Malaysia's EV market. Collaborating closely with our strategic partner, BAIC, we are poised to construct a cutting-edge EV manufacturing facility in Melaka, heralding the commencement of the next chapter in our growth trajectory. Additionally, we are keenly looking forward to collaborating with GWM, our esteemed customer, in contributing to position Malaysia as a central hub for EV and EEV in the ASEAN region."