Motorsports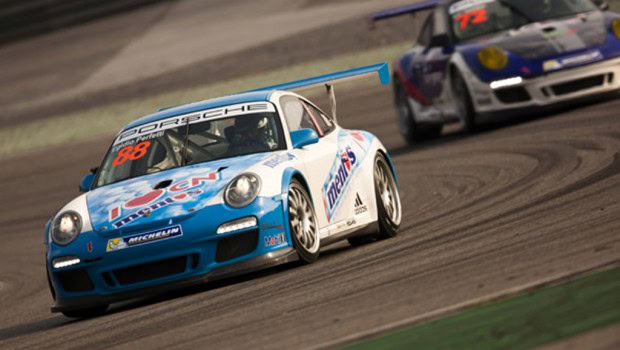 Published on October 27th, 2013 | by Daniel Sherman Fernandez
0
Porsche Carrera Cup Asia 2013 – Rounds 11 Shanghai Bamber Seals Championship Victory
Earl Bamber sealed the 2013 Porsche Carrera Cup Asia championship with an emphatic victory in Round 11, thundering from pole to chequered flag to take the title with a race to spare. The 23-year-old Nexus GSH Racing driver didn't put a wheel wrong on the way to his sixth victory in his debut season, setting the fastest lap of the 12-lap race for good measure.
Second across the line at the Shanghai International Circuit was 2012 champion, PICC Team StarChase driver Alexandre Imperatori, who is having a strong weekend on home turf. Third in Round 11, and championship runner-up to Bamber, was Team Eagle's Martin Ragginger. Ragginger spent much of the race fighting to find a way past Porsche Mobil 1 Supercup driver Ben Barker of Britain, dramatically reclaiming the final podium spot on the final lap.
Newly-crowed Class B Champion Egidio Perfetti took Class B honours after a challenging qualifying, followed home by category pole-sitter, Nexus Racing's Alif Hamdan.  OpenRoad Racing's Francis Tjia got a brilliant start to lead the Class B field for much of the race, before first Perfetti then Hamdan got by him.
Bamber's victory in Round 11 gives him an unassailable lead of 21 points at the top of the championship standings from Ragginger. Team Jebsen's Rodolfo Avila sealed third in the championship, keeping his nose clean and crossing the line in sixth.  In Class B, while Perfetti sealed the title in Singapore, by playing the long game Dorr McElrea Racing's Yuey Tan secured the runner-up spot, resisting the temptation to risk it all for a Class B podium and crucially finishing the race ahead of rival Li Chao of Asia Racing Team.
2013 Porsche Carrera Cup Asia
Results Round 11
| | | | | | |
| --- | --- | --- | --- | --- | --- |
| Pos | No | Driver/Nationality | Class | Entrant/Nationality | Time |
| 1 | 7 | Earl BAMBER (NZL) | | Nexus GSH Racing (MAS) | 22:14.038 |
| 2 | 99 | Alexandre IMPERATORI (HKG) | | PICC Team StarChase (HKG) | +2.394 |
| 3 | 86 | Martin RAGGINGER (AUT) | | Team Eagle (CHN) | +9.116 |
| 4 | 9 | *Ben BARKER (GBR) | | Team Betterlife (CHN) | +9.258 |
| 5 | 8 | Benjamin ROUGET (FRA) | | Team Yongda Dongfang (CHN) | +15.357 |
| 6 | 20 | Rodolfo AVILA (MAC) | | Team Jebsen (HKG) | +15.531 |
| 7 | 58 | TUNG Ho-Pin (CHN) | | Budweiser Kamlung Racing (MAS) | +20.313 |
| 8 | 78 | ZHANG Da Sheng (CHN) | | Basetex Racing (CHN) | +24.164 |
| 9 | 3 | *Darryl O'YOUNG | | Team Carrera Cup Asia (CHN) | +24.410 |
| 10 | 88 | Egidio PERFETTI (SIN) | B | Mentos Racing (SIN) | +37.003 |
| 11 | 72 | Alif HAMDAN (MAS) | B | Nexus Racing (MAS) | +38.318 |
| 12 | 21 | Francis TJIA (HKG) | B | OpenRoad Racing (HKG) | +39.088 |
| 13 | 68 | LI Zhi Cong (CHN) | | Kamlung Racing (MAS) | +40.625 |
| 14 | 5 | Yuey TAN (SIN) | B | Dorr McElrea Racing (SIN) | +52.970 |
| 15 | 28 | John SHEN (HKG) | B | Modena Motorsports (HKG) | +1:16.781 |
| 16 | 11 | Ringo CHONG (SIN) | | Team Kangshun (CHN) | +1:16.909 |
| 17 | 33 | Samson CHAN (HKG) | B | Samson CHAN (HKG) | +1:34.887 |
| 18 | 18 | Marcel TJIA (HKG) | B | OpenRoad Racing (HKG) | +1.35.047 |
| 19 | 22 | SIU Yuk Lung (HKG) | | LKM Racing Team (HKG) | +1:36.807 |
| 20 | 83 | Dr. MA Chi Min (HKG) | B | Dr. Ma Chi Min (HKG) | +1:37.595 |
| 21 | 96 | LI Chao (CHN) | B | Asia Racing Team (CHN) | +1:46.499 |
| – | 16 | Wayne SHEN (HKG) | | Modena Motorsports (HKG) | DNF |
| – | 27 | Adrian Henry D'SILVA (MAS) | B | Nexus Racing (MAS) | DNF |
| – | 38 | Keita SAWA (JPN) | | LKM Racing Team (HKG) | DNF |
| – | 66 | Jason ZHANG Zhiqiang (CHN) | | Team C&D (CHN) | DNF |
Fastest Lap: Earl Bamber/Nexus GSH Racing/1:50.533
Points after Round 11 (top 5)
Overall
| | | | | |
| --- | --- | --- | --- | --- |
| Pos | Comp No | Driver | Entrant | Points |
| 1 | 7 | Earl BAMBER | Nexus Racing | 199 |
| 2 | 86 | Martin RAGGINGER | Team Eagle | 178 |
| 3 | 20 | Rodolfo AVILA | Team Jebsen | 153 |
| 4 | 38 | Keita SAWA | LKM Racing Team | 117 |
| 5 | 58 | TUNG Ho-Pin | Budweiser Kamlung Racing | 113 |