Reviews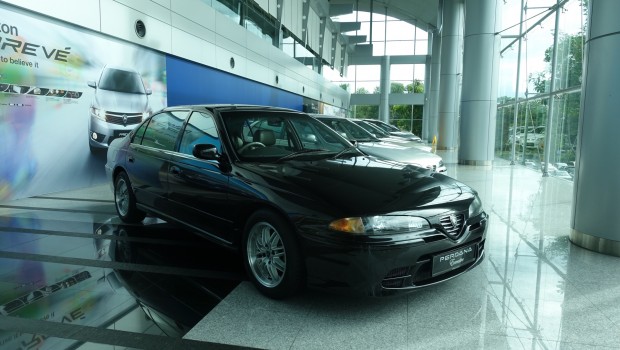 Published on August 28th, 2017 | by Subhash Nair
0
Remember the Original Proton Perdanas?
T5The original Proton Perdana was based on the Mitsubishi Eterna. Over 80,000 units were sold in its 15 year lifespan, many ending up as government vehicles. Proton's Centre of Excellence houses a few variants of these 1st generation Perdanas, and we thought we'd run through them here.
The first version of the Perdana was sold with a 4G63 inline 4 DOHC engine. Interestingly, there was a 5-speed manual option available for a short time. You can still find some units available for sale online for between RM5,000-RM12,000.
The exterior was matured and not too distinct from its Mitsubishi counterpart, especially from the rear.
The cabin may look sparse by today's standards, but against the Camry, Accord and Cefiro of its day, it was comparable.
3 years after the successful launch of the Perdana, Proton gave it a little facelift and swapped the 2-litre 4G93 engine for a 2-litre 6A12. This was the Perdana V6. Performance figures jumped from 135hp and 176 Nm of torque to 148hp and 179 Nm of torque. Lotus stepped in to give input on the ride & handling characteristics.
The V6's aesthetic was sportier, more cohesive and fit in very nicely with design trends in the 90s.
Apparently, black leather was available in the cabin. We're not sure on whether this first debuted in the V6 or on the original.
In 2002, 7 years after its initial debut, the Perdana was given another refresh. The facelift brought an 'Alfa Romeo' style triangle grille, sportier bumpers with rubber inserts and a redesigned taillight cluster. The facelift moved the reverse lights into the centre of the rear. They also threw in 16" rims, but nothing under the hood was changed.
The cabin was also slightly modernised. Black plastics were swapped for faux aluminium inserts and the dials on the instrument cluster were made more sporty. The steering too was updated. Depending on who you ask, this was either the best or worst looking Perdana. There definitely was a lot done to keep the car from looking its age, but the design cohesion found on earlier models was starting to fade.
'Real' plastics were swapped for 'Fake' metal (which were still plastic anyway), and real mechanical improvements were traded in for cosmetic sportiness.
Proton outsourced some engineering work and came up with a stretched version of the Perdana V6 called the Perdana Executive. The longer wheelbase added a very impressive 25cm for the rear passengers.
This variant more or less reflects the final version of the Perdana in 2010. The interior was cream coloured and faux wood inserts were added.
The Executive also had add-ons like a rear windows sun blind and LCD screens (though these weren't seen on the unit we photographed.