Cars
Published on September 3rd, 2019 | by Subhash Nair
0
Mazda3 1.5L Liftback Review: No-Frills Premium
Here's a car I've been looking forward to reviewing for the longest time. The all-new Mazda3 is a complete revolution for the company. A new chassis brings with it a new way of looking at their products. The new 3 is markedly more premium in the way it drives, looks and is priced. Let's take a look at each of aspects and see where it lands exactly.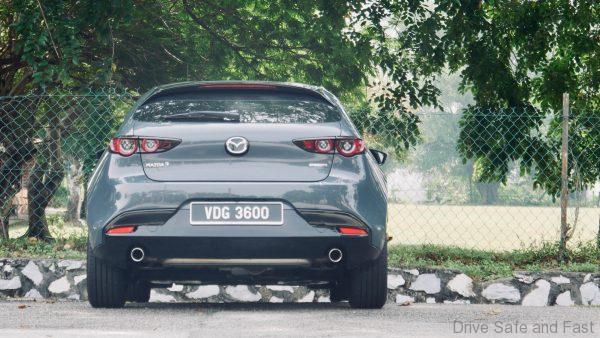 Performance
"Slow-Car Fast"
The 1.5-litre Mazda3 actually drives like my favourite class of car: the early 90s Japanese sports hatch. You see, cars from that era weren't particularly fast. Most were fitted with sub 2-litre engines and used gear ratios. valve timing technology and great suspension to deliver the sensation and urgency of a sporty drive. As in those cars, the 1.5-litre Mazda3 Liftback relies on expert tuning of every little component to deliver more than what the paper specs suggest.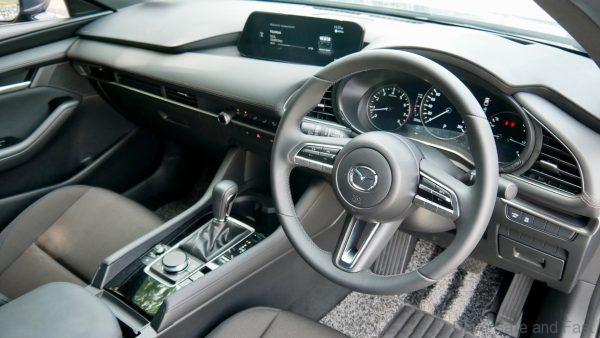 Taken as a whole, this car has those sportscar-like qualities. The suspension deals with body roll without breaking a sweat. The gearbox shifts almost as fast as a modern 8-speed ZF and never gets in the wrong gear. The steering is perfectly weighted and wrapped in great feeling material.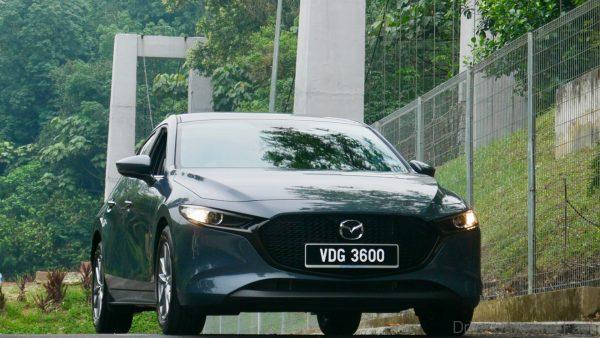 Suspension extremely communicative, adequately dampened but it's definitely more comfortable for front passengers than it is for those in the rear. Each one of these elements deserves an essay on its own, but I don't think I have the vocabulary, time, or attention for all that work. So just trust me, this car can be absolutely pushed to the limit and it will deliver nothing but joy…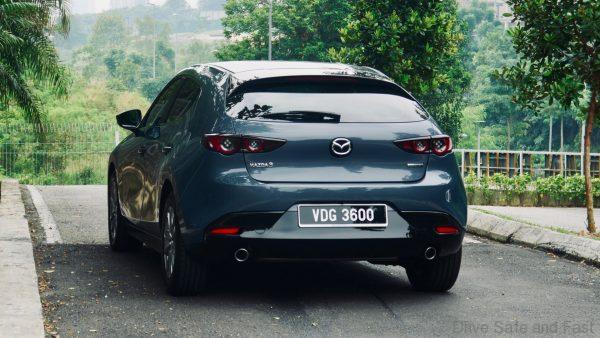 Until it runs out of steam… Which, in fairness, is way up there in the mid 100s (which I must remind you, is very illegal). Everything 130km/h and below is pretty easily achieved. Thus, I think Mazda's engineers should be commended for extracting very usable performance. I can say with confidence that the Mazda3 with a 1.5-litre is sufficient for the driving style of its target audience. Load it up with 4 adults and you may find yourself revving higher than you'd like. But otherwise it will do what you need it to.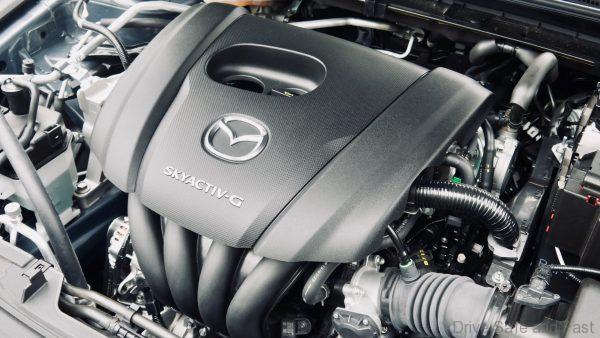 Fear-free Fun
It's a car that will absolutely blow your mind when you push it to the limit. And it makes driving the car at its limits something just about any of us can do. Just remember to pick your battles should any rival cars show up. If another 1.5-litre – 2.0-litre car challenges you, you probably could show them up in the corners. But add turbocharging or a larger displacement motor and you might want to move out of the overtaking lane.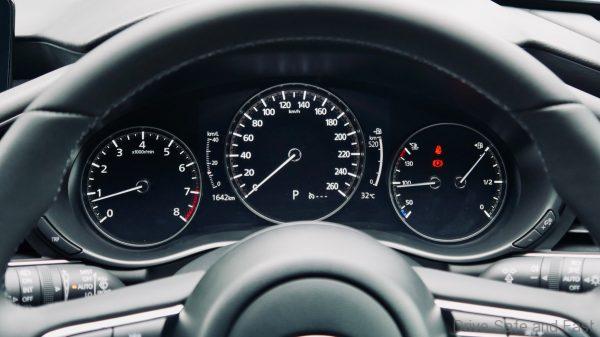 Mazda say they want to push their brand into the premium segment with this car. And, well, the 3 does drive like something much more expensive than it is without using needless complex technology. It'll be perfectly frugal for your daily drive and a bit of fun to toss around B-roads over the weekend.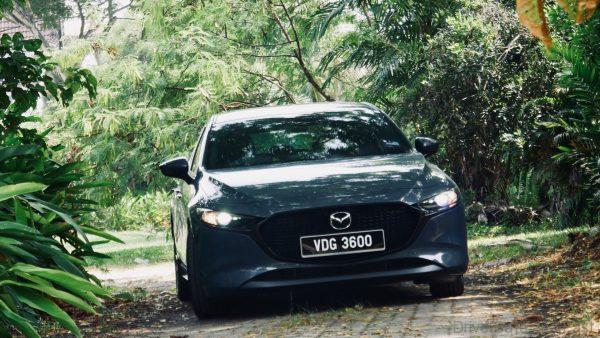 Design
The Best Reason to Buy
Here's where the Mazda3' Liftback's greatest strength lies. A lot of mass market brands have started to deliver 'premium' standards in terms of design. Mazda have gone beyond this, pushing the envelope in ways even the premium brands have yet to explore.
It's difficult to put into words what exactly Mazda has done with the 3 Liftback, but it is in incredibly bold. Look at the amount of blank sheet metal on the C-pillars and on the boot lid.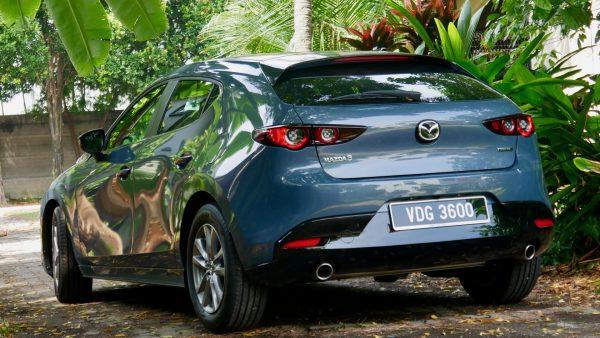 These are the kinds of lines one might find on a modern Alfa Romeo. Yet this small Japanese brand has made it relatively accessible to the buying public (and without the headache of owning an Italian vehicle).
Good Inside and Out
On the inside, Mazda shows their flair once more. There are big picture things to appreciate like the largely horizontal dashboard elements and the floating infotainment unit.
Every line in this cabin exists with purpose. If a line is straight, it's because a door handle or an air cond vent is placed somewhere along it. If the line bends away, it's because it's making way for the instrument cluster or infotainment unit. It's rare to see beauty that's this purposeful.
Climbing the Premium Ladder
There are also hidden gems that Mazda fans might notice. The wiper and signal stalks, for instance. In previous generation Mazda vehicles, these stalks were only partially rounded. If you ran your fingers down the back of the stalk, you'd feel flat plastic castings. In the all-new Mazda3, this is no longer the case. That helps them make the argument that they're pushing further into the premium realm.
Bold Steps
Concept cars are a dime a dozen. But Mazda seems to be the only car company with the guts and tenacity to commit to bring their concepts to market.
Take a look at this: the Mazda Kai.
I saw this concept at the Tokyo Motor Show two years ago. Last month, the Mazda3 Liftback I found myself taking pictures of and drivinglooked just like it, save for more practical wheel gaps and light clusters.
Value
The Three-Pronged Problem
Here's perhaps where the Mazda3 Liftback starts to lose its appeal. Even this entry-level 1.5-litre hatchback comes in RM10K more expensive than a full-spec Civic, the best selling car in the segment. And if you're just looking at C-segment sedans, the Hyundai Elantra offers an enjoyable experience for RM30,000 less. That's problem 1. The Mazda3 has competition which comes close to its performance and equipment levels while asking for a lot less.

But the real challenge is the shift towards SUVs that the Malaysian public seems to be showing an interest for. At close to RM140,000, there are no shortage of crossovers and SUVs out there to think about.
Finally, there's the general slowdown in the economy. It's getting tougher to convince people to part with their hard earned cash. Plus, marketing an upmarket mass-market vehicle is tougher than ever.
Another Way to Look at It
But these are just the challenges Mazda face. The reality on the ground is that many people are enthralled by its designed and impressed by how it drives. They may also appreciate that the European Premium Market has been getting away with charging double for cars don't really deliver double. The Mazda3 may make them feel 80% as good for 40% of a premium-badged vehicle.
In that sense, the Mazda3 Liftback represents a new 'value-premium' segment that banks on subjective elements to appeal to its customers. These are customers who aren't too concerned about which product is larger or faster. They instead care about how they feel about the car and its place in the world. And right now Mazda is one of the few brands doing things their own way.
Add to this the fact that it is built in Japan and comes with 5 years of free service. What you end up with is a is a close appropriation to the premium experience without the premium price tag.
Mazda3 Liftback 1.5-litre Liftback Specifications
Engine: Inline-4, 16-Valve, DOHC, Petrol
Capacity: 1496cc
Gearbox: 6-speed Conventional Automatic
Max power: 118hp @ 6000rpm
Max torque: 153Nm @ 4000rpm
Price: RM139,620