Motorsports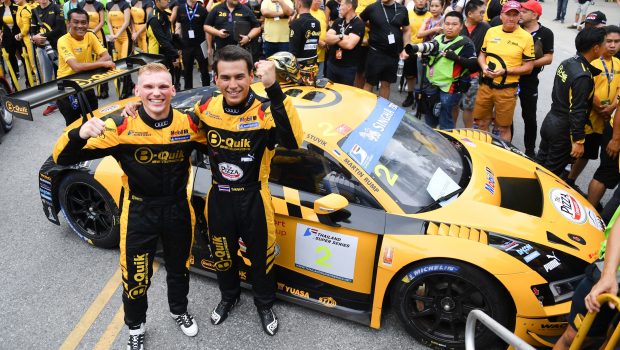 Published on October 14th, 2019 | by Amirul Mukminin
0
B-Quik Racing Gunning for Title at Thailand Super Series Season Finale
B-Quik Racing leads the charge into the Chang International Circuit season finale of the Thailand Super Series as both teams' and drivers' championship leaders. Newly crowned Am champions Henk Kiks and Daniel Bilski sit at the top of the overall Super Car GT3 leaderboard with a 19-point advantage over teammate Sandy Stuvik, who is second.

Thai driver Stuvik reunites with Audi Sport Asia driver Martin Rump for the third time this season, while the dominant squad has further strengthened its ranks with the addition of a third new 2019 Audi R8 LMS GT3. Piloting the car in Buriram will be the strong Indonesian Pro/Am pairing of former F1 driver Rio Haryanto and reigning Audi Sport R8 LMS Cup champion Andrew Haryanto.
"B-Quik Racing have continued to ramp up their motorsport programme throughout this season and the results are clear for all to see," said Martin Kuehl, Director of Audi Sport customer racing Asia.
"With four wins and four additional podiums from their two cars in six races in Thailand Super Series this season, the addition of the third Audi R8 LMS GT3 with another well-balanced driver pairing shows the team's intent. We wish B-Quik Racing the best of luck for their title shots at the season finale."
Team owner Kiks and former Audi Sport R8 LMS Cup class champion Bilski have enjoyed a remarkable season having taken an overall race win at each of the three events so far, most recently at the sun-drenched Bangsaen street circuit in early September.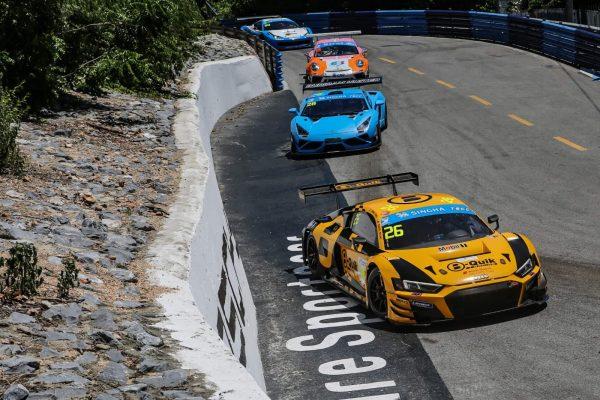 If they repeat the feat in either of the two races at the season finale, they will be Super Car GT3 champions for the first time. The FIA bronze-ranked duo have already secured the Super Car GT3 Am title with two races to spare.
Stuvik, meanwhile, had already taken two podium finishes in the opening rounds before pairing with fellow youngster Rump. The drivers took a podium finish on their debut together in Buriram followed by their first victory at the B-Quik Racing-dominated Bangsaen Grand Prix.
The addition of a third 2019 Audi R8 LMS GT3 to B-Quik Racing is further testament to the team's growing stature in southeast Asian racing. Indonesia's most accomplished racing driver, 26-year-old Rio Haryanto, teams up with namesake but non-relation, Andrew Haryanto, one of the region's most exciting privateers.
B-Quik Racing arrives at the Chang International Circuit in Buriram with a 48 point advantage in the 2019 Super Car GT3 Teams' championship, with 86 team points still up for grabs.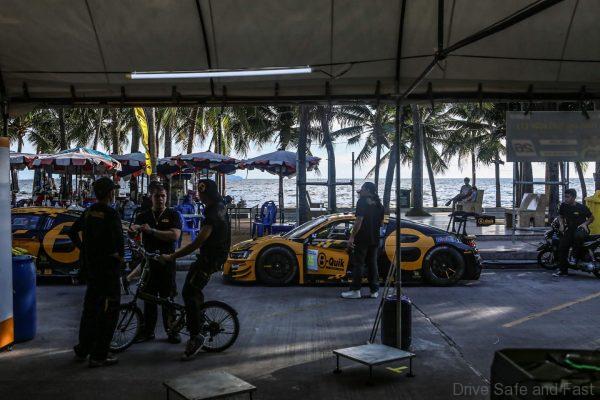 Two 15-minute Super Car GT3 qualifying sessions get underway at the Chang International Circuit in Buriram at 16:50 on Friday, October 25. The lights go green on round seven of the championship at 15:50 the next day, with the eighth and final round of the season kicking off at 15:00 on Sunday October 27 (all times UTC +7).