Automotive
Published on October 21st, 2019 | by Subhash Nair
0
Perodua's Badminton Talent Development Programme Produces 2nd Batch of Champs
Since February 2018, Perodua have been funding the Badminton Talent Development Programme (BTDP) and working with the Malaysian Education Ministry.
The programme, as you may have guessed, is aimed at nurturing and cultivating future Malaysian badminton champions. Now in its 2nd year, the BTDP has produced the following potential 'Datuk Wiras':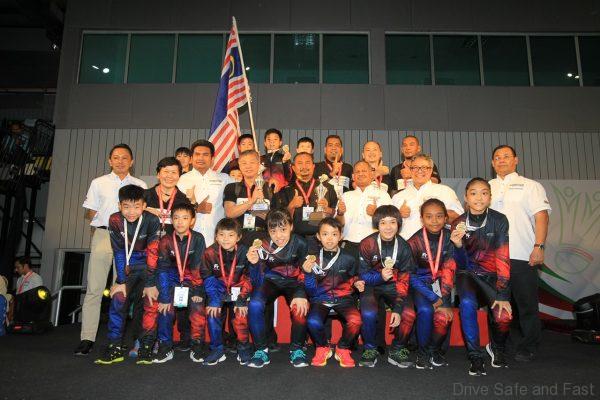 National Champions2019 MOE-Perodua Badminton Talent Development Programme
Category
Winners
Age 9 Boys Singles
Marcus Hang Yug Hwei (Pahang)
Age 9 Girls Singles
Mirza Batrisyia Aghnia Nazri (Penang)
Age 10 Boys Singles
Lee Jiet Han (Selangor)
Age 10 Girls Singles
Ong Xin Ru (Kuala Lumpur)
Age 11 Boys Singles
*Lim Boon Le (Pahang)
Age 11 Girls Singles
Chloe Lam Jing Yee (Kuala Lumpur)
Age 11 Boys Doubles
Arshdip Singh a/l Darshan Singh(Selangor)
Muhd Razin Aqeef Doni(Selangor)
Age 11 Girls Doubles
Lee Kay Xin (Kuala Lumpur)
Teh Xin Ying (Kuala Lumpur)
Age 12 Boys Singles
*Kee Is Qian (Kedah)
Age 12 Girls Singles
*Dania Sofea Zaidi (Johor)
Age 12 Mixed Doubles
Low Hao Feng (Kuala Lumpur)
Yap Jing Ning (Kuala Lumpur)
*Second-time champions
Special Prizes
2019 MOE-Perodua Badminton Talent Development Programme
Overall State/Federal TerritoryChampion
Kuala Lumpur
Best State/Federal Territory Contingent
Labuan
Best-Managed State Tournament
Sarawak
Best-Managed Centre
SK Taman Rakyat, Alor Setar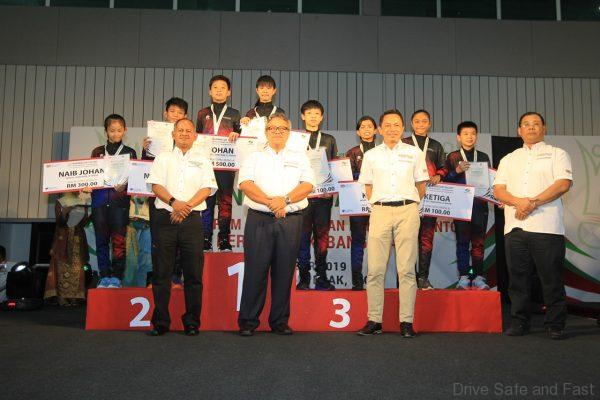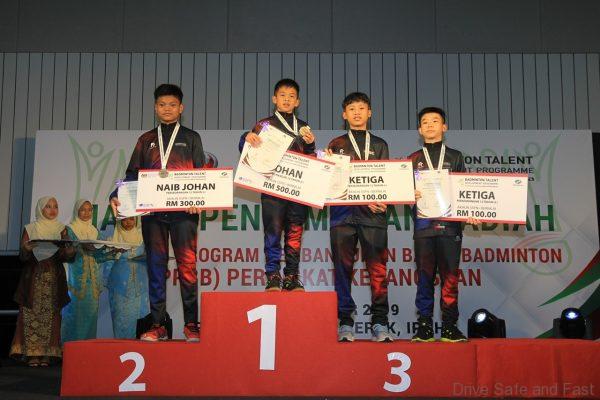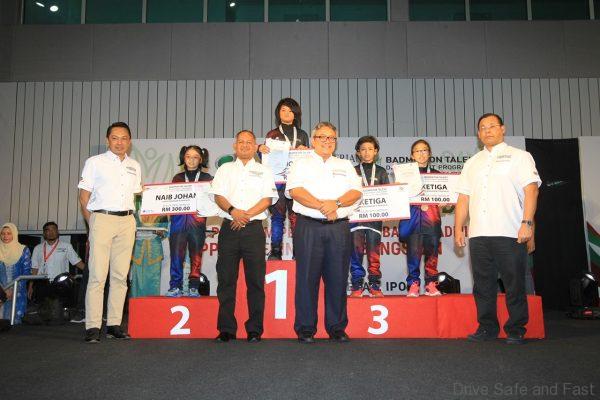 The programme will continue to operate for another 3 years.
Here's the press release with more information.
PRESS RELEASE
The Badminton Talent Development Programme (BTDP), a collaborative effort between the Malaysian Education Ministry (MOE) and Perodua, has reached the pinnacle of its second year with 14 young national champions.
The National Finals, which took place at Arena Badminton Perak in Ipoh from 17-20 October, saw 224 finalists from all over Malaysia fiercely compete in 11 categories over four days for national glory.
"Jointly launched by Perodua and MOE in February 2018, the BTDP is a five-year nationwide human capitaldevelopment programme that aims to find and cultivate future Malaysian badminton talent amongst primary schoolchildren, in the hope that they can play for our country one day," said Perodua President and Chief Executive Officer Dato' Zainal Abidin Ahmad.
Like the first year, the 2019 programme kicked off in March with 140 coaches training 2,800 primary schoolchildren at 70 identified badminton development centres nationwide.
However, where there were only eight categories last year involving 9- to 11-year olds, this year introduced 12-year olds – made up of last year's 11-year olds – in three additional categories: boys' singles, girls' singles and for the first time, mixed doubles.
The student athletes progressed through competitions at centre and state/federal territory levels to get to the National Finals.
"The great thing about the BTDP is that it doesn't just focus on the student athletes' capabilities on court. During training, we also try to instil in them values such as respect, discipline, determination, sportsmanship, punctuality, humility and cleanliness of self as well as surroundings.
"Most of all, we encourage them to live a balanced lifestyle of sports, studies and family in equal measure. We believe it's best to start young," Dato' Zainal said.
"Some of these children don't come from well-to-do families and had never even touched a badminton racquet before this. As a proudly Malaysian, People First company, Perodua is very happy to be working with the MOE to potentially change the lives of these children.
"They have been given the chance to represent their schools, states and soon, our country – like we did last year, we hope to fly our young champions to Tokyo early next year to go up against their counterparts from Japan and Indonesia at the 3 Countries Junior Badminton Competition, hosted and organised by Daihatsu Motor Company of Japan.
"Perodua congratulates and thanks all student athletes for taking part in BTDP 2019. Your resilience, skills and potential are evident. We and the nation are proud of you all and confident that you will go on to achieve greatness," he added.