Cars
Published on December 12th, 2019 | by Subhash Nair
0
MINI Cooper S 3-Door Review: Leave the Family Behind
The only MINIs I've had the pleasure of driving have been plug-in hybrids. And the thing about BMW and MINI hybrids is that there is a little bit of a disconnect. They do a better job than their peers, but the added complexity shows despite the superior engineering. What you're usually left with is a car feels like it could be better if it didn't have to prove itself to the climate.
So when I realised I was finally getting in a pure petrol-powered MINI, one of the first things I did was to roll its windows down and carve up a B-road. I was immediately left with a sense of joy and excitement. This wasn't the fastest, nor the most visceral car I'd driven, but it was certainly one of the most fun and communicative. Suspension, steering and pedal feel, these were all just stiff and tactile enough to fool you into thinking it was an all-analogue affair. In truth, there was probably several layers of electronics separating my inputs from the road. It's one of those cars that doesn't need to be the fastest or most powerful because the subjective feel has been nailed perfectly.
But because that's still important to a lot of people I'm just going to make a note of it here. The turbocharged petrol 4-cylinder displaces 2-litres and produces 192hp and 280Nm of torque, giving the car a 0-100km/h time of just 6.7 seconds. It also sips 5.5L per 100km if you're light footed enough.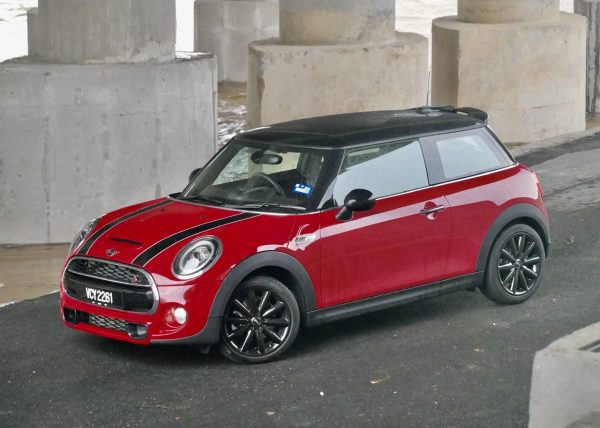 Our test unit was this Chili Red coloured thing with a contrast coloured black roof, stripes, wing mirrors and rims. Little chrome bits around the grille, lights, fuel cap, door handles and more helped to elevate the vehicle slightly. Overall, we thought it looked great on the outside. The Union Jack pattern on the taillights though… We're not sure how to feel about this. On the one hand, it's a very creative way to express the brand's British origin, but on the other hand, it's tacky. Any other flag on any other car would have instantly revealed how tacky this. Jalur Gemilang on a Saga, 5-starred red flag on a Binyue. Why do we give MINI the license to express nationalism on their products when they're not even British-owned? This one aspect, we can't just let them get away with.
Inside, beside that one other Union Jack expression on the dash, things are pretty nice. The youthful, plastic interior aesthetic of modern MINIs still doesn't particularly appeal to me. It's fine, but everything in here attracts fingerprint smudges and dust.
That being said, I found the proportions were transformative. The flat, narrow glasshouse, slightly rounded A-pillars, the frameless windows – these were things that truly gives the 3-door MINI a unique 'behind-the-wheel' character that you just don't see anywhere else in the market. If you're a young successful single who likes a little bit of an adrenaline rush, I can't think of a better car today to project that image.
And while a more heavily equipped JCW version of the 3-door MINI exists, this one's still dressed up well enough. It still gets a JCW steering wheel, leather seats and an illuminated Cooper S logo etched onto side sill. The 17″ wheels look large are proportionate, as does the 6.5″ infotainment system.
LED headlights, MINI Connected services, contrast coloured roof, a rear-view camera and other features help make the 3-door Mini Cooper S fit right in to the premium mould. Practically-speaking, this car isn't going to be enough for more than 2 people. But as a weekend runabout to complement your MPV, I say, why not? It has the ISOFIX mounting points if needed and the rear seats fold down to reveal an extended boot. There are also a few cubby holes, cupholders and storage boxes. Plenty of usability here for the size, I would say.
Finally, there's the value proposition. It's not the best bang-for-buck in the premium segment, that's for sure. There are BMW models that are more inexpensive, better equipped and more practical. But that's not the point of the premium segment. The point of the premium segment is to give customers something they can enjoy reliably at a price that is high enough to boost their image but predictable enough to keep their accounts in order. And for RM245,800 I think the MINI Cooper S 3-Door is perfectly justified. Especially considering it's fully-imported from the UK.
MINI Cooper S 3-Door Specfications
Engine: Inline-4, 16-Valve, DOHC, Petrol, Turbocharged
Capacity: 1998cc
Gearbox: 7-speed DCT
Max power: 192hp @ 5000rpm
Max torque: 280Nm @ 1350rpm
Top Speed: 235 km/h
0-100 km/h: 6.7 seconds
Price: RM245,888