Automotive
Published on May 12th, 2020 | by Subhash Nair
0
There's Actually Only ONE Black Mercedes-Benz 500E
We were sent an interesting Facebook post (thanks!) pointing us to Canepa, a global car collector. Canepa had a very rare Mercedes-Benz 500E which brought to our attention something interesting about the vehicle itself – its colour.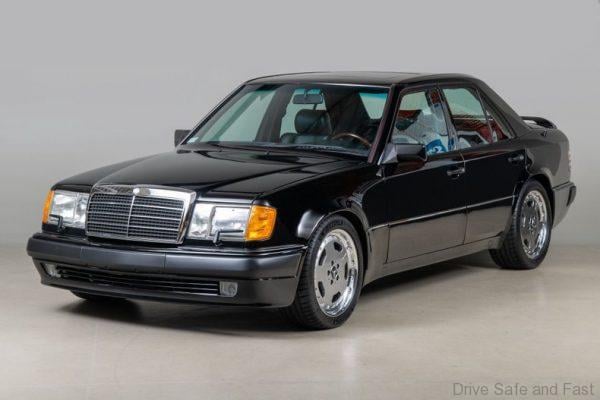 Most of us who have heard of the 500E know that it was hand-built by Porsche. But the article highlighted a fact about the car I had not run into before – that "Factory Black" was not an option on the 500E. In fact, most of the "Black" 500E models we've seen online are probably finished in "Blauschwarz Metallic" or Metallic Bluish-Black. Most descriptions of the 500E say that in real life the black paint has a blueish hue to it. In fact, other Mercedes-Benz vehicles that carry the same paint code (DB199) have been described as having a Bluish Black paint finish too. It's just in photographs that most people associate the 500E's darkest finish with being black.
According to Canepa, they now have the ONLY Mercedes-Benz 500E to be finished in actual black from the factory. It's most like a Mercedes-Benz colour and not a Porsche colour, despite the 500E being hand assembled in Porsche's Zuffenhausen plant. That's because after the chassis was put together, it would be transported to the Mercedes-Benz painting facilities in Sindelfingen to get sprayed. Perhaps the black paint on this 500E was a simple, non-metallic #040 Black as seen on other W124 models. You'll note the amber turn signal covers on the front and rear, as required by U.S. law.
This particular 500E model was previously owned by Red and Lorian Skelton. Red was a comedian in the United States from the late 1930s to the early 1970s. Not only did he manage to convince Mercedes-Benz and Porsche to finish the car in a one-off colour, he also had the interior finished in black. An all-black W124 500E is what most of us imagine when we think about this car. Its crazy that is in fact the ONLY one that came out of the factory looking this way.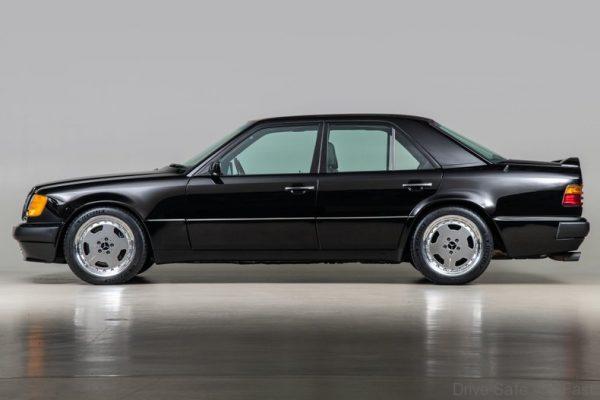 The Mercedes-Benz 500E is already hugely celebrated as a collector's item. Just last year, Rowan Atkinson put his 2nd unit on auction. Another was sold in 2015 for £71,300. The 500E was sold for about that price in 1993! Talk about value retention (ignoring inflation).
The photos here belong to Canepa. Head to their website for a full description of this rare collector's item.
About the Mercedes-Benz 500E
Took 18 days to build
5.0L V8 and 4-speed automatic
Reengineered by Porsche to fit this engine
0-100km/h in 5.5 seconds
1.5 inches wider track, 0.9 inch lower profile, flared wings, side skirts, front air-dam and wide tyres