Automotive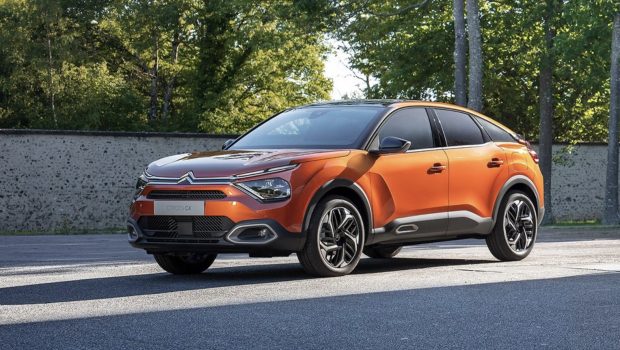 Published on June 17th, 2020 | by Subhash Nair
0
All-New Citroën C4 and ë-C4 Revealed with Crossover Styling
Citroën has just shown their a 3rd generation C4 and ë-C4, which represent the brand in the C-segment hatchbacks for both fossil fuel and electric powered options.
The new C4 models are more upmarket and larger than their predecessors. They've also incorporated more SUV-inspired styling into their hatchback forms.
No details regarding engine and chassis specifications were revealed. These will come at the end of the month. The C4 is currently available in Malaysia in its 'Spacetourer' form.
Here's the press release with more.
PRESS RELEASE
Following on from its successful SUV offensive with the launch of C3 Aircross SUV and C5 Aircross SUV – 300,000 and 200,000 sales respectively – Citroën is ready for the next stage in the rollout of its product strategy, focusing firmly on the hatchback market.
Compact hatchbacks remain an important part of the European car market, accounting for nearly 28% of C-segment sales in 2019. New ë-C4 and New C4 tick all the boxes in this competitive segment, while offering a modern and characterful new design concept as an integral part of the product offering.
Citroën's new-generation compact hatchback is inspired by its customers and the way they experience their cars. The 100% electric New ë-C4 and New C4 have all the qualities needed to shake up a segment that is having to reinvent itself. For Citroën, that means offering an all-new silhouette with a choice of 100% electric, petrol or Diesel power.
THREE DIFFERENT POWERTRAINS TO CHOOSE FROM: 100% ELECTRIC, PETROL OR DIESEL
New ë-C4 – 100% ëlectric and New C4 are the same modern and technologically advanced car, but with an enhanced choice of powertrains: 100% electric, petrol or Diesel. Customers simply choose the high-performance and efficient option that best meets their needs.
New ë-C4 is the fifth electrified model to be announced in 2020 as part of Citroën's electrification strategy – after C5 Aircross SUV Hybrid, Ami, ë-Dispatch and ë-SpaceTourer.
INNOVATIVE POSTURE AND ASSERTIVE STYLE
New Citroën ë-C4 and New Citroën C4 also represent a new design concept at the heart of the C-Hatch segment, with a unique and bold identity. The elevated and assertive stance means the body shape has all the elegance and dynamism of a hatchback, while subtly adopting certain SUV traits for added strength and character.
Aerodynamic and flowing, the exterior design echoes Citroën's well-known aesthetics, while bringing a new expression of style to the range. Its warm and high-tech interior instantly expresses well-being, comfort and modernity.
A NEW EXPRESSION OF THE CITROËN ADVANCED COMFORT® PROGRAMME
The complete embodiment of the Citroën Advanced Comfort® programme, New ë-C4 and New C4 offer a new sense of modern, all-round comfort:
Driving comfort is assured with Advanced Comfort seats and suspension featuring Progressive Hydraulic Cushions®. Comfort is amplified still further in New ë-C4 with the benefits of ë-Comfort: quiet operation, smoothness and fluid driving sensations.
Travelling comfort is underpinned by the amount of interior space and the practical on-board features – including an innovation for the front passenger (to be disclosed on 30 June).
Comfort in use is derived from the numerous on-board technologies and driver assistance systems.
Comfort of the mind comes from the soothing and sophisticated interior designs.
A LEGACY OF COMPACT CARS
Citroën's compact cars have been a success story since the first C4 in 1928. A history that includes the GS – voted European Car of the Year in 1971 – which is celebrating its 50th anniversary this year. A series of cars acknowledged for their character, comfort and exemplary road manners over many decades: C4-1928, Ami 6/Ami 8, GS/GSA, BX, ZX, Xsara, C4-2004, C4-2010 and C4 Cactus.