Automotive
Published on August 27th, 2020 | by Subhash Nair
0
Fake Proton X50 Brochures & Spec Sheets Circulating
We've been receiving brochures through Whatsapp and email about the upcoming X50 and its specifications. We can confirm these are fake, and here's how you can tell as well.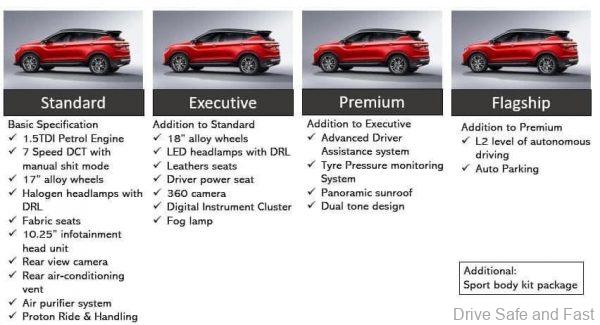 First let's look at the contents of these two brochures.
There are many similarities between the two, including a standard 1.5 turbocharged Direct Injection Petrol engine and a 7-speed dual-clutch transmission with manual shift mode (hilariously misspelled in the 2nd fake brochure), 17″ alloy wheels, halogen headlights with daytime running lights, fabric seats, rear view camera, and rear air conditioning vent.
Beyond standard equipment, the brochures seem to agree that Proton will give the X50 18″ alloy wheels, LED headlamps with daytime running lights, leather seats, a powered driver seat, digital instrument cluster, tyre pressure monitoring system, auto parking, 360-degree cameras, a panoramic sunroof, advanced driver assistance system, and fog lamps in more expensive trim levels. Level 2 autonomous driving technology was also cited as a feature on both brochures.. However, the distribution of this equipment is not the same between these two brochures.
What's more, there are some features that aren't agreed on. The first brochure cites Remote Start, a smaller 8″ infotainment system on the base model as options. The 2nd brochure says the air purifier system will be standard, but this is not mentioned in the 1st brochure. Also, the 2nd brochure states that a sports bodykit is optional.
The two brochures also cite the trim levels as 'Standard, Executive, Premium and Flagship'. Proton does use Standard, Executive and Premium trim levels in many of their models, but 'Flagship' has yet to be used. The X70 has a 'Premium X' variant, but that's just the 'Premium' model with a sunroof added.
Red Flags
One of the most important rules of the internet is to double check for legitimacy. Nowadays, anyone with a phone could use a free app and put together a fake brochure like this using stock images available one Google Search away. Realise that while real brochures do leak from time to time (the recent Toyota RAV4 brochure leak is one example), big companies like Proton (with Geely backing) will put some effort into designing and proof-reading their press material. These companies have entire departments set-up to make sure any official material comes out looking at least a little professional.
If you take a look at the first brochure, you'll immediately notice problems in both design and spelling. There are also inconsistencies in style and format. Look at the feature list on the first brochure. Notice how some features start with capital letters, while other features are spelled out with small letters. The last colour option is spelled 'Oren', instead of 'Orange'. What's more, the colour options here don't follow Proton's specific colour names and instead use generic colour shades.
The second brochure is a little more consistent except for that huge spelling mistake describing the transmission's manual s**t mode. There are red flags here too, it's a bit too simplistic to be taken off a real brochure, with a plain white background, the same image used on all four variants, the lack of Proton or X50 official typeface/logos/branding. It just looks like something one could throw together in an afternoon.