Automotive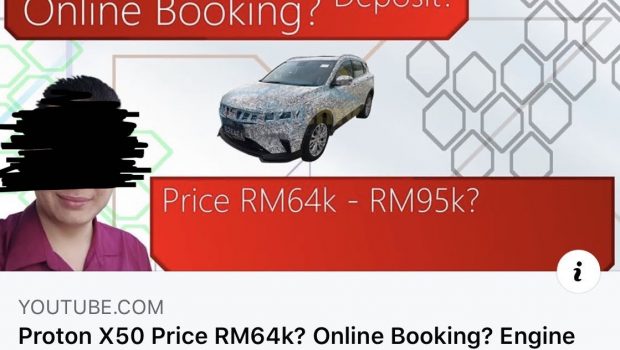 Published on July 3rd, 2020 | by Daniel Sherman Fernandez
0
Is This A Proton X50 Booking Scam?
Should You Book Your X50 Before Its Launch
This facebook advertisement has been appearing on my feed the past two days and we checked with Proton dealers we knew and they all said there was no booking for any new Proton crossover or 'Proton X50'.
If you haven't been living under a rock for the last two years, you might have heard about the Proton X50 before. The buzz around this Geely-based compact Proton SUV has been ongoing ever since the launch of the X70; with spy shots, rumours, hearsay and gossip all being lapped up by the news media and prospective buyers alike.
The hype surrounding this upcoming local compact SUV is justified though. These jacked up hatchbacks are all the rage right now. As demonstrated by the boom in small SUVs worldwide, from the mid-range Honda HRV, Mazda CX-3 to the high-end Mercedes GLA, BMW X2 and the like.
Thus for Proton to launch an affordable compact SUV, it is understandable why everyone is eager for the X50. So eager in fact that there are many people who can't wait to place orders on a car that hasn't even been launched or even officially announced by the manufacturer yet.
But here lies an interesting dilemma: Should one pre-order their next car even before it is launched? Or to put it bluntly, should you buy a car based solely on hype and speculation? This question does not strictly even have to apply to the X50, but to any future car launch in general. The only reason the X50 is singled out here was because the hype is particularly strong around this particular car.
Selling products based on hype is certainly not a practice exclusive to the automotive industry. The video games industry and even some streetwear brands are prolific for using hype culture to shift stock. The hype culture and accompanying pre-ordering practice is great for the manufacturers of products as hype generates awareness, thus potentially leading to more sales. And by pre-ordering, the manufacturer is doubly happy as they not only gets free publicity through the hype machine, but they also gets to keep your sometimes non-refundable reservation deposit.
An extreme example of cars sold through hype culture is the news of Nikola motors opening USD5,000 reservations on their new truck with no prototype available. This means anyone who wants a Nikola pickup in the far future will have to put down that significant chunk of cash purely based on renderings alone.
Some might say the example given above is an unfair comparison to the pre-order of the Proton X50, as Proton is an established company and is not making alleged vapourware. This is true, but pre-order fiascos happened with the previous Proton too.
When the X70 was open for preorders with a deposit of RM1000, many details were already known about the car. The spec, variants, powertrain and interior details were all announced. Even the colour choice was known when online bookings started. The detail everyone wanted to know — the price range however was the only detail Proton kept a secret till launch day.
This conspicuous lack of prices lead to speculations of the X70 will cost from RM 85k to RM 130k. We all know now this wasn't to be the case though as the cheapest variant at launch was a whisker under RM 100k, a full RM 15k more than what everyone believed it to be. And history is repeating itself today with the Proton X50 as hearsay pricesof as low as RM 50k are floating about the internet right now.
There will be others who point to historical evidence to argue massive pre-orders were placed on historically popular cars. The Citroen DS and Jaguar E type being examples from off the top of my head. The X70 also sold particularly well at launch, leading to a long waiting list for those who did not pre-order. But, pre-ordering has also been known to burn people badly. The Jaguar XJ220 pre-order fiasco springing to mind. And on the topic of the X70, Proton did refund deposits to quite a number of customers who preordered because of the price that was only announced at launch.
The main takeaway when pre-ordering is things can and do change between pre-order and the launch product. Putting a couple bucks down on a pre-ordered video game and not enjoying the final product is one thing. Putting a large non-refundable deposit down on a car that you aren't entirely certain is different matter entirely.
So in closing, should you put money down on a car that hasn't been launched yet? Well it depends on how much risk you like and are willing to take on. And regarding the upcoming X50, it'll probably be a pretty good car to judging from what Geely has done to the Proton X70. But would it be worth putting money on the order forms? Some say no risk no reward, others say better safe than sorry.