Automotive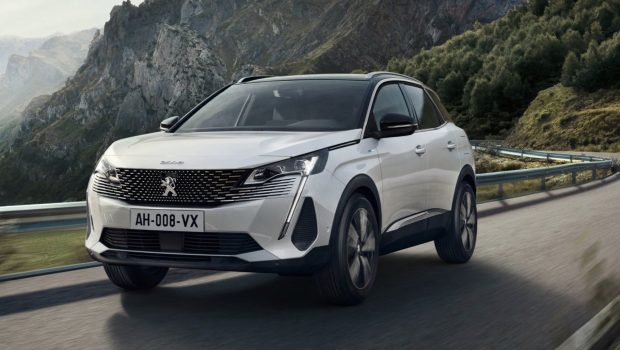 Published on September 2nd, 2020 | by Subhash Nair
0
Peugeot 3008 Facelift Model Revealed
The Peugeot 3008 has been given a facelift which sees not only a redesign, but an upgrade in equipment as well. The 2nd generation 3008 was launched globally in 2016 and went on the be locally-assembled for the region by Groupe PSA at the Naza Automotive Manufacturing plant. The facelift debuts a new i-Cockpit, some new high-quality displays, and a frameless grille and new aesthetic 'packs', such as the Allure, Black pack and the GT pack.
Two new colour options for the Peugeot 3008 are Celebes Blue and Vertigo Blue.
The New i-Cockpit
The i-Cockpit was a huge feature on the 3008 and now it's even more modern and feature-rich. The new 12.3″ digital instrument cluster features "Normally Black" technology for better contrast between dark and light colours. The infotainment system is now 10″ wide and of a higher resolution. It comes with physical switches styled like piano keys to access radio, air conditioning, navigation, vehicle settings, electrical functions (hybrid model only), telephone functions, mobile apps and hazard lights.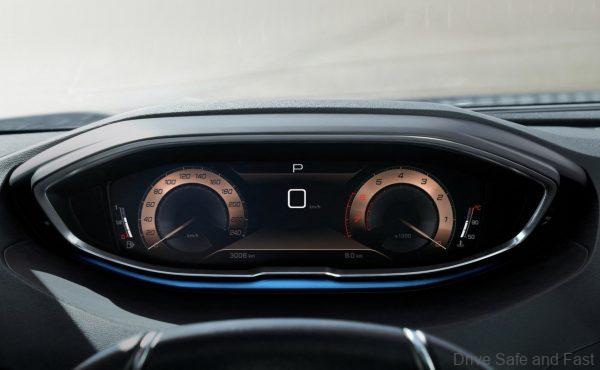 The centre console gets driving mode selection as standard, with dedicated modes for the Hybrid models.
New interior trim options are available, including red Nappa leather, Mistral Black PET/Alcantara, Mistral Nappa Leather with Tramontane stitching, mid-PET and textile upholstery.
New Driving Aids
The new Peugeot 3008 gets Night Vision, which helps guarantee pedestrian and animal detection at night at up to 250m with infrared beams. Adaptive Cruise Control with Stop & Go functionality is also featured. Lane position assist, improved auto emergency braking and traffic sign recognition has also been added, depending on which options are selected.
Here's the press release with more features on the facelifted Peugeot 3008.
Press Release
Of course, the new SUV Peugeot 3008 still offers a complete range of driving assistance equipment:
Adaptive Cruise Control with 30 km/h function on manual gearbox with adjustable inter-vehicle distance setting,
Visiopark 1 with 180° rear view camera,
Visiopark 2 with 360° front and rear cameras,
Park Assist, active assistance in parallel or perpendicular parking,
Active warning of unintentional lane (or roadside) departure with trajectory correction,
Driver Warning Alert, to detect driver alertness over long driving times and at speeds above 65 km/h by analysing steering wheel micro-movements,
Automatic switching to and from high beam,
Speed sign recognition and recommendation,
Active blind spot monitoring system (with trajectory correction). This function is available from 12 km/h,
Advanced Grip Control, optimised traction control with 4 grip modes (Normal, Snow, Mud, Sand) with specific tires,
Hill Assist Descent Control (HADC) allows you to safely and perfectly control your vehicle and its trajectory on steep slopes.
Hands-free tailgate,
Dual-pane sunroof,
Multi-point massage seats,
Electric parking brake.
Smartphones have become an integral part of your daily life, much like they have for the new SUV Peugeot 3008. Information is integrated into the central screen thanks to MirrorScreen compatibility including Apple CarPlay™ and Android Auto™ connection protocols. To recharge your devices, in addition to the wireless smartphone recharge, there is a USB socket in row 1 and two new USB sockets in row 2.
The new SUV Peugeot 3008 can be equipped with a 515 Watt FOCAL® high-end Hifi system, with French-style high-fidelity sound for the enjoyment of the passengers. Another noteworthy addition is the new loudspeaker grilles (tweeters and centre channel), that now come in belem bronze.
The engines
Rechargeable hybrid engines are an iconic symbol of the Brand's Power of Choice philosophy, the new SUV Peugeot 3008 therefore comes with 2 rechargeable Hybrid engine options:
HYBRID4 300 e-EAT8 / 4-wheel drive / from 29g/C02 per km and up to 59 km of 100% electric range (according to the WLTP protocol),
HYBRID 225 e-EAT8 / 2-wheel drive / from 30g/C02 per km and up to 56 km of 100% electric range (according to WLTP protocol).
Remarkably efficient and powerful, the HYBRID 4300 e-EAT8 version was created by combining a 200hp (or 147kW) PureTech engine and two electric engines: one at the front coupled to the e-EAT8 gearbox that reaches 110hp (or 81kW) and the second positioned on the rear axle for 112hp (or 83kW).
The 4WD mode, also available in Electric mode, provides improved traction on roads and difficult terrain. The result is flawless grip: whether on wet, muddy, snowy or winding roads, the power is distributed electronically and evenly across all four wheels of the vehicle.
The 225hp (or 165kW) HYBRID two-wheel drive version combines a 180hp (or 132kW) PureTech engine with a 110hp (or 80kW) electric engine attached to the e-EAT8 gearbox.
Based on the Efficient Modular Platform (EMP2), both versions benefit from a multi-link rear suspension, creating a perfect balance between comfort and driving pleasure. All of this without affecting spaciousness and preserving the boot volume above the mat.
The Li-ion battery has a capacity of 13.2 kWh and two types of on-board chargers are available, meeting all customer needs and charging solutions, with a 3.7 kW single-phase charger as standard and a 7.4 kW single-phase charger as an option.
Estimated recharging times are as follows:
with a 7.4 kW Wall Box: reaching full charge in 1h45 with the single-phase (7.4kW) on-board charger,
with a reinforced socket (16A): for a full charge in 4 hours with the single-phase (3.7kW) onboard charger,
with a standard socket (8A): for a full charge in 7 hours with the single-phase (3.7kW) on-board charger.
The TCO (Total Cost of ownership or cost per use) which is already used for professional customers, and of course applicable for private customers. The purchase cost of a plug-in hybrid vehicle is higher, but all factors must be taken into account:
the variety of tax incentives (ecological bonuses, bonuses, corporate subsidies),
the maintenance cost,
the lower energy costs.
The objective is to offer a TCO or equivalent running cost between a combustion vehicle and an electric vehicle.
The new SUV Peugeot 3008 is available with the following combustion engines, CO2 content starting at 129 g/km. Complying with €6 regulations and approved according to the WLTP protocol (Worldwide harmonised Light vehicles Text Procedures).
Petrol

3-cylinder engines with 1.2L displacement :

PureTech 130 S&S BVM6,
PureTech 130 S&S EAT8.

1.6L 4-cylinder engine :

Diesel

4-cylinder engines with 1.5L displacement :

BlueHDi 130 S&S EAT8,
BlueHDi 130 S&S EAT8.
PEUGEOT's ecosystem
In order to support our customers who have bought a new SUV Peugeot 3008 with a rechargeable hybrid engine in the energy transition, the PEUGEOT brand is offering a range of services based on three pillars.
Easy-Charge or how to ensure our customers have easy access to different charging:
a charging solution offer for home or office use, via a wide range of equipment (reinforced socket, Wall box, Smart Wall box, …), a diagnosis to evaluate the electrical installation to be provided and the best charging solution as well as the final installation,
a public recharging offer via Free2Move Services, including a recharging pass with access to a network of more than 195,000 terminals in Europe: pre-selection of terminals according to distance, speed and price of recharging. The connected navigation system guides the user to the selected terminal.
Easy-Move or how to ensure our customers' mobility in all circumstances:
Trip planner: a tool for planning and organising long trips via the Free2Move Services smartphone application, offering the best routes taking into account residual autonomy and the location of charging points along the road. Sending the trip to the Connected Navigation allows you to find this trip in the vehicle,
Mobility Pass: extended and guaranteed mobility thanks to a flat-rate included in the vehicle rental that allows you to have a vehicle on hire at any time according to your needs.
Easy-care or how to reassure our customers during their discovery of the process and let them enjoy their car with complete peace of mind:
new simulators and digital routes to help explore electricity on the PEUGEOT brand websites,
service contracts and adapted roadside assistance, which can be included in a single financing package so you can enjoy your vehicle with complete peace of mind,
a certificate of battery capacity during service, with a view to making it easier to resell their vehicle by guaranteeing the level of capacity of the vehicle's battery,
the battery is guaranteed for 8 years or 160,000 km for 70% of its charge capacity.
From the MyPeugeot® smartphone application or from the connected navigation screen, you can:
Launch or program thermal pre-conditioning, beyond providing comfort, when the vehicle is connected this feature allows the range to be optimised (faster convergence of the temperature set-point during the starting phases) and to reach the optimal battery operating temperature more quickly,
Consult, program, start or defer battery charging.
A creative and disctinctive upgrade
The new SUV Peugeot 3008 symbolises a new move upmarket in terms of its design and equipment. This makes it easier to read the sales offer and enhances the different levels of trim.
This new range structure is based on 3 trim levels. Each of them can be completed by an intermediate level, called a "Pack", in order to meet the demands of customers looking for greater comfort, aesthetics or assistance. The move upmarket is now as shown below (with a few examples of equipment):
ACTIVE – 17-inch Aluminium wheels / Visibility Pack / Hands-free start / Dual zone air conditioning / Rear parking assistance / Digital radio (DAB),
ACTIVE PACK – ACTIVE + Mirror screen / electrically folding mirrors / Front parking aid and VisioPark 1,
ALLURE – 18-inch alloy wheels / Tinted windows / Safety Plus package / Navigation with 10″ display / PET fabric upholstery,
ALLURE PACK – ALLURE + Hands-free access and start + Roof rack + Passenger seat reclining + Ambient lighting pack and textile decorations,
GT – specific 18-inch aluminium rims / Black Diamond roof / Assist Plus drive pack / Full LED headlamps / PET-Alcantara® upholstery,
GT Pack – GT + 19-inch alloy wheels / Hands-free tailgate / City 2 Pack / FOCAL® Hifi / Massaging electric seats pack).
Driving pleasure is part of the DNA of this new SUV Peugeot 3008. Its handling is outstanding, it comes with top-of-the-range driving comfort, ensures excellent driving pleasure and remains perfectly manoeuvrable in town with a turning radius between kerbs of 10.7 m.