Automotive
Published on October 8th, 2020 | by Subhash Nair
0
These 11th Gen Civic Renders Are Interesting but Inaccurate
The 10th generation Honda Civic is still a hot seller around most parts of the world but the 11th generation model is already on its way. Set for a 2021 debut, the design of the FC Civic replacement was leaked last week. First in hatchback form and then as a sedan.
Those designs were based on untextured, unpainted renders submitted to patent offices. This week, the talented rendering community has stepped in to show us what the car will look like with some colour and texture on it.
Brazilian rendering artist Kleber Silva has uploaded his take on both versions. They are not very faithful to the leaks, but they ought to give us an idea of what the new Civic will look like in terms of overall proportions. Let's start with the hatchback.
For this render, he has used a chrome finished grille, though the chrome elements seem not to follow the same pattern as the leaked patent image. The artist took his own liberties with this design, as you can tell by the panel and character lines. This is true for both the hatchback and sedan.
Around the rear, it's even more of its own interpretation. The bumper is a mix of current-gen Civic elements, with twin exhausts centrally-mounted. The artist also gives his own spin on the taillight design, which is linked across the hatch. Strangely, all the trim that surrounds the top of the glasshouse has been rendered in black. We wonder if a chrome surround would have been more accurate.
As for the sedan renders, these use a black-painted front grille that's more akin to the facelifted Civic's look. The headlights here are smoked with dark inserts. Definitely more aggressive and modern looking than expected. The front bumper looks like it's pretty accurate, but the panel lines around the hood don't match what we were shown in the patent design.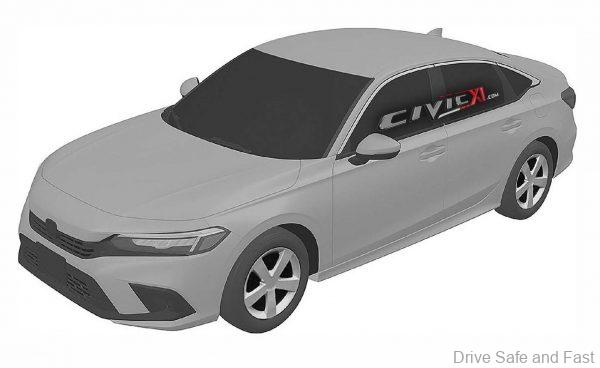 The rear end is perhaps the largest departure from what we've seen from the leaked images. It depicts a rather unnatural sloping roofline that looks like it may be a little off axis in fact. While the overall angular look of the taillights have been stuck to, the ones seen on the render don't quite have the right size or shape as what was shown.
Despite these liberties and inaccuracies, it's nice to see get an idea of what the car might look like in colour.
Check out his full gallery of renders here.