Automotive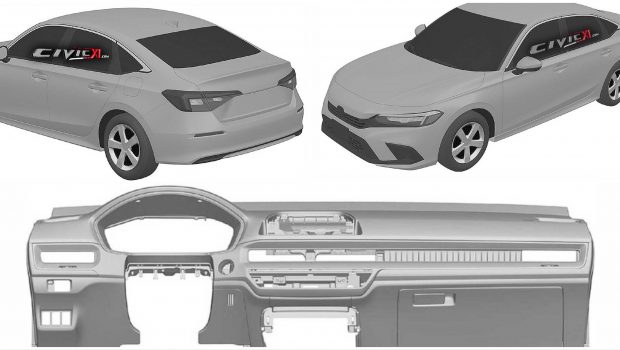 Published on October 2nd, 2020 | by Subhash Nair
0
Honda Civic Sedan Exterior and Dashboard Patent Leaked
Earlier this week, we shared patent leaks that seemed to depict the upcoming 11th generation Honda Civic Hatchback. These leaks came from civicxi.com. Now that same website has shared patent leaks for the 11th generation Honda Civic Sedan! This is a much more relevant product to our market, as the 1.8L and 1.5L Turbo models sold here are all of the sedan variety. Honda Malaysia only offered the hatchback in the Civic Type R.
As you can see, both the sedan and hatchback look identical from the front. The only difference here is that the patent design on the sedan seems to display the vehicle with reflectors, where the hatchback patent is depicted with projectors. These are most likely LED-type headlights, but could be halogen. We'll have to wait and see if Honda are pushing forward with LED headlight as a standard feature. The hood here is also very low slung, meaning the 11th gen Civic loses its sporty wedge shape of the 10th generation and goes for a more upmarket look. It's a silhouette we've seen on the new Accord.
The taillights on the sedan also ditches 'crab claw' look of the current Civic and goes for a more mature looking triangular design. It's also quite distinct from the hatchback's taillight design. In the hatchback, both light clusters are connected, yet here they're kept separate. Here are the leaked images of the Civic Hatchback for your reference.
The roofline of the sedan has a less pronounced slope than the hatchback model's, of course. A 'sharkfin'-type antenna is featured on the sedan as well. Also like the hatchback model, the tailgate ends in a little integrated spoiler, negating the need for a larger spoiler on either body style.
At the same time, we also got leaks from Australia's patent office that seem to point to the dashboard design of this same 11th generation Civic. It's just the basic molding with no buttons, vents, screens or switches. But it does give us an idea of the layout of things.
To our eyes, it looks like Honda will follow the design trend of laying out the air vents on the same horizontal line across the dashboard. Between the passenger and central air vents, there'll probably be some mesh pattern there, maybe even ambient lighting too. The infotainment system will probably be a floating type panel in the centre.