Automotive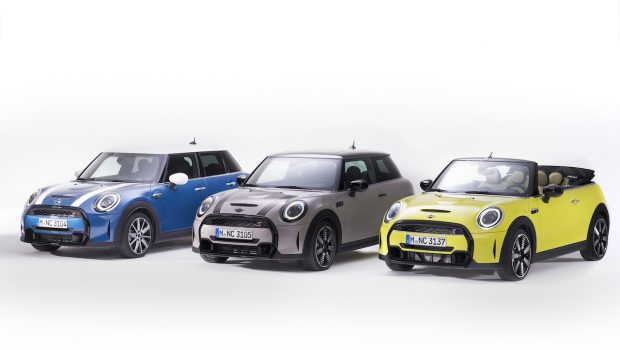 Published on January 27th, 2021 | by Subhash Nair
0
MINI 3-Door, 5-Door And Convertible Models Restyled For 2022
MINI [on facelifts]: We've had one, yes, but what about a second facelift?
MINI have just announced some pretty substantial styling changes to their F55/F56/F57 line of models.
Which MINIs are these again?
For those unfamiliar, these are the mainstay of the MINI product line – the MINI Hatchback – available as a 3-door, 5-door or 2-door convertible. They also sell a crossover called the MINI Countryman and a wagon called the MINI Clubman, but those are not included in this particular restyling exercise.
I thought we already got a facelift in 2018
Yes, that's correct. This generation of MINI Hatch first debuted in 2014 and then facelifted in 2018. In fact, MINI Malaysia brought in some of these in 2018 itself. They introduced the new logo, revised engine and transmissions, and some other changes. We even reviewed one of these in 2019.
So what's new?
The biggest changes on this 2022 redesign come to the front end of these models. The large hexagonal grille housing now extends all the way to the bottom of the vehicle's 'face'. They have also swapped out the piano black element for a body-coloured element. The LED headlights are now standard, but there's a colour swap here as well.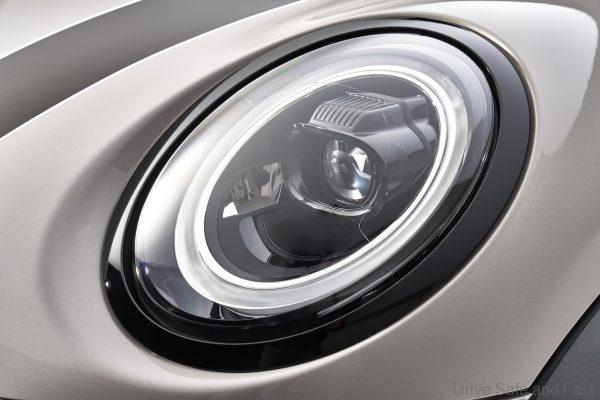 The internal housing is now finished in high-gloss black as standard. Some other changes here include an optional 'Bad Weather Light' that replaces the front foglights. The front bumper has also been redesigned with an air curtain.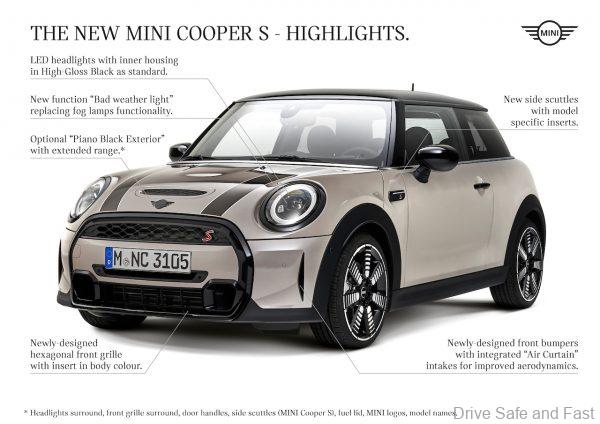 Behind, the rear bumper is new as well. The Union Jack styled LED brake lights are now standard. There's a new LED rear foglight that's centrally-mounted. Three new body colours include Rooftop Grey, Island Blue and Zesty Yellow.
There are a few 17″ and 18″ wheel options and an optional 'Frequency Selective Damper' suspension.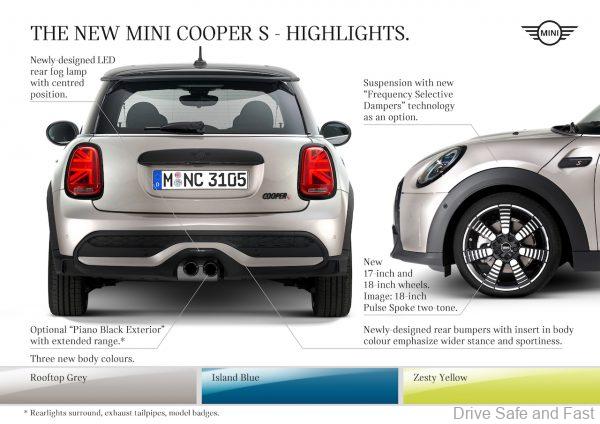 What's really quite interesting is the way MINI are handling roofs this time. You can still get contrasting colours for the roof and mirror caps in Jet Black, Aspen White, Melting Silver or Chili Red (JCW only). However, there's now a Multitone Roof option for the 3-door and 5-door models. This features a colour gradient roof from San Marino Blue, to Pearly Aqua to Jet Black. This is, of course, a cost option.
Inside, there are a few upgrades including a new design for the sports leather steering wheel as well as new ambient lighting options. The infotainment unit has been given a new operating system, new graphics display. The U.I. of this infotainment unit is a lot more modern, with "live widgets" for certain menu items.