Cars
Published on April 21st, 2021 | by Subhash Nair
0
2020 Mercedes-AMG GLC 43 4MATIC Coupé Facelift CKD Review
The Mercedes-AMG GLC 43 4MATIC Coupé manages to tick many boxes while still being very much a niche product.
But sometimes you've just got to give the market what it wants and see where it goes. Lots of power, lots of brand appeal, and enough practicality to drive the car daily. That's exactly what Mercedes-Benz Malaysia stumbled upon with this car and I think they're on to something. This is probably why they decided to locally assemble this car starting in November of last year.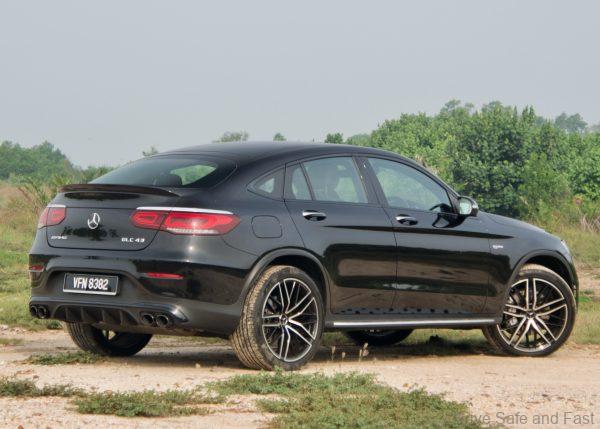 Introduction
The Mercedes-AMG GLC 43 4MATIC Coupé is quite a mouthful, so let's first begin by explaining what terms to pay attention to.
Mercedes-AMG: it's tuned by AMG and contains many AMG performance parts, but the car is fully produced at a Mercedes plant without any of the fancy hand-built engines (unlike on AMG 63 cars)
GLC Coupé: This is essentially the coupé version of Mercedes-Benz's compact crossover, the GLC. Think BMW X4 or Audi Q5 Sportback competitor and you have an idea of where this is coming from. The GLC Coupé is essentially for those who appreciate the size of a C-Class, the height of an SUV and the style of a coupé.
43 4MATIC: 43 here denotes a 3.0L Biturbo V6 petrol engine. It's paired to an all-wheel-drive system and tuned for performance.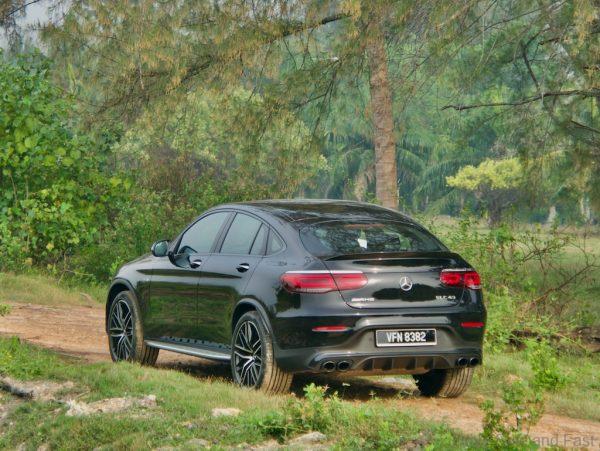 Put these 3 elements together and what you get is a compact SUV with a lot of style, a lot of performance, but enough comfort and equipment considerations to be daily-driven. What's more, it's also locally assembled for a decent price and temporary SST exemption. Now that you're ready to sign on the dotted line, let's get into the details.
Performance
Under the hood of the Mercedes-AMG GLC 43 4MATIC Coupé is a twin turbochaged 3-litre V6 tuned by AMG. While it's not a handbuilt AMG engine, this motor is actually very capable and soulful. 385 horses and 520Nm of torque puts this stylish SUV up there in sportscar territory. The power is sent through an engaging 9-speed Torque-Clutch automatic Transmission (TCT) to all four wheels. Despite weighing more than 1800kg, the AMG GLC 43 4MATIC Coupé gets from 0-100km/h in just 4.9 seconds. It's a really quick machine and it feels like the car's on rails thanks to a combination of the 4MATIC all-wheel-drive system and the AMG Ride Control+ suspension. It's perhaps as fast and fun as a large car can get without being too insane for your average driver.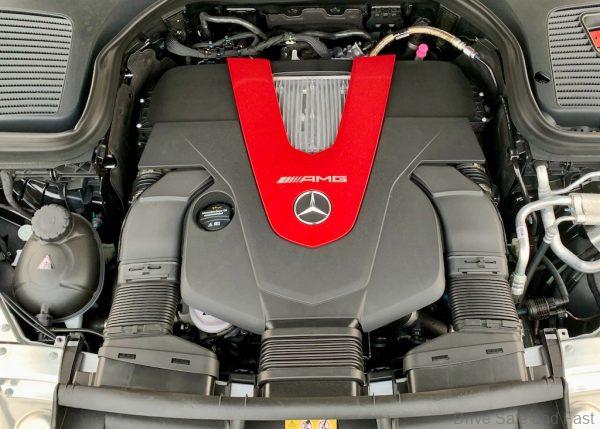 AMG Ride Control+ also lends the car a relatively comfortable suspension setup. Truth be told, it's probably not going to impress most customers in terms of comfort, ESPECIALLY if you're not in the driver seat. However, considering its pure sporty capabilities, I'd say it's easy to forgive the limitations here. Damping is decent, it's just that deeper potholes and bumps in the road (especially when going over little bridges on trunk roads) can really make things uncomfortable for passengers who aren't anticipating them.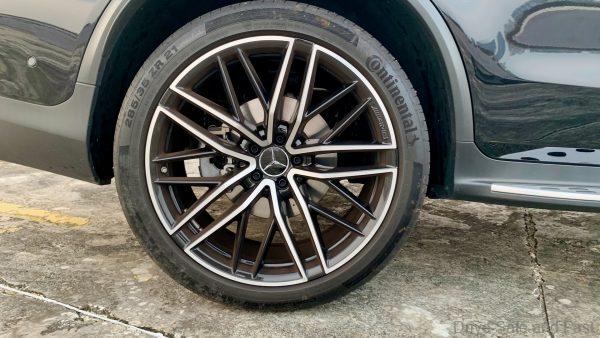 Another slight downside in performance is how the 9-speed TCT handles low-speeds. The entire point of this complex system is to return the smooth take-off characteristics of a torque converter automatic to a clutch-based automatic. Yet when the car is in heavy traffic or when manoeuvring in a carpark, smoothness is not exceptional.
Design
The GLC Coupé is an immediately stunning vehicle with its dramatic sloping roofline and sensuous lines.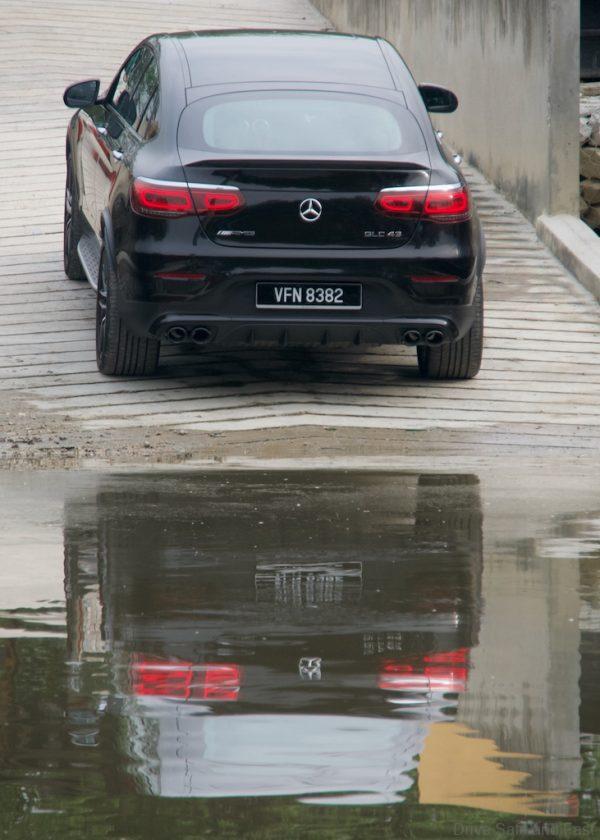 But this is no run-of-the-mill GLC Coupé. It has the AMG Line package as well as the "Panamericana" front grille with strong vertical bars and quad exhaust pipes. Being a facelift model, it also sports the latest design cues, specifically around the Multibeam LED headlights, as well as the taillight and daytime running light graphics. The bumper design and grille shape are new too.
Our test car was specifically finished in Obsidian Black Metallic, which is one of four sombre colour options on this locally assembled model. We think the black really brings out the aggression of this design. Paired to the standard AMG Night package, this look is positively menacing. Just a few minimal chrome/aluminium trim pieces as well as the 21" five twin-spoke rims in two-tone finish help bring a bit of contrast to the car's overall look.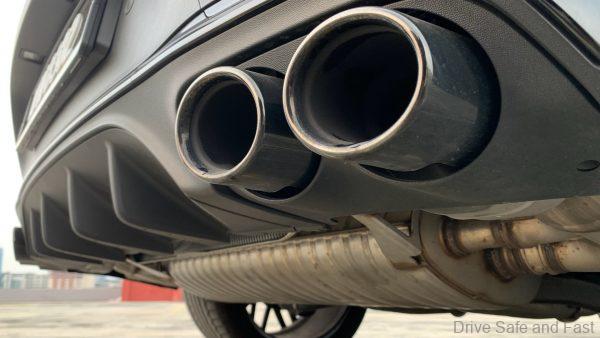 Step inside and you'll find that the front passengers are definitely a priority here. Taller occupants in the rear will have to suffer just a little bit due to the sloping roofline and inherent size limitations of the GLC Coupé's design. Front occupants are treated to a 10.25" MBUX infotainment unit with "Hey Mercedes" functionality. The driver gets a sizeable 12.3" digital instrument cluster (not connected to the infotainment), a new AMG Performance steering wheel with capacitive controls and a 360-degree camera system.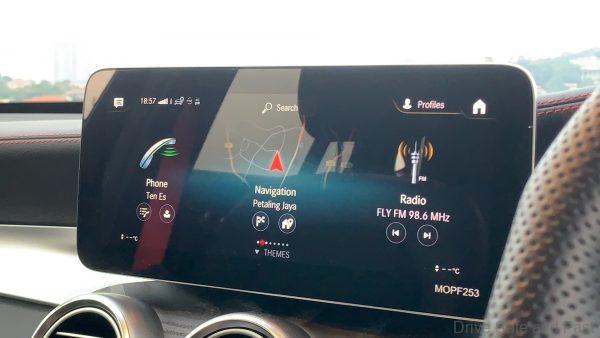 In Malaysia, the AMG GLC 43 Coupé comes with Artico leather and Dinamica microfibre seats along with black, open-pore ash wood inlays.
Overall, it's a look that's stylish and a little sport (thanks to the red seatbelts and AMG trim parts sprinkled throughout). However, it is getting a little long in the tooth now that it has been replicated in about a dozen other models over the last 5-7 years.
Value
When it comes to value-for-money, it's quite difficult to answer in the premium segment. The Mercedes-AMG GLC 43 4MATIC Coupé is quite obviously a very well equipped, high-performance car. Thanks to that rear end, it's also one of the more stylish options on the market and it's also practical enough for a family getaway or daily commutes.
If we zoom in on details like the equipment list, we find that Mercedes-Benz Malaysia have done some good work here as well.
10.25" display with Apple Carplay and Android Auto
Qi Wireless Charging
Burmester premium surround sound system
Powered tailgate
Triple-zone climate control
Driving Assistance package (autonomous emergency braking, adaptive cruise control with stop and go, lane keeping, lane tracing, blind spot monitoring)
Remote engine start
There's really no piece of equipment that's lacking here. And for all that, Mercedes-Benz Malaysia is asking for just under RM500,000. Now, of course, that is a lot of money. But in terms of comparative value, it's hard to argue against this vehicle. Not everyone is looking for a comfortable 7-seater SUV wen shopping at this price point.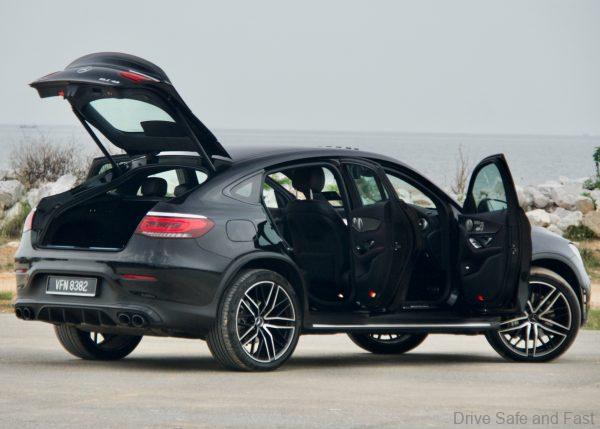 Some people want sportscar performance but only have space in the garage for one vehicle. And if that vehicle also needs to periodically be used to move family members around or go to classy events, the Mercedes-AMG GLC 43 4MATIC Coupé is really one of the best options out there. And despite adding all that equipment in this facelift model, because it's now locally assembled (and because we have an SST-free tax holiday), the car is priced at RM110,000 less than its direct predecessor. If you're going to buy one, buy one before the SST exemption expires.
Mercedes-AMG GLC 43 4MATIC Coupé Specifications
Engine: V6, -Valve, DOHC, Petrol
Capacity: 2996cc
Gearbox: 9-speed TCT Automatic
Max power: 385hp @ 5,500-6,100rpm
Max torque: 521Nm @ 2,500-5,000rpm
Top Speed: 250km/h
0-100 km/h: 4.9 seconds
Price: RM498,723 (with SST exemption)