Used Cars
Published on May 7th, 2021 | by Daniel Sherman Fernandez
0
Mercedes-Benz C 220 CDI AMG Sports Package Used Car Review
Many have not realized the availability of the C 220 CDI AMG in our market.
Sometime in 2014, Mercedes-Benz Malaysia decided to sell a diesel version of the highly successful W204 C-Class. It came with the AMG Sport accessories and badges and Mercedes-Benz Malaysia did not even advertise or promote it. Yes, there was no launch.
The badge says C 220 CDI, which means under the hood is a 2.1 litre four-cylinder diesel engine that delivers 168bhp (the previous version delivered just 148bhp) and 400Nm of torque.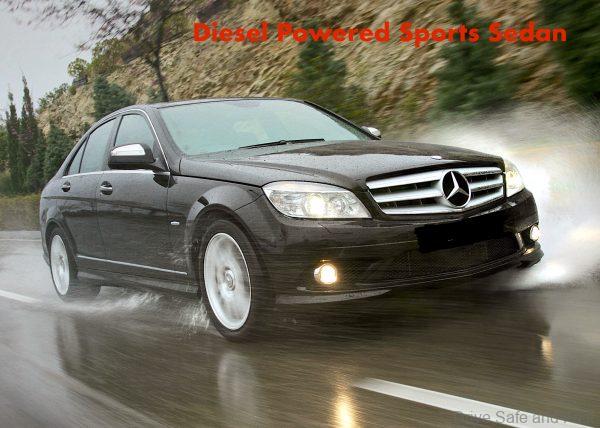 From the launch of this 3rd generation C-Class, Mercedes designers needed a revamp of this premium sedan's styling and so this W204 arrived with clean, fresh and attractive lines. Compared to its predecessor, it was longer and wider, sat on a wider track and had a stiffer body. It was 45mm longer in the wheelbase and 42mm wider overall. Also, it was lighter. The bonnet was made of aluminum which gave it a 10kg weight saving.
Its increased overall dimensions meant it was a little roomier inside, although that was mostly in the front. Rear occupants still found themselves in a snug space. Great for two adults and a squeeze for three adults.
The boot capacity was a sizeable 475 litres and the boot-lid opened up nice and wide to enable larger items to be lowered inside.
Until the arrival of this diesel sedan, Mercedes-Benz Malaysia had not offered a passenger car with a diesel engine in its line-up for some years. There was the fully imported E 270 CDI in the W211 body which was not a big sales hit as it was fully imported and was packed with luxury features that was common in the bigger and more expensive S-Class.
This small batch of C 220 CDIs were adapted and prepared for the low fuel quality that was sold in Malaysia at the time and these cars were locally assembled at MBM's assembly plant in Pekan, Pahang to enjoy the tax benefits.
This 2148cc diesel powered Benz had just one rival in Malaysia, the BMW 320d which had a 1995cc engine running with an 8-speed gearbox. The Benz was running the 7G-Tronic seven-speed auto gearbox.
This W204 came with an AMG Sport exterior that included red seatbelts, 18-inch alloy wheels and adjustable dampers lowered by 15mm.
Today, you might on occasion spot a unit for sale in the online classifieds and its asking price hovers around RM80,000 plus. Might sound like a lot of money for a 7-year-old Benz, but remember, this is not your average C-Class. When it was new, Mercedes-Benz put on a sticker price of RM290,888 without insurance included and some units entered their pre-registration market at about RM250,000 or so. Its quick, fun to drive and handles as good as the average Bimmer.
When you do decide to take home a unit. Check that all the accessories and the COMAND system is working without a hitch and watch out for cosmetic damage which can be expensive to correct.
The C-Class was a popular model and also a family car, so check for wear and tear in the cabin. Also look for the usual signs of wheel kerbing and poorly repaired accident damage.
Some diesel Mercedes owner's experienced problems with the injectors on the CDI cars and replacing them can be expensive. Previous owners who do highway commuting will have no issues.
Mercedes-Benz C-Class 220 CDI Specifications
Engine: 4-cylinder 16V DOHC Commonrail Turbodiesel
Displacement: 2148cc
Transmission: 7G-TRONIC
Max power: 168bhp @ 3,800rpm
Max torque: 400Nm @ 2,000rpm
Top Speed: 229km/h
0-100km/h: 8.5secs
Price NEW: RM290,888.00
Price USED: RM88,000.00
So what is the best diesel fuel to use? With a fuel like BHPetrol's Infiniti Euro5 diesel, double the dosage of additives have been added into the mix. Independent studies on both older diesel engines as well as modern diesel engines both show that this increased additive content can effectively clear existing deposits from injectors and prevent new deposits from forming as well.
This is exactly the type of fuel a current or potential 320d owner might want to look into. So, if you're looking at running this used C 220 CDI in the healthiest way possible, get yourself the best diesel fuel you can at all BHPetrol stations nationwide.