Automotive
Published on June 26th, 2021 | by Daniel Sherman Fernandez
0
Time To Give Your Classic Car Cockpit That Heritage Look
MOMO Heritage Steering Wheel Might Make The Difference.
If you love old cars, classic cars and modern classic cars like we do, you would remember a time, two to three decades ago, when one of the first and most important upgrades was the steering wheel. Yes, there was a time before the arrival of the 'airbag' when car owners looked at changing their stock steering wheel for a 'racing version' or a sporty 'small' and 'fat' steering wheel.
We have changed numerous steering wheels in the early years of car ownership and with tight budgets ended up buying lower priced replicas.
Then one day we saw a used MOMO steering wheel at a car junkyard and the shop owner did not know the value of the wheel and we purchased it for just RM20.00. Yes, this was a bargain and after searching for the right 'BOSS kit' we fitted the MOMO on our first 1989 Mazda MX-5 roadster.
The Mazda MX-5 special edition which was a limited edition model, came fitted with a Nardi steering wheel and gear shift, but this MOMO was way better for us.
Today, MOMO is forgotten by many car enthusiasts and we aim to tickle your memory with this article. With Covid-19, many retro car owners are finding ways to upgrade their rides and this we think is a great and easy way.
If your budget is tight, then look at a lower priced option online as there are many other choices available.
PRESS RELEASE: MOMO was founded in 1964 by race car driver Gianpiero Moretti. In that year, Moretti commissioned a local craftsman to produce a custom steering wheel for his own racing car.
This special steering wheel – the first MOMO steering wheel in the Company's history – had a superior and thicker grip compared to the normal racing steering wheels available at the time.
In the beginning, MOMO's production was limited to the racing world, but in the 1970s, the Company started broadening its horizons by developing new product lines.
MOMO thus started the production of light alloy wheels and steering wheels for road cars, both for the aftermarket sector and supplying original equipment auto manufacturers, starting with Ferrari.
With a number of re-released and retro-inspired designs set to be released in 2017, the MOMO Heritage line combines MOMO's pedigree with modern innovation to create high-end products for classic cars. This new range had its official launch at the Techno Classica show in Essen, Germany.
The MOMO Heritage line is characterized by a return of the inaugural MOMO 'stacked' logo, and this new range includes five steering wheels finished in quality leathers and woods.
This street car steering wheel from MOMO features a timeless three spoke shape, with brushed silver aluminum spokes, black flat screws and a high quality mahogany wood rim with high gloss Zebrano finish and finger grooves built into the back of the wheel for an irresistible and ergonomic grip.
The MOMO Indy Heritage is finished with the historic MOMO stacked logo on the glossy black horn button with matching stacked logo engraved in the silver spoke.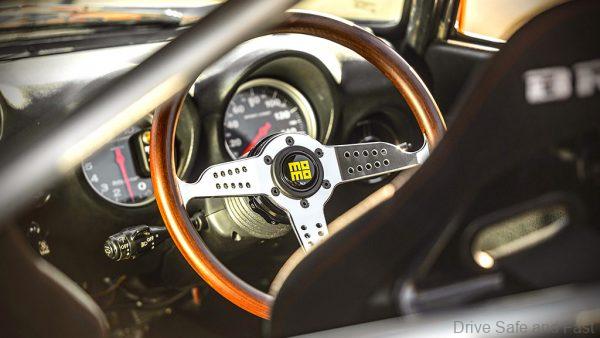 The Indy Heritage wheel is built to a diameter of 350mm and features a subtle 37mm dish.
The grip thickness is 27mm x 26mm. Priced at 242.39 Pound Sterling (about RM1,407.00) it will be shipping costs that will hurt its landed value in Malaysia.
The MOMO Indy Heritage is the ultimate choice for those wishing to retain the character of their vintage vehicle, refreshing the interior or complementing existing wood-grain interior trim.
The Heritage line has been designed to draw upon MOMO's history of design while using the highest grade of modern materials. All of MOMO's steering wheels remain 100 percent made in Italy.