Cars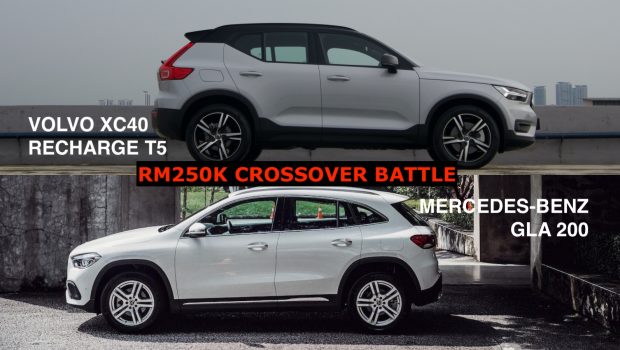 Published on June 2nd, 2021 | by Subhash Nair
0
Volvo XC40 vs Mercedes-Benz GLA
Volvo XC40 Recharge T5 or Mercedes-Benz GLA 200 Progressive Line – which of these is worth a quarter of a million?
There was a time when compact executives were the smartest entry choice for most premium brands, at least in Malaysia. These were a class of car that was often locally-assembled, had some pedigree and sometimes even resembled their larger siblings in the lineup. However, in the last 5+ years, the trend has moved away from smaller sedans to smaller SUVs. Buyers today would rather take a transverse engine configuration and a larger boot than to have something recognisable to an enthusiast, it would seem. But no matter. Today we're going to look at two of the latest premium European compact crossover models available in Malaysia for under RM245,000 and help you decide which one might work better for you.
The two candidates we're looking at today are the Mercedes-Benz GLA 200 Progressive Line and the Volvo XC40 Recharge T5 R-Design.
The GLA was launched in Malaysia very late in 2020 as a CBU model with two variants – both petrol. The initial batch of cars is all sold out, so if you're worried about having a "2020" model car, don't. In fact, even the 2021 models seem to be flying off the shelves.
The XC40 facelift model was brought to Malaysia just in February of this year. Volvo Car introduced a PHEV variant with similar equipment levels to the petrol model and dropped the price of the petrol model by RM10,000. However, both CKD variants are hard to come by due to high demand, and the petrol model seems to be sold out everywhere in Malaysia.
So, now that the SST exemption on CKD cars and SST discount on CBU cars has been extended for the rest of 2021, it's time to ask which of these RM240K+ crossovers is for you.
Let's start with performance.
The GLA 200 and XC40 Recharge T5 have some similarities. They both are front-wheel-drive crossovers, so please don't even think about taking these off-road let alone through a bit of floodwater. They both also feature 7-speed dual-clutch automatic gearboxes. Finally, they are both have extremely small, turbocharged engines. But that's where they start to get different.
That's because the GLA uses a traditional petrol engine but the XC40 Recharge uses a plug-in hybrid system as well as a petrol engine.
The GLA 200 gets 161 horsepower and 250Nm of torque from a 1.3L 4-cylinder while the XC40 Recharge T5 gets 258 horsepower and 425Nm of torque from a 1.5L 3-cylinder and an electric motor embedded in the gearbox. The motor and battery combination is strong enough to drive the car on pure electricity for 44km at reasonable speeds.
Despite the staggering output difference between the two vehicles, the GLA still manages a respectable 0-100km/h time of 8.7 seconds, while the XC40 does that same sprint in 7.3 seconds. That's because the XC40 Recharge T5 weighs 1875kg! That's 390kg heavier than the Mercedes-Benz GLA 200. The hybrid system does help significantly with fuel economy, as the XC40 gets 2.2L/100km versus 5.6L/100km on the Benz.
It's also worth noting that the XC40 Recharge T5 has an electronic speed cap of 180km/h, while the GLA is allowed to keep pushing itself to 210km/h. There is also a noticeable difference in start-up smoothness between the inline-3 in the XC40 Recharge T5 and the inline-4 in the GLA 200. This is especially true when the XC40's engine is set to "Charge" the battery – not a common thing to be doing, but one that can be simulated with ease through the car's menu.
All-in-all, the Volvo XC40 Recharge T5 takes a significant win in terms of performance when it comes to fuel efficiency, acceleration and can be driven emissions-free for a significant stretch. It also has tiptronic functionality and paddle shifters, which are both missing on the GLA. The Mercedes-Benz GLA 200 takes small victories in its top speed, weight, and smoothness of its 4-cylinder engine.
Dimensions
When it comes to compact crossovers, it's difficult to ask for much. These are naturally as small as premium cars should get, given the price floor can only go so low for these brands.
| | | |
| --- | --- | --- |
| | GLA 200 | XC40 Recharge T5 |
| Length | 4410mm | 4425mm (+0.33%) |
| Width | 1834mm | 1863mm (+1.58%) |
| Height | 1611mm | 1658mm (+2.92%) |
| Wheelbase | 2729mm | 2702mm (-1%) |
| Boot space | 435L | 460L (+5.43%) |
As you can see, the Volvo XC40 takes the cake in some aspects of its dimensions. Boot space is significantly larger in the XC40. The slightly wider design will also translate to a little more room in the back.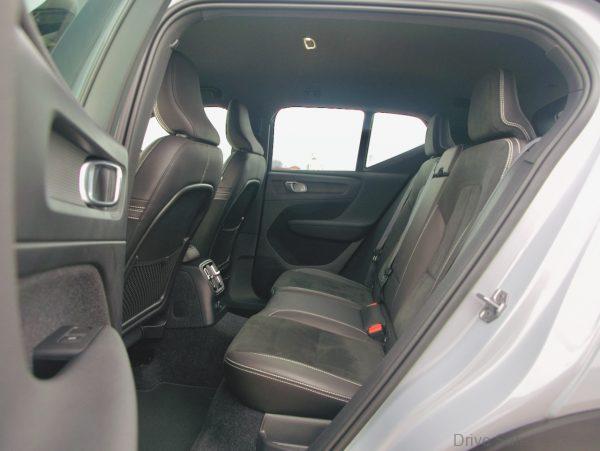 However, these two wins come at the cost of very upright rear passenger seats in the Volvo. In this segment, there's always a bit of compromise when it comes to dimensions, so definitely give both cars a test drive before deciding on ergonomics.
Equipment
Here's another aspect where this Volvo excels at. That's mostly down to the fact that the XC40 Recharge T5 in Malaysia has the R-Design kit where the GLC 200 comes with just the Progressive Line treatment.
There's an AMG Line GLC 250 in the portfolio, but at RM40,000 more, it's not exactly competitive in this price bracket.
Upholstery and interior
In the GLA 200, you get Artico artificial leather with black stitching. The XC40 comes with a much more sophisticated blend of high-end materials, including Nubuck leather (suede), and combination leather and contrast stitching and piping. The seats are also of the sportier R-Design variety, as is the steering wheel.
The GLA does have one win in the interior and that's with regards to the infotainment display. It's slightly larger at 10.25″ versus 9″ on the Volvo. The Volvo infotainment system is portrait-oriented, and its climate controls are embedded into the graphic user interface without physical controls.
That being said, the XC40 has dual zone climate control with rear vents and it has a better 8-speaker setup with a 250W amplifier.
Active Safety and Advanced Driver Assist Systems
Volvo also has a significant lead in this category. The XC40 comes with Active Cruise Control, Auto High Beams, Steering Correction, Blind Spot Monitoring and more comprehensive autonomous emergency braking system. To be fair, the GLA does have autonomous emergency braking up to 105km/h, but lacks the other advanced driver assist systems.
Other Nice to Haves
The rims are larger on the Volvo (19″ versus 18″).
The front headlights feature Adaptive LED Projectors on the XC40 versus just Fixed LED projectors on the Benz.
Conclusion
Well, it's hard to deny that the Volvo XC40 Recharge T5 delivers a LOT more bang for your buck than the Mercedes-Benz GLA 200 Progressive Line.
That being said, the GLA 200 isn't too poorly specced. It does have Android Auto and Apple Carplay, large enough rims, and autonomous emergency braking. The engine's punchy enough, going by the figures. Some customers might prefer not having a plug-in hybrid system to deal. Some may not think that the Volvo brand has as much prestige as the three-pointed star. Sometimes tangible advantages don't translate to a more desireable product. But we shall see how this plays out for both brands. Given both products are hard to find in showrooms, it looks like they're both enjoying considerable success.