Automotive
Published on April 14th, 2022 | by Subhash Nair
0
Automotive Hi-Tech Valley Launched In Tanjung Malim, Favouring China Suppliers
DRB-HICOM is bringing China to Tanjong Malim with the upcoming Automotive Hi-Tech Valley.
By now, most of you are acutely aware of Proton's ongoing spare parts issues. There have long been after sales complaints regarding the national carmaker, but the pandemic has exacerbated things. We know because we reported on spare part availability issues back in 2019, 2020, 2021 and even in 2022! Now, the company might be breathing a sigh of relief as one of its parent companies, DRB-HICOM, has announced plans to develop an 'Automotive Hi-Tech Valley' at Tanjong Malim, right next door to the Proton factory.
The pitch for the 'Automotive Hi-Tech Valley' is full of the NAP 2020 buzzwords like 'NxGV'. The meat of it is this: 4,000 acres of land in Tanjong Malim has been earmarked for Geely and their Chinese auto part suppliers to set up shop right next to the Proton plant.
One the one hand, this is probably the best way to alleviate the part shortage issue that Proton has on its hands… at least for the Geely-engineered models like the X50 and X70.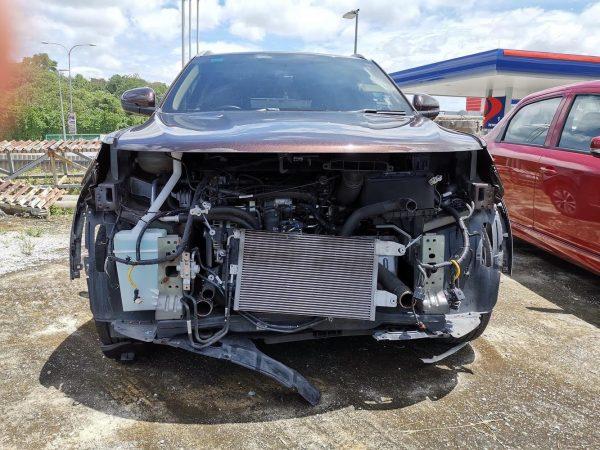 On the other hand, we feel the term 'Automotive Hi-Tech Valley' is a bit of a misnomer. It's being talked about as if it's going to be the export hub of ASEAN for electric vehicles, as if a whole bunch of car companies and OEMs are going to swoop in as they have to Thailand's industrial zones. However, it's also clear that DRB-HICOM is most interested in bringing more Geely Holding Group involvement than anything else. Both companies literally signed a Memorandum of Understanding to this effect.
DRB-HICOM and Geely Holding Group will be identifying potential vendors and investors to the hub, likely from China. Maybe Smart cars will be eventually made in Tanjong Malim, who knows?
Despite some level of government involvement, this doesn't seem to be the kind of 'Silicon Valley of electric cars in ASEAN' that DRB-HICOM wants it to look like. It's more of a Geely-and-friends industrial park ready for some juicy customised incentives.
Read the press release for yourself below.
PRESS RELEASE
DRB-HICOM Berhad ("DRB-HICOM") has today launched the development plan of Automotive Hi-Tech Valley ("AHTV") at Tanjong Malim, marking the momentous start of a high impact major project envisioned to boost the National automotive industry. Emphasising on new technologies and systems in global automotive industries, namely electrification, Artificial Intelligence (A.I), autonomous technologies and advanced connectivity, AHTV is envisioned to be an automotive industry hub for the ASEAN region.
The launch was officiated by Prime Minister, YAB Dato' Sri Ismail Sabri Bin Yaakob. Also present were Perak Menteri Besar YAB Dato' Seri Saarani Mohamad, Minister of Finance, YB Senator Tengku Datuk Seri Utama Raja Zafrul Tengku Abdul Aziz and other government officials. DRB-HICOM Chairman Tan Sri Wan Zulkiflee Wan Ariffin and DRB-HICOM Group Managing Director Dato' Sri Syed Faisal Albar were also present.
RESPONDING TO A CHANGING AUTOMOTIVE LANDSCAPE
The development of AHTV is aimed at embracing the changing landscape of the world's automotive industry with an integrated ecosystem that will be a catalyst to revitalise domestic automotive sector in line with the direction of the National Automotive Policy ("NAP") 2020. This is to ensure that Malaysia's automotive industry continues to be on par, if not more advanced, than in neighbouring countries. With the right systems, infrastructure and stakeholder support in place, AHTV will be well positioned to attract investments from industry players in the region, spurring the growth and capability of the local automotive industry.
MOUs WITH GEELY, PERAK STATE
At the ceremony, the Prime Minister also witnessed the signing of a Memorandum of Understanding related to AHTV. DRB-HICOM and the Perak State Government signed an MOU to jointly identify suitable additional land in the area to be earmarked for AHTV. The current area surrounding the PROTON Tanjong Malim plant measures 4,000 acres with most already occupied by Universiti Pendidikan Sultan Idris, existing vendors, as commercial premises and as residential properties. The additional land will be focussed for AHTV development, including a research university.
DRB-HICOM has also signed another MOU for AHTV, with Geely Holding Group. The MOU with PROTON's shareholder, signed on-line on 11 April 2022, is to jointly develop AHTV and collaborate to identify vendors and investors to the hub. The involvement of DRB-HICOM's strategic partner for national carmaker PROTON, Geely Holding Group, which is known for their technological strength in the
automotive ecosystem, is a boost for AHTV. This can be an impetus for auto and component manufacturers, especially from China to invest in local production facilities, to create a new business and export opportunities. Essentially, AHTV has the potential as a gateway to ASEAN & OIC markets for companies that make it as their base. There are already 17 vendors operating within the area.
EDUCATION SLANT
To boost the automotive talent pipeline, AHTV will also see the setting up of a research university. This will create an educational framework to nurture a new generation of engineers for the automotive industry in areas of Engineering, IT, Design, Artificial Intelligence, Mobility Solutions & Software Development. This will strengthen local research and Development ("R&D") capabilities and ensure competitiveness of local original equipment manufacturers ("OEMs"). The establishment of an automotive-based research university augur well for Malaysia, as the industry surges ahead with Next Generation Vehicles ("NxGV") and Mobility-as-a-Service ("MaaS").
In its development stage, some 370,000 job opportunities are expected to be created at the AHTV site next to the PROTON manufacturing facility in Tajong Malim. Once completed, in Phase 1, the hub will offer more than 160,000 job opportunities to the area, contributing to the economy of Perak Darul Ridzuan and the country.