Automotive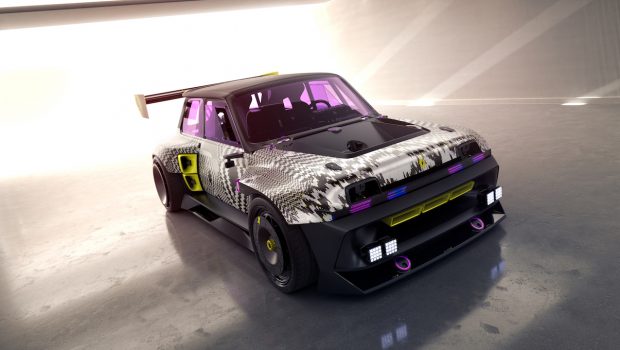 Published on September 23rd, 2022 | by Subhash Nair
0
Renault R5 Turbo 3E Was Designed For Drifting, But Has No Actual Turbos
The Renault R5 Turbo 3E is electric and made for drifting.
Last year, Renault recreated an icon – the Renault 5 Diamant – for the electric age. This year, the company is having some fun with the electric prototype by transforming it into a drift machine. They're calling it the Renault R5 Turbo 3E after the celebrated Renault 5 Turbo and Turbo 2. So '3' because it's the successor to the Turbo 2, and 'E' because it's all-electric.
The Renault R5 Turbo 3E is just over 4 metres long and 2 metres wide, weight just 1500kg even with its 42kWh battery pack. The tubular chassis features a flat base and an FIA approved roll bar.
The twin electric motors are rear mounted and capable of 380hp and 700Nm of torque, which is a lot for such a lightweight vehicle. It has a 0-100km/h time of just 3.5 seconds and a top speed of 200km/h.
Most importantly, it's engineered to be an all-electric, rear-wheel drive drifter with its more than 50-degree steering angle. The vehicle has also been fitted with more than 10 camera brackets to get all the best gymkhana footage.
The design was mirrored after its predecessor with many of the body parts made of carbon fibre. It even features the Turbo 2's air inlets on the rear fenders.
The square fog lights are also a throwback to past design but now there are four of them and each contain 16 LEDs as well as coloured LED strips that flash when the car drifts.
The R5 Turbo 3E takes advantage of new aerodynamic advances with a large rear spoiler and large air inlets on the front bumper. One of the air inlets on the bonnet features the opening for the battery charging socket – a clever integration.
Just for a little flair, the Plexiglass windows are pink with a sticker reading "La vie en rose" on the rear left window.
Inside, the Renault R5 Turbo 3E features carbon fibre bucket seats, safety harnesses and a steering wheel from Sabelt, an upright handbrake lever in "pop" yellow, grey and black tartan seats and dashboard trim with "pop" yellow and pink highlights, a light-up Renault logo on the steering wheel hub, a black cork floor and Alcantara lining on the top of the dashboard and the door panels.
The 10 analogue dials that were featured on the Renault 5 Turbo 2 have been replaced by 10 digital screens on the Renault R5 Turbo 3E. They're playfully renamed the buttons "Free Play" to start the car, "Turbo" for drift mode, "Track Invader" for playing and "Donut" for 360-degree spins. They've also thrown in a teddy bear named Drifty to relax passengers.