Automotive
Published on February 27th, 2023 | by Sounder Rajen
0
Modenas Signs MOU With Giatmara To intensify TVET Programme
The Modenas MOU was signed at "UniKL MIAT"
These days, we often hear of college alternatives as, let's face it, a degree no longer holds much value, if any. Just ask the hundreds of degree holders begging on the streets. With that, a bunch of Technical and Vocational Education Training (TVET) programmes have become a popular choice and Modenas is strengthening this.
Motosikal dan Enjin Nasional Sdn Bhd (Modenas), a subsidiary of DRB-HICOM has just signed a memorandum of understanding (MOU) with Giatmara Sendirian Berhad (Giatmara), at the University Kuala Lumpur Malaysian Institute of Aviation Technology (UniKL MIAT) to intensify its TVET programme.
Who is Modenas? Well, established in 1995, Motosikal dan Enjin Nasional Sdn Bhd or Modenas, in short, is a Malaysian company that designs, develops and manufactures motorcycles. The company finds its roots embedded in the small town of Gurun, Kedah.
Moreover, this programme also aims to intensify skills education, talent and entrepreneur development and was attended by Deputy Prime Minister, YAB Datuk Seri Dr Ahmad Zahid Hamidi, as well as some industry giants, such as Malaysia Rail Link Sdn Bhd (MRLSB) and UMW Toyota – UMW Industries (UMW).
Signing on behalf of Modenas was Encik Roslan Roskan, Chief Executive Officer of Modenas and for Giatmara, Ts. Ahmad Hamdi Ibrahim, Chief Executive Officer of Giatmara signed. This is a great way to ensure that Giatmara students who take a TVET programme will not be almost guaranteed to have to face unemployment.
The contents of the MOU steep further into developing a skilled workforce and boost the availability of highly trained human capital, by recruiting automotive engineering students from the Institut Kemahiran Mara (IKM) and Giatmara, as their technical graduates' skills were developed to cater for the industry.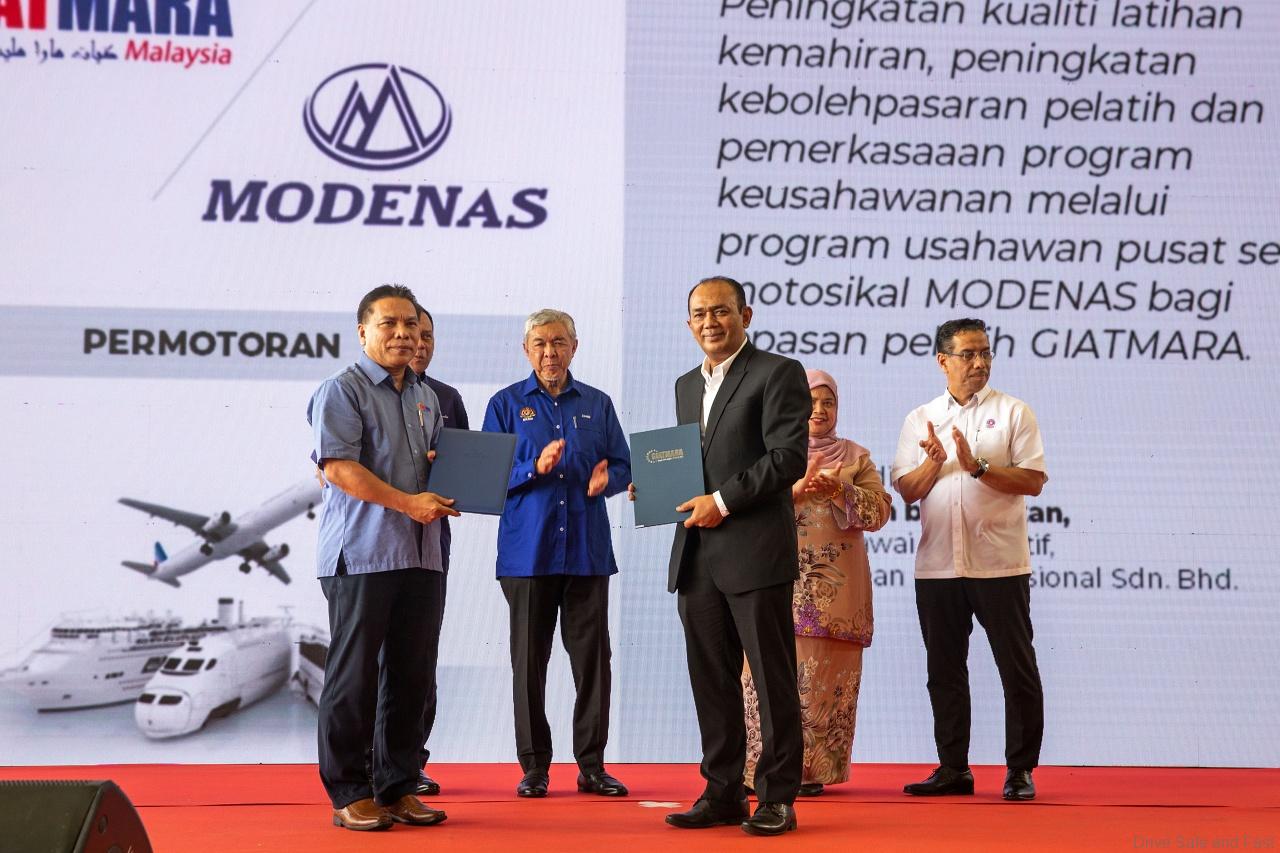 On top of providing facilities, Modenas will also go a step further in providing valuable input and added value into the curriculum, by creating entrepreneurship and implementing Training of Trainer (ToT) programmes to help improve the knowledge and competency of Giatmara's trainers and trainees as a whole.
Roslan Roskan, CEO of Modenas, stated, "Being one of the pioneers in the local motorcycle industry, MODENAS has a social responsibility to ensure priority is given to locals by sharing industry expertise, resources and its facilities that shall benefit the whole motoring industry in producing skilled manpower and entrepreneurs."
He concluded with, "Furthermore, this is not the first time such collaboration is being reinforced between Modenas and Giatmara, and I believe through the initiative, Giatmara's trainees will be more marketable and will easily be accepted in the industry."
So what do you guys think about what Modenas is doing? Should more local companies focus on similar efforts to ensure the youth do not have to suffer?