Automotive
Published on April 27th, 2023 | by Sounder Rajen
0
Alfa Romeo Celebrates A Century Of Excellence With Two iconic Models
Alfa Romeo unveils Giulia and Stelvio Quadrifoglio 100th anniversary models
Alfa Romeo turned 100 on 15 April 2023, and to mark this anniversary, the brand pays tribute to the legend of the Quadrifoglio with limited edition anniversary models, specifically the Italian automaker will build 100 units of new Giulia and Stelvio Quadrifoglio with more power, more equipment and exclusive touches as standard.
On 15 April, 2023, exactly 100 years ago, the undeniable symbol of Alfa Romeo performance, the Quadrifoglio, made its debut. The four-leaf clover symbol worn on the race-winning RL of Ugo Sivocci in that year's Targa Florio was the start of a legend and now 100 years later, we celebrate this legend.
Moreover, technical purity and modern technology come together to make the new limited-edition Alfa Romeo models and put them at the top of their respective segments, with best-in-class handling and power-to-weight ratio creating a direct and one-of-a-kind Alfa Romeo driving experience.
The Giulia and Stelvio Quadrifoglio 100th anniversary Alfa Romeo models are the result of one-hundred years of racing and production vehicle development. Both are powered by a 2.9-litre Bi-Turbo V6 engine that has been improved to now make 520hp and this extra power is combined with a mechanical self-locking differential.
Both Alfa Romeo anniversary models are also equipped with specific tuning derived from the development of the Giulia GTA, this important new addition improves the car's driving feel and traction, optimises torque transfer and also increases stability, agility and cornering speeds. All of this makes for a more fun drive.

On top of that, the 100th anniversary Alfa Romeo models are also updated with the brand's new '3+3' headlights, with adaptive Full-LED Matrix technology that offer anti-glare and an adaptive driving beam for optimal lighting in all conditions. This adds a more stylish look to the exterior of the car.
The interiors of the 100th anniversary Alfa Romeo models feature an exclusive combination of black and Alcantara leather, enhanced by new and exclusive contrast golden stitching and innovative 3D effect carbon-fibre trim. On the dashboard, the number 100 is also stitched in gold next to a golden Quadrifoglio.
The iconic Quadrifoglio is heading back to its native land of Sicily to celebrate 100 years of excellence, as Alfa Romeo has chosen the island to be the backdrop for a commemorative photo shoot. Even a hundred years later, the Quadrifoglio journey continues to evolve, towards a bright future without forgetting the past.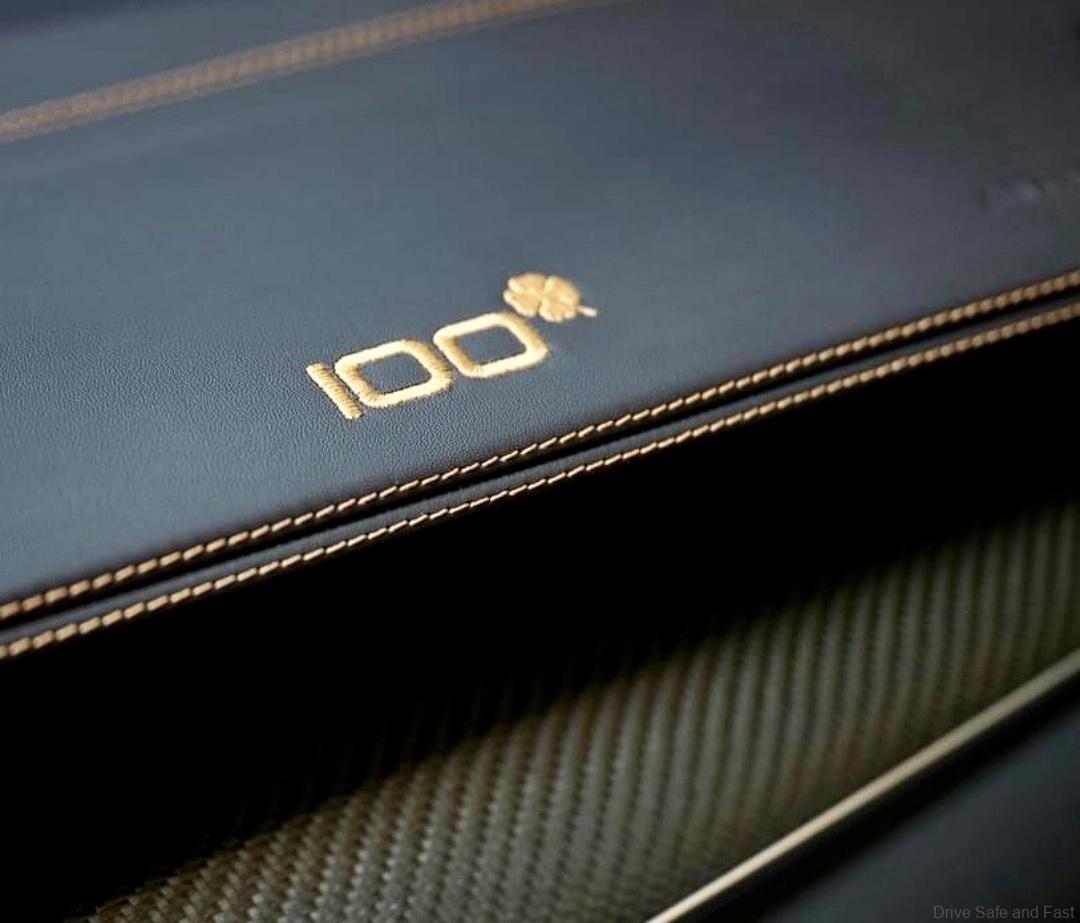 The 100th anniversary Alfa Romeo Giulia and Stelvio Quadrifoglio models will be available to order in the UK in the second quarter of the year, pricing will be confirmed at a later date and I am certain all 100 units of these cars will sell out almost immediately, if they are not already booked as it is.