Automotive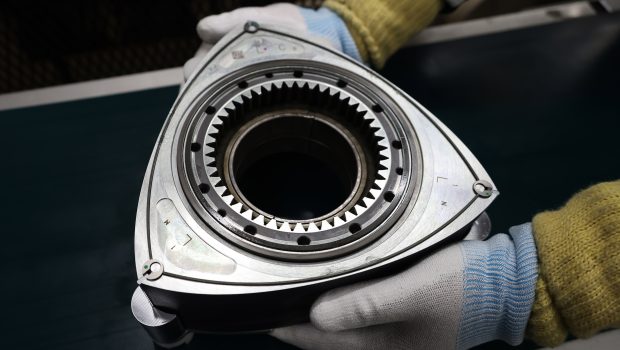 Published on October 31st, 2023 | by Subhash Nair
0
Mazda Has Made 2 MILLION Rotary Engines So Far
With the new Mazda MX-30 e-SKYACTIV R-EV, the number of rotary engines will only go up.
Just last month, we shared the story of the NSU Spider – the first production car with a rotary engine. This week, Mazda announced that they have crossed the 2 million mark in terms of how many rotary engines they've made.
While Mazda continued to make rotary engines and spare parts to support the enthusiasts out there, there was a decade-long gap where the brand stopped producing cars equipped with rotary engines at all. This happened when the RX-8 was taken off the shelves in 2012. It was only in June of this year when Mazda started to produce the range-extender version of the MX-30.
Mazda's first vehicle with a rotary engine was the Cosmo Sport, also known as the 110S. It came about in 1967, six years after their technical tie up with NSU and Wankel.
"The rotary engine is a special part of Mazda history and represents our 'never-stop challenging spirit.' The rotary engine is much loved by customers around the world, and we are excited to resume production and see it make a comeback. I would like to take this opportunity to sincerely thank everyone who has supported us on this journey—in particular, the many customers who have purchased rotary engine vehicles, our rotary engine fans, and all our business partners who were involved in development and production. Moving forward, we will continue to pass on this 'never-stop challenging spirit,' offering attractive vehicles that provide our customers with an exciting driving experience even in the age of electrification," said Takeshi Mukai, Director and Senior Managing Executive Officer at Mazda.
Mazda Rotary Engine Timeline
July 1961
Technical tie-up with NSU and Wankel
May 1967
Completion of the rotary engine announced and Mazda Cosmo Sport
(Mazda 110S) launches
July 1968
Mazda Familia Rotary coupe (Mazda R100 coupe) launches
October 1969
Mazda Luce Rotary coupe (Mazda R130 coupe) launches
May 1970
Mazda Capella Rotary series (Mazda RX-2) launches
September 1971
Mazda Savanna (Mazda RX-3) launches
November 1972
2nd Generation Mazda Luce Rotary series (Mazda RX-4) launches
June 1973
Total rotary engine vehicle production volume reaches 500,000
February 1974
2nd Generation Mazda Capella (Mazda RX-2) launches
April 1974
Mazda Rotary Pickup (REPU) launches in North America
July 1974
Mazda Parkway Rotary 26 launches
April 1975
Mazda Roadpacer AP launches
October 1975
2nd Generation Mazda Cosmo AP (Mazda RX-5) launches
October 1977
3rd Generation Mazda Luce (Mazda 929L) launches
March 1978
1st Generation Mazda Savanna RX-7 (Mazda RX-7) launches
November 1978
Total rotary engine vehicle production volume reaches 1 million
November 1981
3rd Generation Mazda Cosmo and 4th Generation Luce Rotary series
(Mazda 929) launch
October 1985
2nd Generation Mazda Savanna RX-7 (Mazda RX-7) launches
April 1986
Total rotary engine vehicle production volume reaches 1.5 million
September 1986
5th Generation Mazda Luce (Mazda 929) launches
April 1990
4th Generation Mazda Cosmo (Eunos Cosmo) launches, equipped with a three-rotor rotary engine
June 1991
Mazda 787B wins the 59th 24 Hours of Le Mans
December 1991
3rd Generation Mazda RX-7 (ɛ̃fini RX-7) launches
April 2002
The last Mazda RX-7 limited edition model, Spirit R Series, launches
April 2003
Mazda RX-8 launches
November 2011
The last Mazda RX-8 special edition vehicle, Spirit R, launches
June 2012
Production of the Mazda RX-8 ends
June 2023
Production of the Mazda MX-30 e-SKYACTIV R-EV starts
October 2023
Total rotary engine vehicle production volume reaches 2 million