Reviews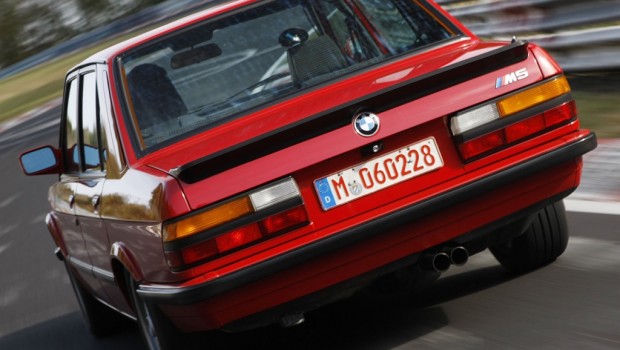 Published on September 7th, 2016 | by Daniel Sherman Fernandez
2
BMW E28 M5, Never Forget This Super Sedan
In 1984, at the Amsterdam Motor Show, BMW unveiled to the world, a car that would become an instant legend. This legend was the E28…..or better known as the first 5-Series sedan. With the E28 M5, BMW created a car that was up for the social responsibility of a family sedan while a performance monster lurked inside its soul.
The car had subtle sporting touches as compared to the base car, however it was a different beast altogether. The car was hand built by BMW Motorsport division that happily installed a variation of the newly developed BMW M1 engine in the car.
The E28 BMW M5 is one of the all time greatest BMWs. It spawned a new genre of vehicle, one that would be mimicked by nearly every other automaker since, with none ever being able to replicate the magic that the original M5 had, BMW included. The E39 M5 came very close to being as perfect of a fast sedan as the E28 but, in the opinion of many BMW enthusiasts, it still wasn't as special.
The E28 was the original M car, it's the birth of a genre and it's near perfect as a car.
A modern update of a proven concept (E28).
The second generation of the BMW 5 Series sported a two-section split kidney grille element and circular headlights with different diameters for main and dipped beam. The engine portfolio largely reflected that of its predecessor, which at launch meant petrol variants with 66 kW/90 hp (BMW 518) to 135 kW/184 hp (BMW 528i).
A diesel variant was added to the line-up for the first time in 1983, in the form of the BMW 524td. In 1985 BMW Motorsport GmbH – the forerunner to today's BMW M GmbH – presented the quintessential large sports sedan: the BMW M5.
Its six-cylinder in-line engine, derived from the unit powering the legendary BMW M1, developed 210 kW/286 hp. The second generation of the BMW 5 Series ended production in June 1988 having set a new sales landmark of more than 722,000 units over its eight-year lifespan.
BMW M5 (E28) Specifications
Car type                4-door saloon
Engine                   3453cc
Curb weight         1465kg
Dimensions          4.62m long, 1.70m wide, 1.40m high
Wheelbase           2.62 m
Power                   195ps
Torque                 232Nm
Introduced         Year 1985