Reviews
Published on July 14th, 2017 | by Subhash Nair
10
5 Reasons Current VW Passat Owners Won't Buy The New One
The B7 Passat was Volkswagen Malaysia's first major success. It came out of nowhere, and Malaysians rushed to trade their trusty Japanese sedans for it despite being a relatively unfamiliar nameplate at the time.
It was such a hit that it became the first VW model to be locally-assembled in Pekan. By 2012/13, the Volkswagen Passat had gone from utterly unheard of by the average Malaysian consumer to a serious contender in the D-segment space.
The B8 Passat, which was locally launched last year, brings the same things we loved about the older model, but takes reliability and refinement up a notch. The engine and gearbox have been updated and tweaked for better longevity and of course the package as a whole is more impressive than ever.
Volkswagen Passenger Cars Malaysia even had an overtrade programme that accepted older B7 Passats for higher-than-market prices in exchange for the newer B8.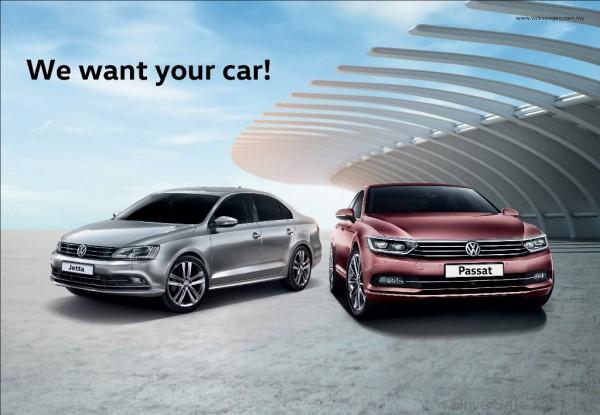 However, after speaking to a few owners of the previous Passat (two of whom were family members), it seems likely that they will not be trading in their cars. Here's why:
1) The Trendline and Comfortline Models are Not Significant Upgrades
When going from one car to your next, you want to feel a sense of momentum. Cars are a huge investment and you want that to reflect some improvement or change in your life.
The problem is the Trendline and Comfortline Passats are just not a big enough improvements. The 1.8-liter TSI and 7-speed DSG have been significantly improved in both performance and reliability, but to owners, they're paying new car price for what on paper looks like just more horsepower.
And what do you really get for another 7-years of loan repayment?
A Push-to-start button.
Colour Displays that tell the same information as the black-and-white one on the older Passat.
A hinge-mounted accelerator instead of a floor mounted one (a downgrade to some).
A better key.
Improved NVH and driving charateristics (but the previous Passat was already great in this regard).
Yes, everything in the B8 is better, but on paper the specs are only slightly bumped up.
The B8 Passat doesn't LOOK significantly better. Sure it looks DIFFERENT, but some owners prefer the cleaner lines on the B7.
Plus, the Trendline's fabric seats, smaller rims and smaller infotainment display immediately make it feel like a downgrade.
The Highline is the only option that feels like a big step forward, but at RM200,000, it goes up against the BMW 318i.
2) Why Trade One Bad Investment for Another
Owners of the current Passat have a lot of problems selling their car. Some dealers only offer RM40,000 for a clean, working Passat from 2012. The overtrade deal that was in place before brings that value up to about RM50,000 (from an owner's experience), which isn't great when you're buying a new Passat at sticker price.
The new B8 Passat is significantly more reliable, better built and improved in every way. But this was the feeling owners had with the B7 when they first purchased their cars. It was a great product at launch.
Sure, the B8 has been road tested for hundreds of thousands of kilometers, but why gamble on the same horse after it lost 75% of its value in 5 years? Would you?
3) The DSG Party is Over
Yes, dual clutch transmissions are more engaging and more efficient. There's no doubt about this. The Passat B8 Trendline we had over the weekend delivered us some amazing results: KL-to-JB-to-KL on RM65 of petrol. But owners have to deal with a couple of very annoying characteristics. Mainly, the low-speed juddering.
On any other automatic gearbox, juddering is a sign of impending failure or problems.
Obviously, owners aren't too happy that they're just expected to live with a car that feels like it's on the verge of breaking down. I mean, what if there's a cool new engine technology that emits harmless blue-grey smoke from the tailpipes? Would you be able to live with that for the sake of fuel savings?
4) No One Likes to be Embarassed
Owners of the B7 Passat got into their cars and the Volkswagen brand full of pride. Then the brand took its time to acknowledge issues that owners were facing. Then their cars left them stranded at the office/supermarket. Then the brand went sold the same cars at a HUGE discount(RM115K vs RM170K) 2 years later.
If the brand and car betrays you like that, no one's going to blame you. But if you give it a second chance and it does that again, you only have yourself to blame. Has Volkswagen done enough to regain the trust of their Malaysian customers?
5) The Market Has Changed
The B7 Passat was an impressive product when it launched. But today, the B8 Passat has to go up against some very compelling rivals.
Kia's Optima GT, the Ford Mondeo, the Mazda 6 with G-Vectoring Control. These will give you equally 'special' experiences at the RM200,000 mark.
Meanwhile, the safer Japanese options today are on par in terms of equipment with the Passat.
So while the B8 Passat is an excellent product in our opinion, those are some reasons why current B7 owners aren't keen on going back for seconds.