Cars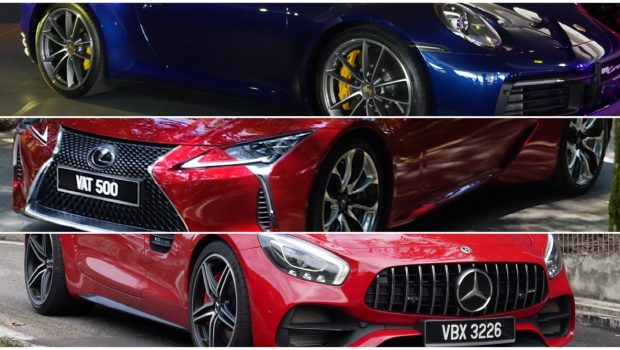 Published on October 7th, 2019 | by Subhash Nair
0
Best 4-seaters Over a Million: 911 / LC 500 / GT C
If you had a million Ringgit, what new car would you buy today? Well the good news is you won't be spoilt for choice… A lot of cars cost over a million, and a lot of car brands sell cars that start at more than a million Ringgit. Most British and European marques only survive and thrive in the automotive industry by moving into this high margin, high brand value space.
But we don't have access to a lot of these vehicles. Thankfully, we have driven a few expensive cars over the last couple of years and thought it'd be interesting to stack up these 2-door 4-seaters over a mil. But first, a baseline on what they cost:
Porsche 911 Carrera S – RM1,150,000
Lexus LC 500 – RM1,242,000
Mercedes-AMG GT C – RM1,495,888
Ooof. Bad start. How are cars with price deltas in the HUNDREDS OF THOUSANDS going up in the same article?
Well, it's complicated. On the 'lower end', the 911 Carrera S STARTS at RM1,150,000 and most 911 buyers end up adding a lot of custom options to their cars to reflect their tastes. On the other end, the AMG GT C is kind of the performance-optimised version of the standard AMG GT, which used to come in closer to RM1.2 million. And while that probably would have been a better comparison, we spent more time with the AMG GT C, the standard GT is no longer on sale and the updated family might make its way to Malaysia this year, so we're just going to go with the GT C.
Porsche 911
The 911 is the most iconic model of the bunch. It's probably worth the money just for saying you have one in your garage. That being said, it's also the only one here with fewer than 8 cylinders, but many prefer that classic flat-six and its many tantalizing qualities.
Performance is the 911's greatest asset – it's the only car here (and elsewhere) with a rear-engine layout. All that weight sitting on the rear axle when you accelerate makes for an exhilarating drive and the characterful sounds of its boxer motor make it a remarkably unique vehicle to drive. And with the new Wet Mode, the 911 is also a lot safer to drive fast in the rain.
Equipment-wise, the 8th generation 911 is in its prime. You get a 10.9″ touchscreen, a semi-digital instrument cluster, and much much more. But as we mentioned earlier, we're sure there might be a few options you'd like to tick for your own personal 911.
The 911's iconic shape and modern, solid interior would appeal to those who look for cars with a real lineage, something that will be recognised instantly by car enthusiasts and regular folk.
Lexus LC 500
We drove this one more than a year ago and declared it the best car we've ever driven. Even today, my opinion is unchanged, the LC 500 is by far the most underrated, luxuriously appointed, and beautiful vehicles on sale in Malaysia. And it's got the best warranty as well (not that you'd really need one on a Lexus).
Unlike these other cars, the LC 500 is PERFECTLY FINE being driven slowly in KL traffic. Yes, they're all capable of being driven slowly, but only the LC feels right at home as a daily driver. Even the 5-litre V8 engine goes from the power-optimised Otto cycle to the Atkinson cycle, which saves a lot more fuel.
As you can probably tell, the Lexus LC 500 is for those who see themselves driving something special even when there isn't a special occasion to.
Mercedes-AMG GT C
The Mercedes-AMG GT C is a mean, loud, and huge machine that draws a lot of attention to itself. The GT C is the 2nd most extreme variant of them the Mercedes-Benz Malaysia ever sold – certainly more livable than the GT R.
The AMG GT C has a pretty wide and curvaceous bodykit and a distinct appearance with that Panamericana grille.
The AMG GT C appeals to those who want serious performance and attention. It might be a little too hard and loud to drive daily, but when the time is right, it excels.
Which is should you buy?
Well at this price point, there's no right or wrong answer. They're all powerful performers, luxurious, and attention-grabbing. But they've all got their strengths and weaknesses. I would say the LC 500's the most practical of the bunch, the 911 is the most iconic of the lot and the AMG GT C is for those who just want something unhinged.
Porsche 911 Carrera S Specifications
Engine: Boxer 6, 24-Valve, DOHC, Turbocharged Petrol
Capacity: 2981cc
Gearbox: 8-speed PDK
Max power: 444hp @ 6500rpm
Max torque: 530Nm @ 2300-5000rpm
Top Speed: 308 km/h
0-100 km/h: 3.7 seconds
Lexus LC 500 Specifications
Engine: V8, 32-Valve, DOHC, Naturally-aspirated Petrol
Capacity: 4969cc
Gearbox: 10-speed Direct Shift Automatic
Max power: 470hp @ 7100rpm
Max torque: 540Nm @ 4800rpm
Top Speed: 270km/h
0-100 km/h: 4.4 seconds
Mercedes-AMG GT C Specifications
Engine: V8, 32-Valve, DOHC, Turbocharged Petrol
Capacity: 3982cc
Gearbox: 7-speed AMG SPEEDSHIFT DCT
Max power: 557hp @ 5750rpm
Max torque: 680Nm @ 2100rpm
Top Speed: 316km/h
0-100 km/h: 3.7 seconds