Automotive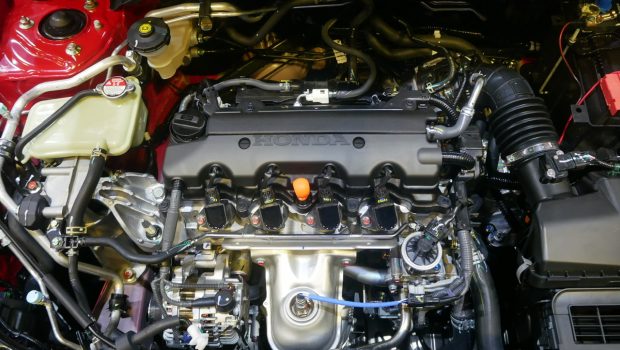 Published on January 21st, 2020 | by Subhash Nair
0
Singapore Gets This 1.6L Honda Civic, But We're Not Sure Why
The 10th generation Honda Civic isn't hot news, but it's still a very popular vehicle in a shrinking segment. So, when we bumped into this strangely low-specced red Civic at the 2020 Singapore Motor Show, we thought we'd take some photos and look it up. Turns out it's equipped with an engine that we don't see on any Honda cars sold in Malaysia!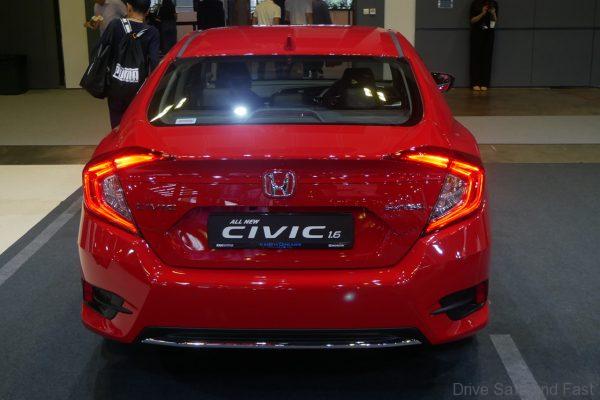 The Honda Civic 1.6L has a strangely simple heart. It's in the same family as the 1.8L naturally-aspirated Civic that we also receive here. Here's how the two compare.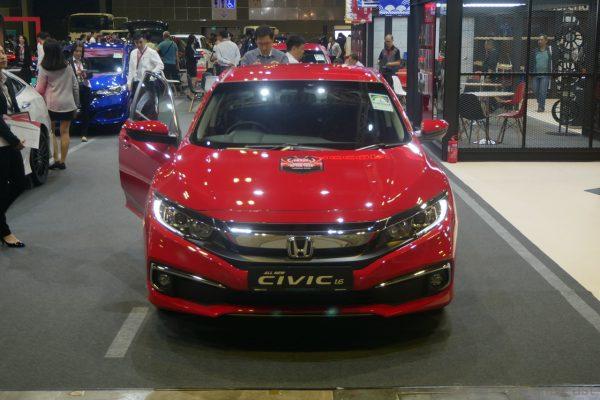 R16B Engine
Displacement: 1.6 L; 97.5 cu in (1,597 cc)
SOHC iVTEC (Chain driven cam)
Compression: 10.7:1
Bore & stroke: 81 mm × 77.5 mm (3.19 in × 3.05 in)
Power: 125 PS (92 kW; 123 bhp) at 6,500 rpm
Torque: 15.6 kg⋅m (153 N⋅m; 113 lb⋅ft) at 4,300 rpm
R18Z1 Engine
Displacement: 1.8 L; 109.8 cu in (1,799 cc)
SOHC iVTEC (Chain driven cam)
Compression: 10.6:1
Bore & stroke: 81 mm × 87.3 mm (3.19 in × 3.44 in)
Power: 141 PS (104 kW; 139 bhp) at 6,500 rpm
Torque: 17.7 kg⋅m (174 N⋅m; 128 lb⋅ft) at 4,300 rpm
Both of these engines comes from the 'R' family, but we're unsure what the sense is behind delivering the slightly smaller displacement unit to Singapore, when markets like Malaysia, Thailand and the Philippines start off with the 1.8L, while Indonesia omits naturally-aspirated engines from the Civic family altogether.
Perhaps it is something to do with Singapore's Vehicular Emissions Scheme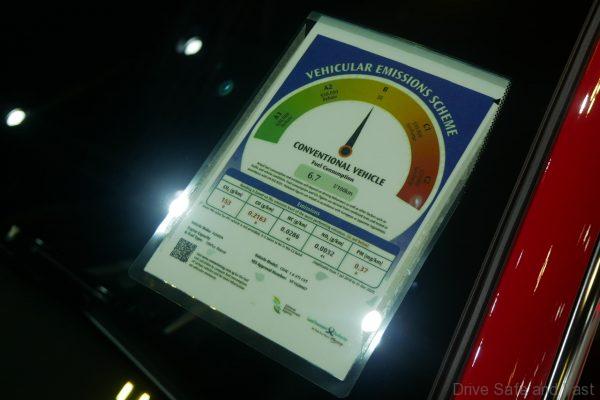 The Vehicular Emissions Scheme came into effect in 2018, replacing the Carbon Emissions-based Vehicle Scheme with a more comprehensive, 4-pollutant emissions standard.
This sticker was pasted on the Civic 1.6's windscreen. It seems to indicate a B grade, which gives means there is no rebate or surcharge on the car. Cars with 'A grade' emissions can get up to a SGD10,000 rebate, and those in lower grades can be hit with a SGD10,000 surcharge. This, to us is a very sensible price control that ought to steer consumers towards better environmental choices. If only the government and MARii paid attention to things like this rather than implementing opaque, behind-the-scenes incentives with manufacturers and taxing based on displacement like it's the 1980s.