Automotive
Published on July 14th, 2021 | by Subhash Nair
0
Mazda Hiroshima Plant Powered By Solar Energy
The Mazda Hiroshima Plant gets solar energy and it's put to good use.
We all know by now that Mazda is producing its own electric vehicle, the MX-30. But the company is going a step further to reduce its overall environmental impact. They've installed new solar panels at their Hiroshima Plant to charge the batteries of these cars up and run their factory.
That means that the first round of electric range on the MX-30 that customers experience is as carbon-free as can be! The next few hundred, not so much.
The solar power generation system at the Mazda plant is capable of 1.1MW of electricity output. This will allow its factory facilities to run on solar-derived energy as well, drastically cutting down on their carbon footprint in the process.
Here's the press release with more
PRESS RELEASE
As part of its efforts to promote green manufacturing lines and offices in factories, Mazda Motor Corporation today initiated operation of its first solar power generation system.
The solar power system, installed at Mazda's Hiroshima Plant, boasts an output of 1.1 MW of electricity. The power generated by the solar panels will supply electricity to the entire plant and be used to charge the batteries of all MX-30 EV models produced at the plant.
Moving forward, Mazda will strive to introduce and use green electricity in its efforts to reach carbon neutrality in 2050 to achieve a future where all of us can permanently co-exist with our beautiful earth.
About the MX-30
Mazda Motor Corporation has unveiled its first mass-production electric vehicle, named Mazda MX-30, at the 2019 Tokyo Motor Show.1
A new addition to Mazda's car lineup, the MX-30 is the automaker's third new-generation model. Aiming to offer an experience that lets customers relax and be themselves and deepens the bond between car and owner, the model offers a creative time and space that invites new ways of using a vehicle.
Under the Car-as-Art ethos, the styling of MX-30 aims to raise its artistic value and expand the expressive range of Mazda's Kodo—Soul of Motion design language. Based on a concept of "Human Modern," the design stays grounded in the beautifully honed, handcrafted forms of Kodo, yet aligns itself with changing values and new lifestyles.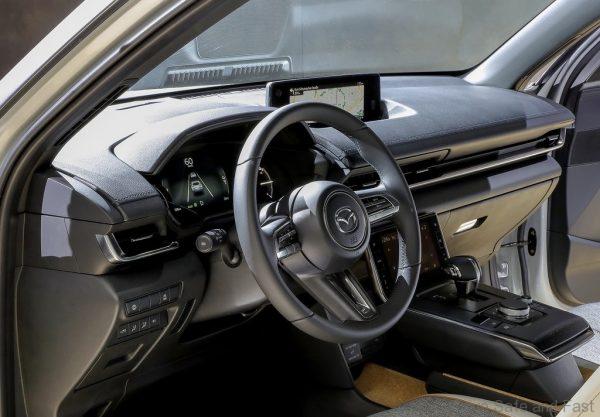 Spaces in and around the center console give the cabin an open feel, and environmentally conscious materials such as cork and fabrics made from recycled materials are used in ways that bring out their natural appeal, creating a comfortable interior space. In addition, the MX-30 adopts freestyle doors2 so customers can invent new and creative ways of using the car.
In line with the human-centric philosophy, Mazda engineers were determined to deliver the same Jinba-ittai driving joy that every Mazda offers in the EV as well. The model adopts Mazda's new electric-drive technology, e–Skyactiv, and combines outstanding response with smooth dynamic behavior to achieve performance that drivers can enjoy naturally.