Cars
Published on November 29th, 2021 | by Daniel Sherman Fernandez
0
Lexus LC500 Topless Drive On The Weekend
Nothing like a luxury topless supercar from Lexus.
Yes, there are many topless supercars in the market on sale and prices vary from just above RM800.000 to more than RM3,000,000 (that's 3 million).
The rivals to this Lexus LC500 start from the iconic Porsche 911 drop top. Then you have the Mercedes-Benz SL followed by the Aston Martin DBS Superleggera Volante and lets not forget our proud Italians, the Ferrari Portofino M, Ferrari SF90 Spider and the wedged shaped Lamborghini Huracan Spyder.
You might ask why we have not included the brute and furious Ford Mustang, well that's really not in this league of supercars (let the debate begin).
Under the manicured bonnet is a naturally aspirated 5.0-liter V8. The front-engine, rear-wheel-drive LC Convertible shares the same direct-injected V8 powerplant as the LC Coupe. Based on the 2012 LF-LC Concept, it was revealed at the 2016 North American International Auto Show in Detroit looking very much like its concept.
The engine is rated to produce 470 horsepower at 7,100 rpm and 540Nm of torque at 4,800 rpm. For the LC Convertible, the engine is paired with a Direct-Shift 10-speed automatic transmission. The Convertible posts an impressive 0-100km/h time of 4.7 seconds, and its maximum tarmac speed is electronically limited to 270km/h. It carries a 200 lbs weight gain over its hardtop sibling.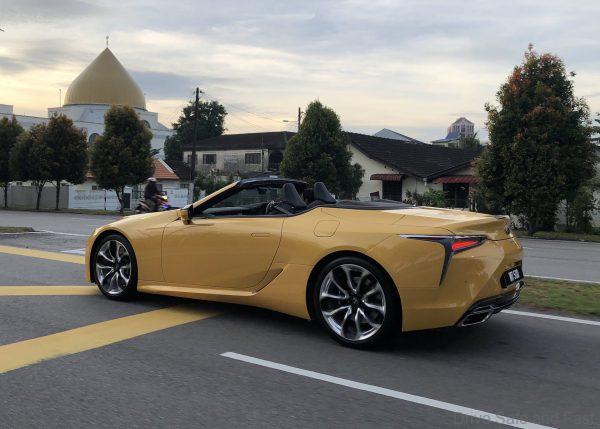 The Cabin
Well, like with any other Lexus, and we include even the simple UX Crossover. Quality luxurious Takumi picked materials, high fitment quality and luxury appointments are met to the highest standard possible. Lexus also provides the best possible sound system to tickle your ears when you are doodling in heavy traffic. Once the road opens up the V8 sings a tune that needs an applause.
The Immediate Rivals
Well, it our opinion there are just two immediate rivals for this topless Lexus LC500. The all new Mercedes SL which has not yet arrived in Malaysia and the popular Porsche 911 Cabrio.
At market launch, the new SL started with two output levels of the AMG 4.0-litre V8 biturbo engine. The engines are assembled purely by hand at the company's site in Affalterbach according to the "One Man, One Engine" principle.
In the top model SL 63 4MATIC+ the engine develops 585hp and provides a maximum torque of 800 Nm over a wide rev range from 2500 to 4500 rpm. Accelerating from 0 to 100km/h takes only 3.6 seconds, the top speed is 315km/h.
In the SL 55 4MATIC+, the V8 unit develops an output of 476hp and a peak torque of 700Nm. The sprint from standstill to 100km/h takes 3.9 seconds, the top speed is 295km/h.
The new Porsche 911 Carrera S Cabriolet is equipped with the most technically advanced roof design that Porsche has to offer.
The Porsche 911 Carrera Cabriolet offers unfiltered topless driving pleasure. The fresh-air version of the eighth 911 generation arrived just four months after the world premiere of the 911 Coupé. The turbocharged three-litre flat-six in the new 911 GTS delivers 480PS. Maximum torque is 570Nm, an increase of 20 Nm over its predecessor. Zero to 100km/h takes just 3.3 seconds with the eight-speed Porsche dual-clutch transmission (PDK): three tenths faster than its predecessor.
The Top Down Drive
From ignition the drama starts with the V8 growl waking up the neighbours. It soon settles into a mild hum and as you doodle in city traffic there is little drama. Once you find an open road, use the throttle as quickly as you dare and this Lexus 'shoots' forward without any hesitation.
You can pick between ECO, Sport and Comfort mode for daily driving enjoyment, but it is Sport + that opens up this precise engineered V8 to scare other road users. It feels faster than its printed acceleration time and you never feel uneasy with its power delivery.
Riding on gorgeous looking 21-inch alloy wheels shod with run-flat tyres, the powered top is activated with a simple button and can be operated while the car is moving up to 50km/h to get a quick topless driving experience.
The operation takes about 15 seconds. There is Active Noise Control technology to ensure you keep enjoying the sound delivery from the Mark Levinson 13-speaker system (11-channel 918W Amplifier, AM/FM Tuner, Single DVD/CD, MP3, WMA, WAV, FLAC, ALAC/OGG Vorbis MP4, WMV, AVI, Compatible with Miracast, Bluetooth and Wi-Fi).
The Final Decision
In this segment and this price point, buyers are not really bothered by what motoring journalist have to say as we can't afford these cars. Buyers are more interested in design, curb-side appeal and attention. Yes, like a RM200k wristwatch or a RM50k handbag, the luxury sports convertible purchase decision comes from the heart.
Looks matter and exclusivity. Here is where this Lexus LC500 takes the top spot. Its gorgeous, sexy, exclusive and very quick. Plus, you get that 100 percent Lexus reliability and best in class after sales.
All that is needed now is to get enough rich people behind the wheel for a selfie.
Lexus LC 500 Cabriolet Specifications
Engine: V8 DOHC, 32V Dual VVT-I
Capacity: 4,969cc
Transmission: 10-speed Direct Shift Auto
Max Power: 470hp @ 7,100rpm
Max Torque: 540Nm @ 4,800rpm
Acceleration: 4.6 seconds
Max Speed: 270 km/h
Price: RM1,205,216.50