Cars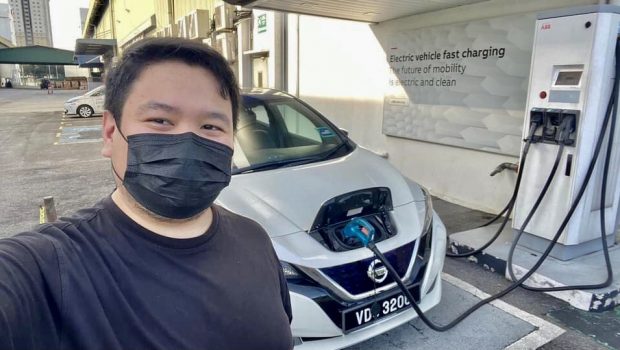 Published on December 30th, 2021 | by Daniel Sherman Fernandez
0
Here Is Aiman's Honest Electric Vehicle GoEV User Experience
We share a Malaysians electric vehicle driving experience with the Nissan Leaf from GoEV.
We have in recent months expressed our issues with electric vehicles ownership in Malaysia. Why? Well, it seems that only luxury car buyers in Malaysia have the financial capability to own electric vehicles.
Meanwhile, there are a growing number of Malaysians who are starting to 'warm up' to the possibility of owning an electric vehicle (EV), but unable to afford one as yet.
This below is the personal and honest experience of a person who was curious about EV ownership and when GoCar introduced their GoEV subscription plan, he decided to try it out to see the feasibility of owning an EV in Malaysia.
Aiman's Personal View: Greetings, as we are moving to year 2022 and recently our government announced that there will be some tax incentives for EV buyers, I was eager to feel it myself on how it is like to drive a BEV (Battery Electric Vehicle).
I had the chance to rent this Nissan Leaf 2nd generation (40KWh battery pack, 150ps, 320Nm of torque) from GoCar Apps. It cost me RM24.90/hour and had it for 8 hours. The booking is quite a breeze.
On 26/12/21 at 8.30am, I took the car from ETCM Glenmarie. Prior collecting the car, I need to take a selfie to verify myself as the driver and 4 angles of the car as a proof that the car that I'm going to rent is there and at this time, if there is any problem with the car (scratches, dents, dirty, etc), I need to report it to GoCar prior starting the journey. Luckily my car was all clean and free from any defects.
Upon collecting the car, I expected the battery was full, but to my surprise, the previous user didn't charge the car even though there is a wall charger next to it. So I left ETCM Glenmarie with 48 percent of battery and 126KM of range and drove myself to the nearest fast charger available.
A mere 2km away, there is an ABB "supercharger" (50KW CHAdeMo) at Bandar Sunway. Thanks to Plugshare App, where EV users can look for the nearest charging station available at your location. So I went and had a quick refill (around 25min) till 82 percent and left ABB with 210KM of range. Driving it like i used to drive a petrol car, switching on the A/C will drop the range around 5-10KM further.
I drove it around town (Shah Alam-> Subang-> Sunway-> Shah Alam) covering around 70KM and before I returned the car, I had a stop at Federal Highway Petronas for a refill (the Battery of course!). Driving a BEV is surprisingly good!
The instant torque is so addictive and surreal quiet. Charging at some places are free (Eg: ABB and PEKEMA network– free for now), ChargEV membership RM250/year, Caltex Fast Charger (pay per use basis).
Currently there are 17 public accessible DC fast charging station nationwide. But despite all these pros, there are a few gripes to drive a BEV. (Truthfully, I got range anxiety even with this 40KWh battery pack)
1. GoCar only provide a Type-2 to Type-1 cable in the car and a ChargeEV card for free charging (no granny charger) especially with this Nissan Leaf that come with Type 1 AC charging port as most of the charging places in Malaysia offer a Type 2 AC charger.
2. Some of the charging place (provided by GreenTech) had been vandalized so they disabled it for charging. Therefore, I need to go and find another mall with a charging place nearby.
3. Most of the wallbox provided by Greentech is either a 3.7KWh or 22KWh, so charging would be quite slow. (Adequate for PHEV with smaller battery) Thus hoping in the years to come, they can replace those wallbox to provide a faster charging speed or built more fast charging stations.
With the limited time I had, renting this Nissan BEV, all I have to say is that, it was a great experience overall despite the minor drawback.
Those pioneering in owning an EV are the brave ones. As for me, driving an EV (especially those small range batteries) is quite scary and needs a proper route planning especially if you are driving it long trip with family. Surely you don't want to be stranded in the middle of nowhere at night charging it with a wall socket or 3.7KWh box right?
Will I buy an EV as my next car, definitely a YES! Just hope that our EV incentive from 2022 onwards really push our respective charger providers to build more fast charger nationwide as surely there will be a surge of new EV owners in Malaysia.