Used Cars
Published on June 18th, 2022 | by Daniel Sherman Fernandez
0
Audi TT 2007 to 2009 Model Used Buyers Guide
To buy a used Audi TT or a used Volkswagen Beetle?
Drive an Audi TT anywhere in the city or outskirts today, almost 23 years after its first showing and it is surprising how much attention it still creates. Yes, the first ever Audi TT was shown in 1998 and was launched in early 1999.
Since then it has been regarded as the vehicle that made people take a second look at Audi. This was also the time when Audi emerged as a serious competitor against BMW and Mercedes-Benz in the sports car segment.
However, not everyone immediately liked the shape (many commented that it looks like a flattened and smaller Beetle) but those who do like it are in a pretty big majority and are generally car enthusiasts. Few cars in modern times have created a greater stir than that caused by the radical looking Audi TT and it happens till today.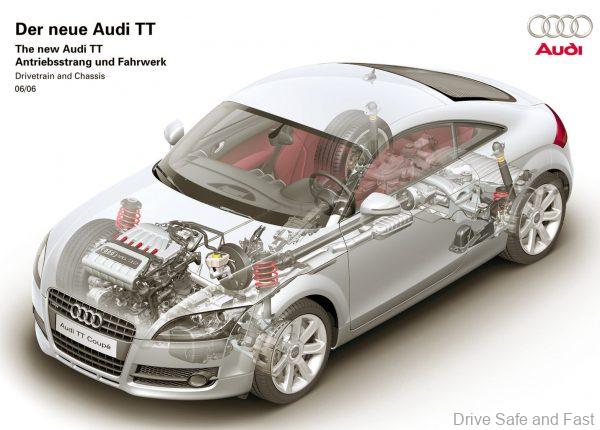 The styling is not only radical on the outside, the cabin, with its circular dial and vent theme works very well. It uses a lot of aluminum highlights as Audi is a big fan of this high-tech material (all its cars come with aluminum panels). The overall look is great and even those who have no intention of ever driving hard and fast in one will love the sporty look and attention the TT creates on the road and even at the public car park.
Here we are looking at the second generation Audi TT and till today this 13 to 15 year old Audi is nice to drive even though it feels more like a hot-hatch than a true sports car. Which shouldn't really come as a surprise, because underneath that gorgeous original 1999 model Audi TT shell is actually a Volkswagen Mk4 Golf GTI. We all are well aware that the VW Golf is a solid and refined hatchback with a good feel, drive dynamics however it was not really a pure-bred sports model.
The platform sharing was done to keep costs down, as Audi is somewhat part of the Volkswagen group and have been sharing technology for sometime and even more nowadays.
The TT we are suggesting here is the second generation model which was launched in 2007 and shares the Volkswagen Mk5 Golf GTI, the best GTI in modern times and this elevated the driving feel of the TT.
The used car for sale will be a standard 2-wheel drive 2.0-turbo version. It is mated to a smooth shifting 6-speed sequential gearbox (not a DSG like in the Golf Mk5).
The Audi TT is not a complex car in terms of major work and you do not need to visit an authorised Audi workshop for maintenance. There are dozens of mechanics today who can work on an Audi TT for a fraction of the dealership pricing.
Like the Mk5 Golf GTI, the spare parts prices aren't cheap like with a Japanese car, but are in keeping with others in this class and especially from Europe where the Euro is 4.5 times higher than the Malaysian ringgit this should be no surprise.
It is also the same story with the cost of servicing and repairs. If you find one you want to purchase then make sure the engine starts promptly, even when it is cold. Gear changes should be reasonably light, but remember that this is basically a front-wheel drive car so there are a multitude of links between the lever and the gearbox.
Look at the door panels and carpets for signs of water entry or flood. If there is the slightest cause for concern, get permission from the seller to lift the carpets and have the interior checked. Audis come with great factory finish paint so it will be easy to spot signs of previous crash repairs with the paint finish.
A ripply finish in any of the panels, or a mismatch in paint colour from one section to the other is fairly easy to spot. Doing your checks in bright sunlight makes it easier to see panel damage and also inspect the interior for excessive wear.
If there's the slightest concern over crash repairs either get a full professional inspection, or ignore that car and try to find another one. Not to worry, there are dozens for sale and you can choose the right one for you.
Selling prices today for a year of manufacture 2007 to 2009 Audi TT is between RM58,000 to RM69,000. Used car dealers have a healthy margin so take your time and haggle the price.
When new, this TT had 211 horsepower and 350Nm of torque. It should be free from squeaks and groaning noises during a test drive. High mileage cars will have the turbo leaking oil and the engine cover leaking a little oil (the car needs to be on a workshop lift to spot this). This is common for stressed cars and will be expensive to repair in coming months. Like its sibling the Mk5 GTI, parts are easy to get and fixing any issues is also very easy. This will be the best way to 'push' the selling price down.
We have driven this TT model when new and also recently when we tested a used unit for a good friend. It is well built and a true fun car that has lost enough value to be a great used buy today.
By the way, a used VW Beetle 2.0TSI is also going for a similar price, so you might want to look at that possibility as well.