TechTalk
Published on September 18th, 2022 | by Daniel Sherman Fernandez
0
AERWINS Hoverbike Takes Flight With USD777,000 Price Tag
This AERWINS flying motorcycle is already on sale in Japan.
AERWINS Technologies Inc. is an air mobility platform company that has built and deployed a flying motorcycle called the XTURISMO.
Unlike our famous 'Malaysian Flying Car' project which was in the local news in February 2019, this is a 'real' project that has been realized. Our Flying Car project was more of a 'sipping of government funds project' and this is why till today there is no word on its progress.
The company is a Japanese company that is based in Delaware, America and their core business is making drones and unmanned aerial vehicles.
Interestingly, this hoverbike can fly for about 40 minutes, reaching speeds of up to a possible 97 kilometers an hour.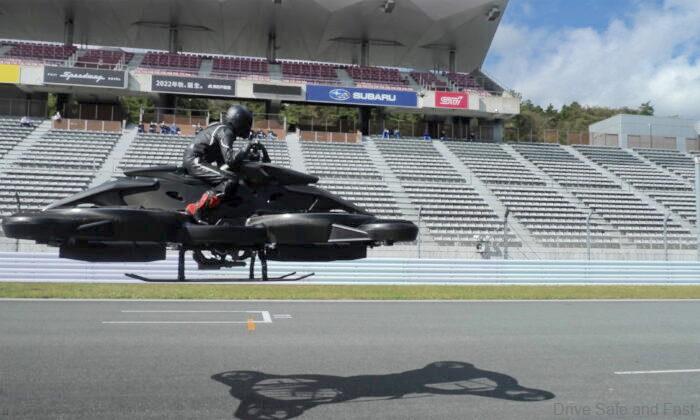 Further, AERWINS Technologies worked on designing and developing this hoverbike for the past two years. The machine is a petrol-electric hybrid with a Kawasaki motor.
Meanwhile this hoverbike has been on sale in Japan and Shuhei Komatsu, the founder and CEO of AERWINS shared that plans were underway to sell a smaller version in the United States in 2023. This hoverbike comes with a myriad of safety features and sensors to keep riders safe, such as collision avoidance and radar.
Made with a mix of carbon fiber parts and aluminium, the XTurismo is 3.7 meters long, 2.4 meters wide, and 1.5 meters tall and it can stay airborne for 30 to 40 minutes at speeds of maximum 97 kilometers per hour.
This hoverbike weighs in at 300 kg and has a max payload of 100 kg.
The current business plan is to deliver the 200 Limited-Edition XTurismo in 2022 and then start working on mass production as costs go down. Hopefully, current legislation and regulations on VTOLs will catch up by the time this flying bike gets to that milestone.
Right now the asking price of USD777,000 and the company is working to get the cost down to about USD50,000 for a smaller, electric model by 2025.
Earlier this month, AERWINS said it was looking to list on the NASDAQ via a merger.
Additionally, the transaction value of AERWINS is at USD600 million, which is expected to result in a combined pro forma equity value of approximately USD750 million, assuming no redemptions in the business combination.
Achieving a public listing milestone is expected to enable AERWINS to promote the expansion of its air mobility platform business globally, increase production capacity, new product research and development and make AERWINS a recognized leader in air mobility.
The transaction is expected to close in either the fourth quarter of 2022 or the first quarter of 2023, and AERWINS anticipated being listed on the NASDAQ Capital Market under the symbols "AWIN" and "AWINW".