Automotive
Published on December 14th, 2022 | by Subhash Nair
0
Will YB Anthony Loke Please Do Something About Road Tax Stickers
Fixing the problems with Malaysian road tax sticker would go a long way.
YB Anthony Loke has been reappointed as the Minister of Transport, and rightfully so. The man proved his worth when he put a mechanism in place to save Malaysian lives that were at risk from the Takata airbag scandal. That was 2018, now he's back in the seat and already proving his worth a second time around by investigating for himself conditions on RapidKL LRTs.
Fixing the LRT system is a top priority that would improve the most number of lives. However, it is a big task that may take loads of resources and time. We have a smaller improvement to suggest that would improve conditions for many private vehicle owners – fixing the road tax stickers.
Even though I only started driving in 2009, I distinctly remember a time before the current rectangular road tax sticker all Malaysian vehicles are required to display. Back in the old days, the road tax document was a little square that was tucked into a plastic windscreen-mounted sticker sleeve. Every year you just removed the old square and placed a new one inside.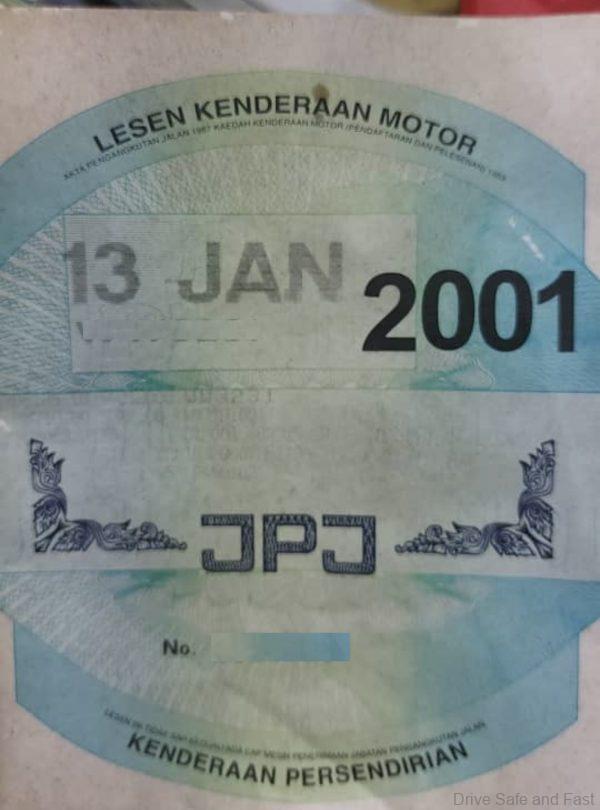 In the early-to-mid 2000s, the current rectangular semi-permanent road tax sticker was introduced. At first there seemed to be a colour-coded theme going on to help JPJ officers identify older stickers, but they seem to have settled on the current shade of indigo blue.
The issue most Malaysians have with these new stickers are manifold. The most common thread being that they just don't stick onto windscreens very well. In my experience, the stickiness has been inconsistent. Some years they stick just fine, other years they peel off within a month of two.
Other minor complaints are:
they tend to tear easily when initially peeled off the backing paper
they sometimes leave residue on the windscreen after they're peeled off
We have suggested other road tax reforms that also target the structure of Malaysian road tax in a separate article alongside a change in the actual sticker quality.
Here's an excerpt from that article:
The current road tax system is extremely outdated. Displacement tells you nothing meaningful but is still the primary metric for determining annual road tax.
The current system does not take into account fuel efficiency, thermal efficiency, or output. It mainly cares about the displacement of the engine. Other factors like private/commercial use and saloon/non-saloon and whether it's considered a 'classic car' by some ever-changing, arbitrary and obscure rules. Displacement today hardly plays a part in the equation. a 1.0L turbocharged engine can have a higher output than a 1.8L naturally aspirated one. A 3.0L 6-cylinder petrol engine with cylinder deactivation could be less harmful to the environment than a 2.0L turbodiesel. A car with a 1.3L turbocharged engine could be three times more expensive than a car with a 1.8L turbocharged engine.
What's more, we're already in the age of the electric car! We don't need to reinvent the wheel here. Just look at what some of the other countries are doing and learn from it. Do we want to penalise inefficient vehicles? Go right ahead and test for tailpipe emissions and rate accordingly (this would also encourage new car purchases indirectly). Do we want to treat road tax as a sort of sin tax/tax on luxury goods? Then charge by output. There are many ways we can go about road tax, but displacement is the worst way.