Automotive
Published on January 18th, 2021 | by Daniel Sherman Fernandez
0
Ford Expands To Shut Down Volkswagen Cergaz Autohaus In TTDI
VW 3S Dealer Cergaz Autohaus Closes Its Doors For Good
If you have been driving along the Damansara-Puchong (TTDI) highway heading towards Desa Park City and Sungei Buloh the past ten years you would have seen the tall and proud building with a Volkswagen (VW) logo on its side and in front (across from IKEA and Mutiara Damansara). This was the Cergaz Autohaus Volkswagen sales, services and spare parts center building that started business some 11 years ago in May 2010.
The Very First
Yes, it was the very first Volkswagen 3S center in Malaysia and it was a purpose built building at a time when the Volkswagen business was growing fast and with a substantial lineup of products and premium items on sale.
The Impressive Property
The total area of this purpose-built modern VW Taman Tun Dr. Ismal (TTDI) 3S centre was 47,300 sq. ft. It had a 7,000 sq. ft. showroom on the Ground Level that included a display area for 6 to 8 cars, a comfortable customers' lounge and a VW Merchandise display section.
The workshop was on the Basement Level with a total area of 19,000 sq. ft. that had 10 work bays, Spare Parts Store and Special Tools Room. It also housed the VGM Technical Service Centre with training facilities such as a classroom that could accommodate 30 trainees and two work bays with hoists for practical training. The office area was located on Level One with a total area of 8,300 sq. ft. Level Two of the VW TTDI 3S Centre had a 13,000 sq. ft. car yard that could park about 80 brand new cars.
Cergaz Autohaus was a wholly owned subsidiary of KLSE-listed Permaju Industries Bhd which has been on an aggressive expansion trail in its automotive business since it's grand entrance via its wholly-owned subsidiary, Cergazam Sdn Bhd that at one time had three Chevrolet 3S Dealerships, in Petaling Jaya, Penang, and Johor Bharu in November 2007 and on the Penang Island in November 2008. These showrooms closed some time ago as well.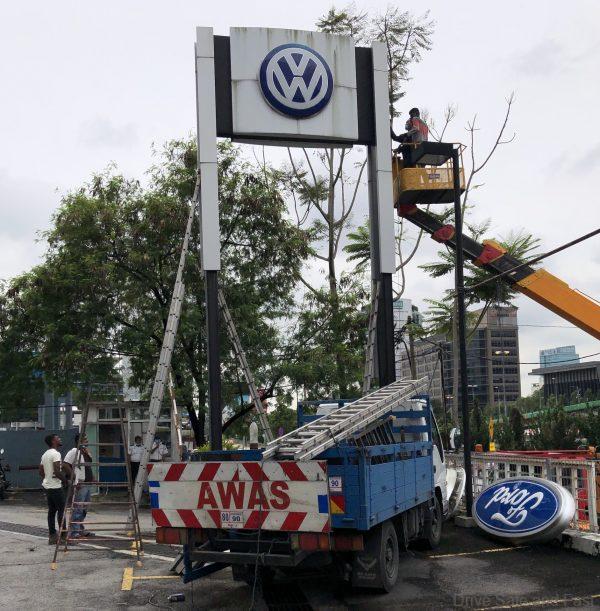 Another One Bites The Dust
Late last year as we were driving past this showroom heading towards the toll plaza, we saw a crane lowering the Volkswagen pylon and made a quick U turn to see what was going on. A brief chat with the workshop staff and we were informed that due to a slowdown in demand and mounting issues, the owner of the business had decided to give up their Volkswagen franchisee and expand their current Ford dealership which was located at a small business lot further down the same road.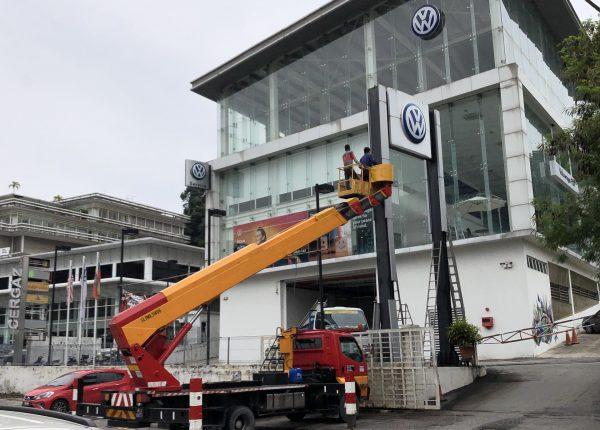 Ford Expands
Yes, Cergaz also had a growing Ford dealership and they were moving their Ford dealership to this larger and more well laid out building. In the following weeks we waited for the Ford logo to be installed and business operations to start and so today you can see their Ford 3S business is up and running at this former VW dealership.
Their Volkswagen customers in the surrounding neighborhoods will now need to visit VW Sri Hartamas or drive further to VW Glenmarie for their warranty and service needs.
The Rest
In early 2019 we saw the established Federal Auto Wagen 4S center closing along Jalan 222 and then a few weeks later it was the Volkswagen 4S center in Selayang and some time after that in late 2019 we have the 4S center located at No. 8, Jalan Dua, off Jalan Sungei Besi, 55200 Kuala Lumpur, Federal Territory of Kuala Lumpur closing down. This outlet a few weeks later was reopened under a new owner, GVE Asia.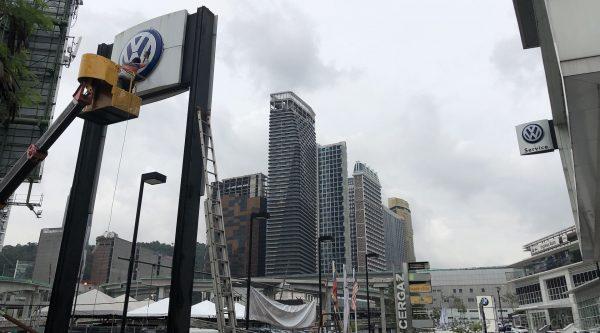 This above news story is to inform all Volkswagen owners in the surrounding area that they need to find an alternative Volkswagen service and sales outlet for the service and warranty claims if necessary. Here is the list of existing Volkswagen dealers in Malaysia you can visit.