Cars
Published on January 27th, 2021 | by Daniel Sherman Fernandez
0
Are You Willing To Wait 9 Months For Your New Proton SUV?
For the X50 and also the X70.
This is now becoming a rising concern for Malaysians who ordered their new Proton SUV in the past two months or so. The waiting list for the all new Proton crossover, the X50 has already breached the 9-month waiting time and this is not surprising as the bookings are now past 34,500 units and counting.
Not Just One Model
What is surprising is the waiting list for the Proton X70 SUV which was launched more than 2 years ago and is being produced at Protons' factory in Tanjung Malim as a Malaysian National Car. The delay is said to be due to the lack of parts coming in from overseas. Then there is also the issue of accident damaged Proton X70's which are waiting for exterior panels to arrive.
Spare Parts Also
As recent as a week ago a www.dsf.my reader who had an accident with their Proton X70 could not get a replacement front bumper and was advised to wait 2 months for the part to arrive. This is local assembled car with a vast pool of local parts manufacturers and so why is there an issue to get a replacement front bumper.
Various automotive bumpers have been made in Malaysia for years and this is not a high technology item like a computer chip or an engine part.
Meanwhile, the issue of long waiting time for exterior parts for the Proton X70 is not new to us at DSF.my. Over the past year we have managed to fast track parts for some readers who wrote in to us with long wait frustrations and also slow response from some Proton dealers.
We hope that the situation is looked at closely by the after sales team at Proton and Geely as this is not the right way to revive a brand.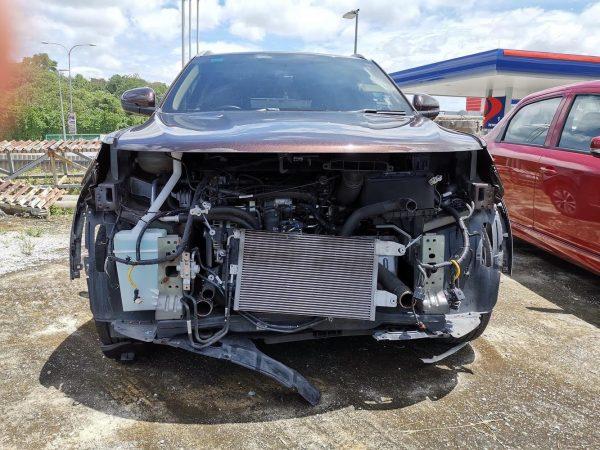 Proton X70 Drivetrain Specifications
Powering every local assembled Proton X70 is a 1.8-litre Turbocharged, Gasoline Direct Injection (TGDI) engine. For this Malaysian version, the torque has been boosted by 5 percent to 300Nm from 1,750 to 4,000rpm. Power remains at 184 PS at 5,500rpm and the gearbox is a seven-speed Dual Clutch Transmission (7-DCT). The combination results in a 13 percent improvement in fuel consumption and has been awarded the energy efficient vehicle (EEV) status by the Ministry of International Trade and Industry (MITI).
Proton X50 Flagship Drivetrain Specifications
Powering the local assembled X50 Crossover is a brand new turbocharged 3-cylinder petrol engine which is co-developed with Volvo Cars (Geely owns Volvo Cars) which is able to deliver a top speed of 200km/h. With an overall system output of 177bp and 255Nm of torque, this X50 sprints from 0-100km/h in just 7.9 seconds with a 7-speed 'wet' double-clutch transmission working smoothly.