Cars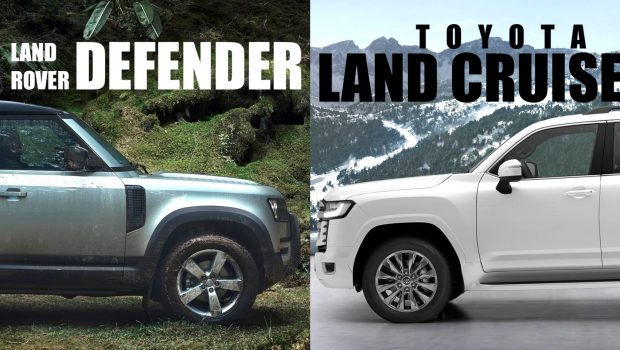 Published on August 19th, 2021 | by Subhash Nair
0
Why The New Defender Will Outsell The New Land Cruiser In Malaysia
New Land Cruiser or New Defender? Which legendary off-roader should Malaysians be more excited about?
By now, you may have already seen posts of the all-new Land Rover Defender being driven on Malaysian roads. It's true, the vehicle is being readied for a Malaysian launch soon. But it obviously will not be cheap. And it has another upcoming competitor to contend with – the Toyota Land Cruiser 300…
Historical Divergence
If you took a time machine back a few decades, there was a time when the Defender and the Land Cruiser were essentially competing vehicles. However, something happened in the 1980s that would change the trajectory of these two off-roaders forever.
For Land Rover, the Defender replaced the L110, which was slowly being displaced by the more reliable, more sophisticated Toyota Land Cruiser. At the same time, the Defender still had its niche as a simple off-roading tool that enthusiasts loved.
Land Rover made the decision to diversify its product offering with the Land Rover Range Rover, which had similar off-roading characteristics as the Defender, but with a more upmarket presence. Over time, the Range Rover with its unibody construction came to define the luxury SUV genre. However, the Range Rover became too large and expensive, so Land Rover launched the Discovery, which was seen as more utilitarian, but still of a similar pedigree.
Toyota's response to the changing times was to split their Land Cruiser portfolio up too. You had the Land Cruiser70 which directly took on the Defender as a basic, no-frills off-roader. But they also took the main Land Cruiser itself up a notch in terms of perceived quality and size. It became far too large for most roads outside of the United States and the Middle East, so a separate smaller, but just-as-capable Land Cruiser Prado range was born.
New Defender and New Land Cruiser: Are They Rivals?
Strictly speaking, not really. The new Defender is not quite as focused on rugged off-road simplicity as its predecessor. Where the last Defender was squarely up against the Land Cruiser70 models, this new one is targeted at a different market. The new Land Cruiser, however, is a direct successor to the last one. It's still built on a ladder chassis and still sports all the same practical Toyota off-roading gear. However, the inclusion of a hybrid system may also shun some traditionalists.
In terms of size and pricing, here's where the two land.
| | | |
| --- | --- | --- |
| | Land Rover Defender 110 (L663) | Land Cruiser (L300) |
| Wheelbase | 3022mm | 2850mm |
| Length | 5018mm | 4985mm |
| Width | 2008mm | 1990mm |
| Height | 1969mm | 1945mm |
Straight away, you can see that the 5-door Defender is larger than the new Land Cruiser in every metric. Even though it sports a very boxy look and short overhangs, the new Defender is actually quite a large SUV!
That being said the new Land Cruiser isn't that much tinier. The difference, percentage-wise between these two off-roaders is quite small and you may still think the Land Cruiser L300 look larger than the Land Rover Defender if you don't see them side-by-side.
What's the real reason why the Land Rover Defender will outsell the Land Cruiser in Malaysia?
I think we can chalk that down to a few reasons. We're not even taking into account how much more Jaguar Land Rover Malaysia has banking on this product, nor the lead time they have over Toyota in delivering these in customers' hands. In no particular order, here's what I think they are.
The Land Rover brand has much higher perceived value
Whether you buy into the luxury hype of Land Rover, it's impossible to deny that the brand is up there in the premium segment. It's what celebrities, politicians, oligarchs and all the other high flyers are seen in. While the Land Cruiser 'brand' is quite prestigious in some markets, many still see the Toyota badge as being too common.
Nobody will take these cars for serious off-roading
Both of these cars are going to be very expensive when they arrive here and it's highly doubtful the owners are going to be taking them on some serious off-roading expedition. Even the Land Cruiser with its ladder chassis, will likely be outfitted with some nice carpets and leather seats, not something you'd want to ruin.
Perhaps Toyota and Land Rover's local representatives will host private off-road driving experiences, but those will probably not tease out the most either car can offer.
The point is, the advantages in simplicity and robustness that the Land Cruiser L300 might have is lost when it comes to the actual buying crowd.
Engine displacement is too high on the Land Cruiser
Although this latest generation of Land Cruiser actually downsizes its engine, the displacements on offer are all between 3.3L and 4.0L. This jacks up the road tax a fair bit. While the 1% may not think twice about paying such exorbitant sums, the Defender might scoop in and steal a higher volume of sales.
That's because on top of the two other advantages above, the Defender is also being made available with a 2-litre turbo and a 2-litre hybrid powertrain. Yes there are larger displacements also available, up to 5-litre supercharged V8s, in fact. However, we feel that a mid-spec 2-litre Defender would find quite a number of upper middle class buyers in Malaysia.