Automotive
Published on November 1st, 2023 | by Sounder Rajen
0
Toyota Unveils FJ bruiser Concept For Off-Roading And Rock Climbing
Do you prefer the Toyota FJ Bruiser concept over the FJ Cruiser?
Get ready for a wild one as with the eagerly-anticipated return of the Land Cruiser SUV to the U.S. market, Toyota has paid homage to Land Cruiser's roots by creating the "FJ Bruiser," an unstoppable rock crawling beast that can go virtually anywhere. Would you choose this over something like a Jeep Rubicon?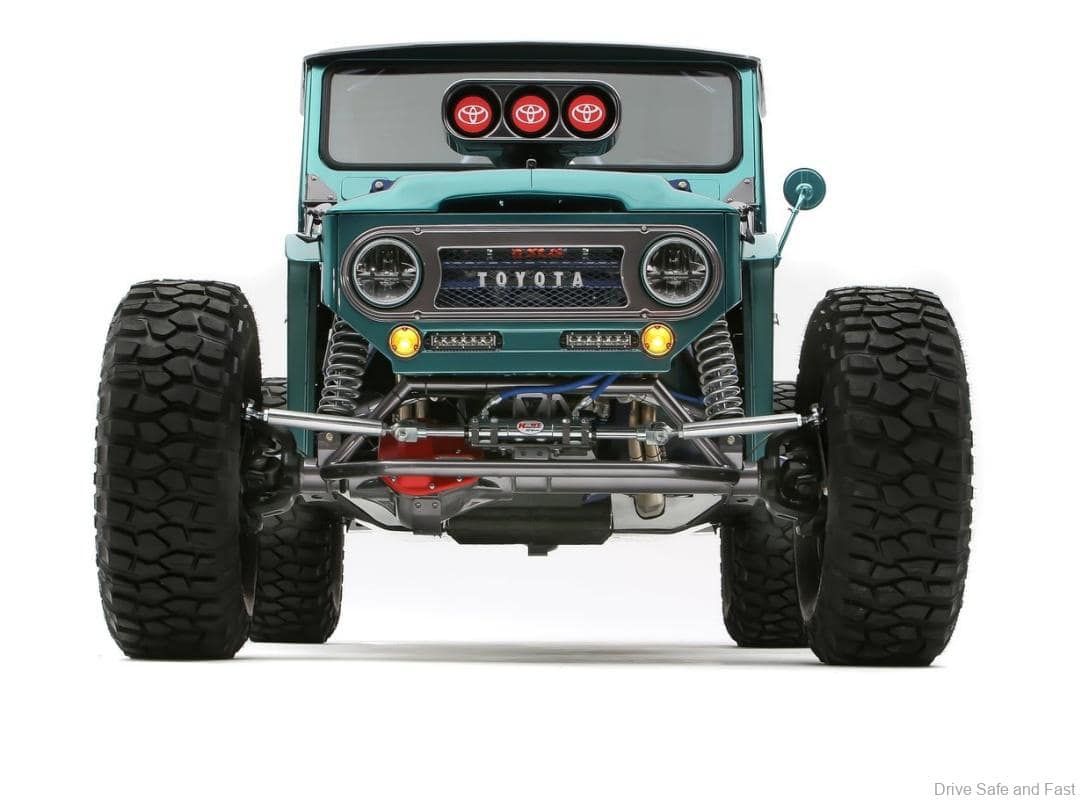 The first call Toyota got was to Toyota Racing Development in Costa Mesa, California. The FJ Bruiser needed more than just a loud bark to live up to its extreme performance mandate, so the team secured a modified version of Toyota's current TRD, 358 cu.in. V8 NASCAR Cup Car power plant, which produces 725hp.
Moreover, the FJ Bruiser concept features a MagnaFlow exhaust that delivers the engine's intimidating exhaust note, and power is transferred via a 3-speed automatic race-built Rancho Drivetrain Engineering transmission. In true old school brawn fashion, the Toyota FJ Bruiser remains a solid axle vehicle as well.
Purpose built to be "unstoppable," the drive line of the Toyota FJ Bruiser concept features front and rear Currie differentials and an Advanced Adapter Atlas transfer case that provides four 2WD speeds and four 4WD speeds. This setup allows the car to crawl at about 19km/h in the lowest gear and reach speeds of up to 267km/h.
To further enhance the "unstoppable" factor, Toyota replaced the center skid plate with a tank-like track system that can be used to power out of any high centered situation. The CAMSO track is controlled from the cockpit, without the need for the driver to find something to tie off the winch.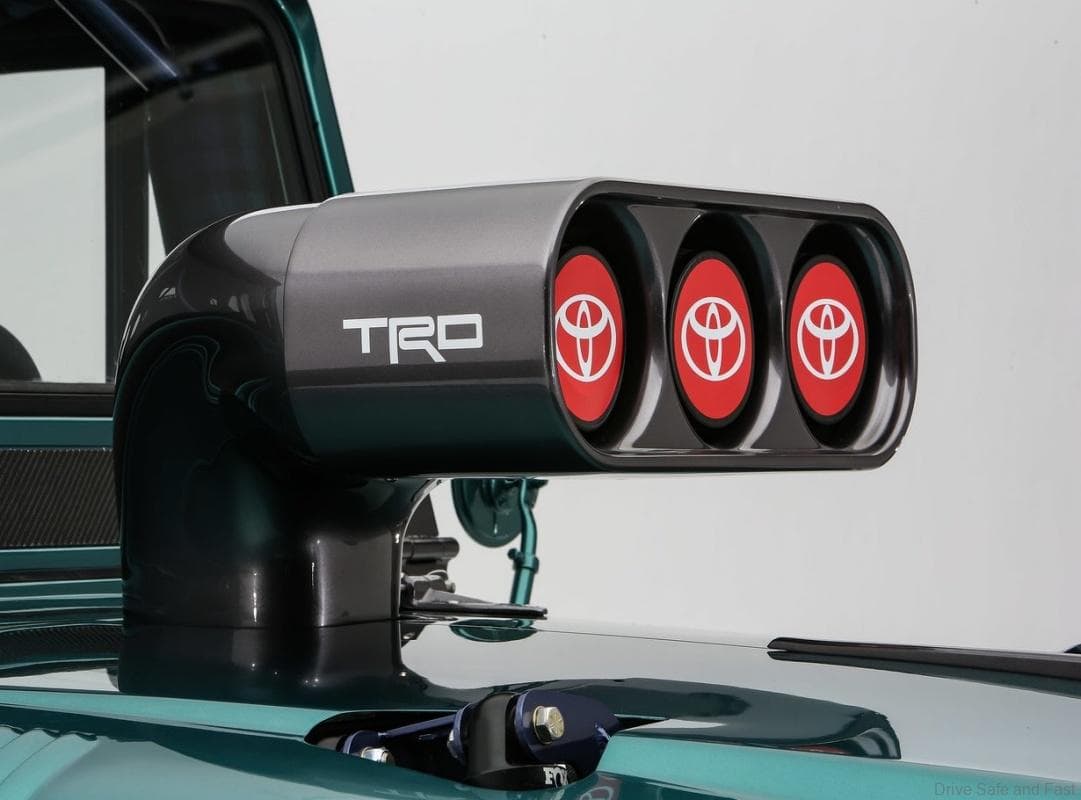 On top of that, Toyota also fabricated a full tube chassis and roll cage, then mated the body to the new, more rigid custom frame. Next they added a full trailing arm suspension with Fox shocks and Eibach springs. At the corners, 42-inch BF Goodrich Krawler T/A KX tires mounted to 20-inch Method Beadlock wheels.
What's more, Complete Customs worked with the team to outfit the interior. MOMO Daytona EVO seats were also reskinned in paint scheme-colored plaid, an homage to the Toyota FJ Bruiser's original plaid bench seat, along with a vintage 1968 Jackie Stewart championship steering wheel.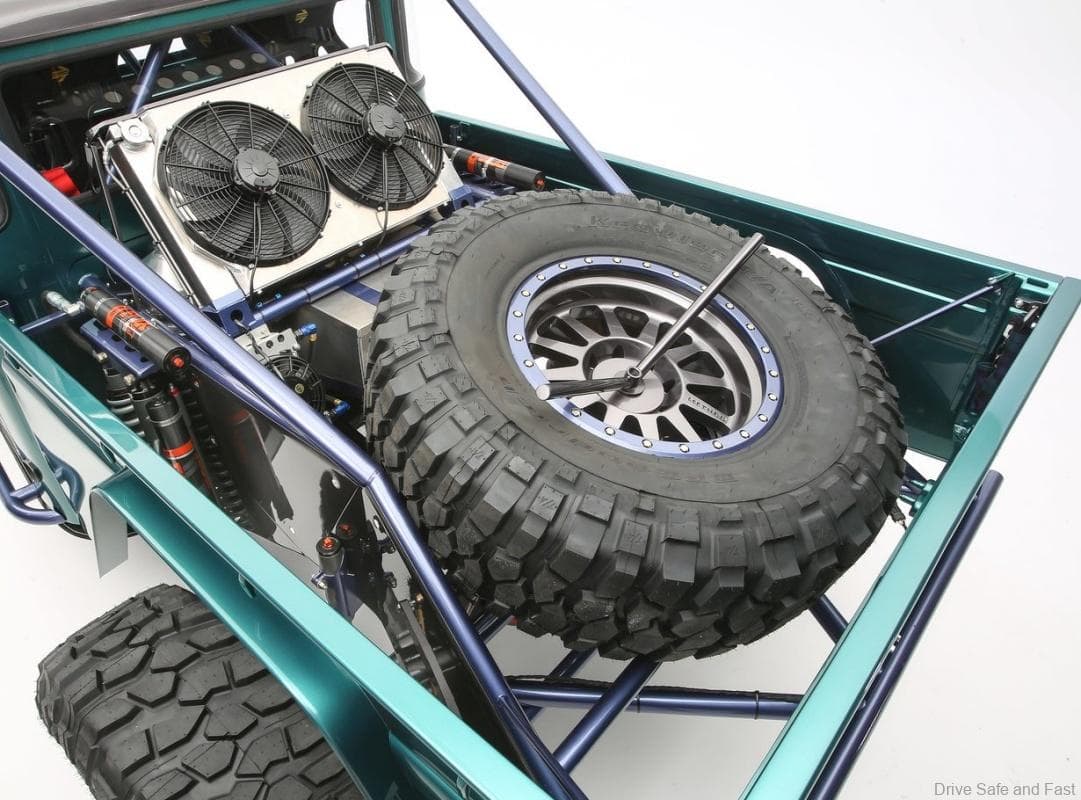 The combination of modern automotive technology with the classic looks of the Toyota FJ45 yields a vehicle worthy of its nameplate. What began life as a well-worn 1966 FJ45 pickup quickly turned into a ground-up concept ready to conquer the toughest terrain in the world. So would you choose this car as your default off-roader?