Cars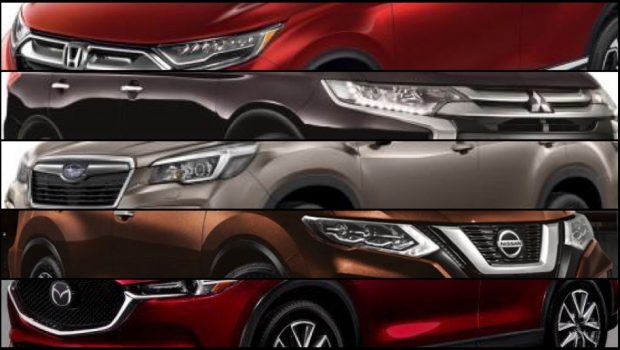 Published on September 17th, 2019 | by Subhash Nair
0
Mid-sized Japanese SUV Rough Buying Guide
Between RM145,000 and RM165,000 there are loads of options for Malaysians looking for a family-friendly Japanese SUV. There are essentially 5 options for you to look at in this price bracket:
Honda CR-V
Mazda CX-5
Mitsubishi Outlander
Nissan X-Trail
Subaru Forester
We're putting each of these up against each other and showing you what are their strengths and weaknesses. We will also make note of other unique selling points of each vehicle as none of these are really bad buys at all.
Strengths: The CR-V was one of the first Japanese SUVs to be pushed hard in the segment. Honda brought local assembly of this model quickly and has had the longest time to evolve the model. It has undergone the most evolutions of any of its peers here, and that gives Honda a little more experience than others in this segment. It's the widest car in its segment and makes very good use of interior space, delivering impressive legroom for rear passengers. The Honda CR-V also seems to have a proven record in terms of resale value.
Weaknesses: The CR-V's biggest weakness is that its top-spec variant with Honda Sensing costs more than RM160,000 and is probably aimed at pulling traditional full-spec Accord buyers. Some elements of its design may not appeal to some. The lighter 'wood-look' inlays and faux stitching inside stand out.
Strengths: The CX-5 took the market by storm when it debuted in the early 2010s. Now in its 2nd generation, this SUV remains quite popular, bringing mature design features, great dynamism and high perceived value. The CX-5's 2.0-litre engine is lean and powerful enough for most users and they got little things right that people who love driving will appreciate.
Weaknesses: The larger 2.5-litre naturally aspirated, 2.2 diesel, and upcoming 2.5-litre turbo are on the pricey side. If all-wheel drive is something you need, your only option is the diesel, which is not quite as light-footed as its petrol alternatives. This Mazda also has the smallest boot in this lineup.
Strengths: The Outlander is the underdog of the Japanese SUV collective but it's still a really solid SUV. Equipment-wise and dimensions-wise, the Outlander isn't too far off from its rivals. It actually drives rather well, and both the 2.0 and 2.4-litre provide enough power for the job. It also comes with 7 seats, which only one other SUV does in this group. Perhaps its strongest selling point is its price. A full-spec Outlander costs about RM15,000 less than many of its full-priced rivals.
Weaknesses: The Outlander is the only SUV in its segment without driver assistance systems and autonomous braking. Strangely, even with 7 seats, the Outlander doesn't have rear air con vents. It also sports a rather conservative design both inside and out, which makes the Mitsubishi Outlander look a little older than it actually is. Plus, the 2.4-litre engine is a bit on the thirsty side.
Strengths: The X-Trail is unique for a Japanese SUV. First off, it's the only SUV here that gives you this many variants under RM160,000. You can choose from a 2-litre, a 2.5-litre and a 2-litre with a Hybrid motor. That also makes it the only SUV in this class with a Hybrid variant, which makes it the most fuel-efficient in this group. The petrol-powered X-Trail models give you 7 seats to play around with, but the Hybrid is strictly a 5-seater with plusher rear seats. The X-Trail is comfortable, competent and well equipped for its price. It also comes with the largest boot in the segment. It also gives you driver assistance below the RM160,000 mark. An Around View Monitor makes it one of the easier SUVs to park.
Weaknesses: Unfortunately, some may find the rear seats in the petrol-powered X-Trail a little too small for practical use. These are tuned for family use and aren't the sharpest SUVs to drive hard if that's what you're looking for. And while the X-Trail does look more modern than the Outlander, it's still doesn't look anywhere near as futuristic as the Mazda CX-5 and Honda CR-V. The Hybrid powertrain also brings some concern for those looking at resale value.

Strengths: The recently launched Subaru Forester brings a lot of the things that made the previous model successful, but adds a better interior, technology and more. All three variants are priced below RM160,000 giving you driver assistance at a rather reasonable price. The Forester offers permanent, symmetrical all-wheel drive as standard. Its boxer engine and well put together chassis makes for a quiet and refined ride. It has the largest infotainment screen here at 8″.
Weaknesses: The Forester's engine may be smooth and refined but it just doesn't pack the punch of its Japanese SUV rivals, plus you can't opt for a more powerful engine. Its CVT and AWD system also make it a less fuel efficient than its peers. The Forester's Boxer engine is also a little more complex than some of its petrol powered peers, or is at least perceived to be. This might hurt it in the used car market, but Subaru's 5-year warranty ought to cover ownership concerns.