Cars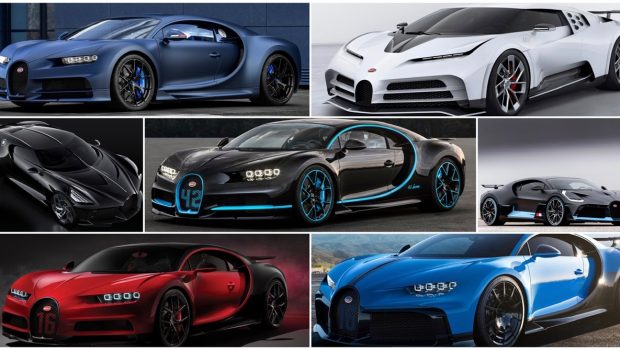 Published on April 20th, 2020 | by Subhash Nair
0
Understanding Bugatti's Model Lineup
Welcome to another edition of our 'Understanding' series. This time, we're explaining the luxury and supercar segments by explaining their current model lineup.
Last week, we covered Aston Martin and Bentley's current model lineups to get a better understanding of what those companies offer and represent. Today, we move away from British automotive luxury to what the French have to offer with Bugatti. To be completely fair, both Bugatti and Bentley are owned by Volkswagen AG, and I'm sure if you go into enough depth, you'll find a few common nuts and bolts between their vehicle. Regardless, let's find out about Bugatti's current model lineup.
Chiron
The Chiron is a 2-seater hypercar with an 8-litre W16 quad-turbocharged petrol engine. This engine was carried forward and updated from the most powerful variant of the Chiron's successor, the Veyron. The Chiron has been around since 2016 and only 500 will be made during its production run.
Actually that's it. Ever since Volkswagen took over, they've made sure Bugatti makes just one main model at a time in limited quantities. The Veyron was produced from 2005-2016 with major updates and new variants sprinkled throghout. With the current Chiron, there are also special editions with different designs and performance upgrades. These are, of course, more expensive, more rare and subjectively more interesting to look at.
Bugatti Chiron Pur Sport
Introduced in 2020
Only 60 will be made
Costs 3 million euros
New aerodynamics with more downforce
Lighter
Closer gear ratios
New tyres and wheel design
Bugatti Centodieci
Only 10 will be built
Made to evoke the EB 110's looks
Some performance upgrades
Bugatti Chiron Super Sport 300+
Made to break the speed record for series production car
Has a maximum speed of 490.484km/h
Only 30 will be made
Each costs 3.5 million euros
Bugatti La Voiture Noire
Pays homage to the Type 57 SC Atlantic Coupé
Only 1 made
Cost 11 million euros
Said to have the comfort of a luxury limo but we couldn't confirm this with a test drive
Bugatti Divo
Custom made for better downforce and lateral acceleration
More agile than the standard Chiron
Only 40 made
Costs 5 million euros per unit
Substantial design changes
Bugatti Chiron Sport
A sportier, more agile version of the original Chiron
Debuted 2 years after the Chiron
Costs 2.65 million euros each
Bugatti Chiron Sport 110 ans Bugatti
Only 20 made
Made to celebrate the brand's 110th anniversary
Based on the Chiron Sport
For other brands in this series: