Cars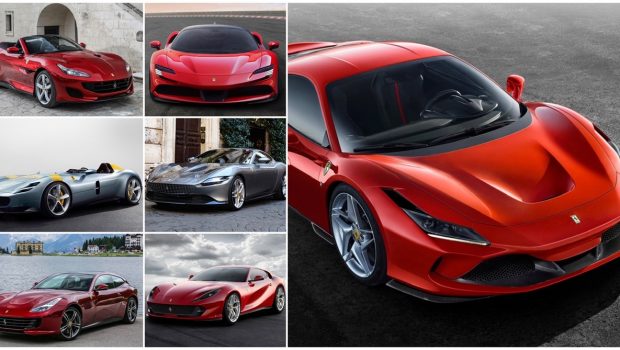 Published on April 21st, 2020 | by Subhash Nair
0
Understanding Ferrari's Lineup
We've been covering luxury and supercar brands over the past few days. Last week, we looked at Aston Martin and Bentley. Yesterday, we examined Bugatti. Today we finally get into one of the heaviest hitters in the supercar market – Ferrari. This is a brand that dominates public perception when it comes to supercars. But not all Ferraris are made equal. The brand, of course has loads of special models from the past. As we've been doing over the last few days, we're only going to be looking at their current portfolio to get a sense of what the company represents today and what its customer base is looking at.
There's no wrong way to look at this portfolio, but we think it's best to start at the bottom of the pile and stick to similar styled or related models.
Current Models
Portofino
This is Ferrari's entry level Grand Tourer, meaning that while it is fast, the company has traded a bit of performance for a bit of comfort and 'lifestyle' elements. The 3.9-litre V8 twin turbo petrol engine is mounted in front (though behind the front axle) and power is sent to the rear wheels through a 7-speed dual clutch transmission. There's seating for 4, but the front two seats are probably the only ones you'll see occupied in most Portofinos. The Portofino is also a convertible, with a retractable hard top. It is the replacement to the Ferrari California series of vehicles and was first shown in 2017.
| | |
| --- | --- |
| Wheelbase | 2,670 mm |
| Length | 4,586 mm |
| Width | 1,938 mm |
| Height | 1,318 mm |
| Kerb weight | 1,664 kg |
Roma
The Roma is sort of new for Ferrari, only being unveiled in late 2019. In recent memory, it's hard to find a V8 grand tourer with a front engine and rear wheel drive. It would be convenient to think of it as a coupé version of the Portofino, because it's built on the same bones but way too much has been changed for that to be true. Among the many changes include lightening its weight by over 200kg, using a faster 8-speed dual clutch transmission, upgrades to performance as well as completely overhauling the design.
| | |
| --- | --- |
| Wheelbase | 2,670 mm |
| Length | 4,656 mm |
| Width | 1,974 mm |
| Height | 1,301 mm |
| Kerb weight | 1,570.5 kg |
F8 Tributo
The F8 Tributo is what represents Ferrari in the mid-engined, V8 2-seater sportscar segment. This is where Ferrari delivers some real agility and power. They have been serving and defining this particular segment of cars since the mid 1970s. The F8 Tributo first showed up at the 2019 Geneva Motor Show as a replacement to the 488 Pista, though it carried the same powerful 3.9L V8 twin turbocharged engine. Power is sent to the rear wheels via a 7-speed dual clutch transmission. A convertible with a retractable hard top called the F8 Spider is available. The Spider has some lightened parts to make up for the roof folding mechanism's weight.
| | |
| --- | --- |
| Wheelbase | 2,650 mm |
| Length | 4,611 mm |
| Width | 1,979 mm |
| Height | 1,206 mm |
| Kerb weight | 1,435 kg |
SF90 Stradale
The SF90 Stradale is one of those unique Ferraris models that don't really have a successor, but rather exist to celebrate a significant milestone or introduce huge tech changes. In this case, it is meant to celebrate 90 years of the Scuderia Ferrari race team and it debuts a new aluminium+carbon fibre chassis. It was first shown in the middle of 2019. Like the F8 Tributo, it has a twin-turbocharged V8 that's mounted in the middle, behind the two occupants. This engine has been improved and enhanced in many ways, but more importantly, it is paired to 3 electric motors now, with a battery that can be charged by the user. Yes, the SF90 Stradale is an actual plug-in hybrid Ferrari sportscar with an all-electric range of 26km. The reason we're placing this special Ferrari here in the list (and not at the end) is to keep with the mid-engined V8 sportscar theme set up by the F8 Tributo.
| | |
| --- | --- |
| Wheelbase | 2,650 mm |
| Length | 4,710 mm |
| Width | 1,972 mm |
| Height | 1,186 mm |
| Kerb weight | 1,600kg |
GTC4Lusso
Ferrari makes a more passenger-oriented 'shooting brake' 3-door vehicle which is represented in this generation by the GTC4Lusso. It succeeded the FF in 2016, offering customers their coveted naturally-aspirated 6.3-litre V12 with 4 seats, and power being sent to ALL four wheels. Ferrari also offer a version of this car with rear-wheel drive and a smaller 3.9L twin turbo V8 (GTC4Lusso T).
| | |
| --- | --- |
| Wheelbase | 2,990 mm |
| Length | 4,922 mm |
| Width | 1,980 mm |
| Height | 1,383 mm |
| Kerb weight | 1,790 kg |
812 Superfast
The 812 Superfast was introduced in 2017 as the company's flagship grand tourer, replacing the F12berlinetta. This also has a V12 engine in the front, 2 seats in the middle, but power is sent to the rear wheels. No V8 or all-wheel drive options exist, however a convertible version of the 812 Superfast does exist (812 GTS), which is not something Ferrari usually offer for this flagship segment.
| | |
| --- | --- |
| Wheelbase | 2,720 mm |
| Length | 4,657 mm |
| Width | 1,971 mm |
| Height | 1,276 mm |
| Kerb weight | 1,744 kg |
Ferrari Monza SP
Ferrari recently began offering limited edition 'Icona' models that take inspiration from models from their heritage. The first of these is the Monza SP, which came in 2018 as a single-seater (Monza SP1) and dual-seater (Monza SP2). Only 500 or fewer will be made and they'll be based loosely on chassis and powertrain parts from the 812 Superfast, though the styling takes on a rather unique open-top speedster form.
| | |
| --- | --- |
| Wheelbase | 2,720 mm |
| Length | 4,657 mm |
| Width | 1,996 mm |
| Height | 1,155 mm |
| Kerb weight | 1,500 kg |
Ferrari also do one-off vehicles for special customers. They also have vehicles that are made specifically for motorsport which we shall not get into in this article.
For other brands in this series: