Cars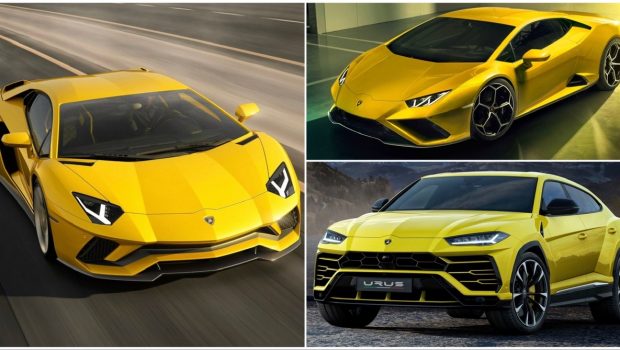 Published on April 23rd, 2020 | by Subhash Nair
0
Understanding Lamborghini's Current Model Lineup
We've been explaining luxury and supercar model lineups. We've covered everything from Aston Martin to Koenigsegg, and today our attention turns to Lamborghini. We're not going to tell you about the company's origin story or why the logo has a bull on it. We feel like the best way to understand the brand today is by looking at the vehicles they sell. This ought to shed a light on what segments they're targeting and who their main competitors are. So with Lamborghini, this is what their current lineup looks like.
Aventador
The Aventador is the current flagship of the Lamborghini brand. It's a 2-seater supercar with a mid-mounted 700hp V12 engine, a 7-speed single-clutch automated manual gearbox, and all-wheel drive. You'll sometimes see it referred to as the LP700-4 for this reason (Longitudinal Posteriore (location of engine) 700hp – 4 wheel drive). The Aventador was introduced in 2011 and is available as a coupé or roadster.
Today, the Aventador sold is a facelift (Aventador S, Aventador S Roadster, LP 740-4 S) with high-performance models also available (Aventador SVJ, Aventador SVJ Roadster, LP770-4).
Special editions of the Aventador include a windowless, roofless version of which only one exists (Aventador J), a version to celebrate Lamborghini's 50th anniversary, of which only 200 exist (Aventador 50° Anniversario, Aventador 50° Anniversario Roadster, LP 720-4), a very performance-focused version of the Aventador SVJ, of which only one exists (SC18 Alston)
Aventador-Based Specials
Lamborghini also used the Aventador platform to create a few unique models. Unlike the Special Editions mentioned above, these shed the Aventador identity and feature rather unique designs. Among these are the Sián FKP 37, a hybrid model set to be produced this year, the Veneno and Veneno Roadster also made to celebrate the brand's 50th anniversary, and the Centenario and Centenario Roadster, to celebrate the founder's 100th birthday.
Huracán
The Huracán was introduced in 2014 as a replacement to the Gallardo. Just like the Aventador, this supercar features a mid-rear mounted engine. However, it has a smaller V10 engine shared with Audi and a 7-speed dual-clutch transmission. In fact the car itself is made in an Audi factory, with final assembly happening in Italy. The Huracán sold today is the facelift model (Huracán Evo) which can also be bought with a convertible soft top (Huracán Spyder) or as a down-tuned, rear-wheel drive model (Huracán EVO RWD).
Urus
The Urus is the company's latest model and their first SUV since the LM002, which was conceptualized for military use back when Lamborghini wasn't doing as well. Lamborghini, like Bentley and Porsche are linked to Volkswagen Group and thus used a shared platform called the VWMLBevo to engineer their SUV. They also adapted a version of Audi's 4-litre twin-turbocharged V8 to power the vehicle. If the Bentley Bentayga spurred Rolls-Royce to create the Cullinan, Lamborghini's Urus might have been the reason why Aston Martin are going to bring the DBX to production this year. Right now, the Urus is the fastest accelerating SUV in production.
For other brands in this series: