Automotive
Published on December 28th, 2020 | by Amirul Mukminin
0
Another Ford Mustang Bites The Dust
It's always the Mustangs
If you're an avid follower of the motoring scene you're probably aware that the Ford Mustang is notorious for losing control and crashing, more often than not, while leaving car meets. Such occurrence is not only prevalent in the United States, where the Mustang is born, but also here in Malaysia.
What we have here is yet another example of a Mustang coming in contact with an inanimate object, which in this case, seems to be a highway noise barrier. We're not sure where and when this unfortunate incident took place but it most likely happened somewhere in the Klang Valley.
Judging from the two pictures we managed to obtain, the yellow Mustang suffers quite a substantial damage to its front bumper and hood, while the left front wheel is ruptured beyond repair. No other vehicles seem to be involved in this incident and the road looks dry in the picture, so the only logical explanation for this mishap is that the driver may have been overconfident in his abilities to tame the pony car. Or that he was trying to avoid an errant motorcyclist.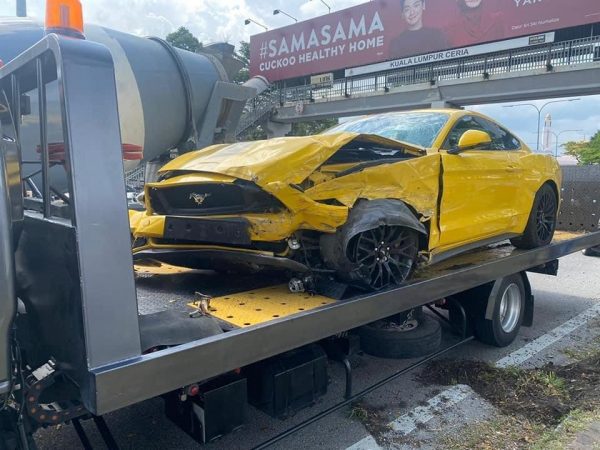 Whatever the reason is, keep in mind that the Mustang is a rear-wheel drive (RWD) sports car and like any other RWD sports cars, it tends to go sideways especially when the driver is not cautious enough with the steering and throttle inputs. The Yellow Tri-Coat shade and Y-spoked wheels indicate that the Mustang involved in this accident was a GT, which has a 5.0-litre V8 mill sending 416 PS and 530 Nm to the rear wheels.
In today's world where an A-Class runs around with 421 PS on tap, the horsepower and torque figures of the GT may seem unremarkable to some but with 100% of the output channelled to the rear wheels, there is no question that the Mustang could be a bit of a handful in the hands of an inexperienced driver.
So, to all Mustang owners out there, take it easy the next time you get into your car. The emotive sound of the V8 engine may tempt you to abuse the throttle pedal but remember that it's not worth the bruised ego you'll end up with after crashing your prized Mustang.