Cars
Published on May 6th, 2020 | by Subhash Nair
0
Understanding Luxury and Performance Car Brands
Throughout mid April, we picked apart the current and upcoming portfolios of most luxury and performance car brands out there. Today, I'd like to discuss a few things I learnt while doing this, as well as a few things that guided me.
Luxury Floor
For the sake of convenience, I have 5 broad categories of car brands: Local, Japanese Mass Market, Non-Japanese Mass Market, Premium and Luxury/Performance. You can probably guess where each brand lies in that spectrum, but how do I differentiate between 'premium' and 'luxury'. Well I start with the 3 brands that define 'premium' – Audi, BMW and Mercedes-Benz. I look at their core models, their pricing and see which other brands have direct competitors. That brings us to Lexus and Volvo. Then I look at who else wants a piece of the pie but is either too new or struggling – which gives me Infiniti, Alfa Romeo, Tesla, Jaguar, DS, Genesis and let's throw Land Rover in for being closely related to Jaguar. You'll notice that just about every single one of them rely on a tight nomenclature system. Click on each of their brand to go the nomenclature guide that I've written.
The distinction here is the need to compete on tangible grounds. Premium brands (eg. Lexus) are not quite as affordable as mass market brands (eg. Toyota). They offer both tangible (eg. higher powered engines, more tech and equipment) and intangible (eg. design, association with brand values) values for customers. However, unlike Luxury cars, premium brands have a lot of competition to deal with on the tangible side especially. Enthusiasts are constantly comparing specifications, driving feel, build quality, comfort and more between models in this segment.
I decided to lump two outliers here – Lotus and Maserati. That's because Maserati sells the Quattroporte and Ghibli, that go up against core vehicles in the premium segment. Upon inspection, I realised that Maserati only equipped those vehicles with V6 and V8 engines. This indiciates that they're not trying to hit the kind of entry level market one might find a base model E-Class in. That, and the fact that many of their engines are of Ferrari design convinced me that Maserati had done enough to belong on this list.
Lotus on the other hand had managed to keep itself relevant despite an aging lineup and slow sales. Their future under Geely looks bright and the brand draw is still quite strong.
Luxury Ceiling
Once those have been isolated, I think about every car brand that offers something relatively new and expensive. Of course that list is pretty long. I chose to cut my list off at Koenigsegg. Pagani almost made the list, but when I took a closer look at their current lineup, I decided against it, as it would have opened up the list to a hundred other boutique car builders. After some discussion, I've decided to leave out Bugatti and Koenigsegg from this list and analyse them separately in a boutique builder list.
The List:
Who's Fighting Who?
In automotive journalism, there's a lot of talk surrounding each brand, their heritage and legacy. While I have my own personal interest in that, I tend not to dwell on those matters. I want to know how a certain brand is functioning today by looking at the products they sell. Once you know what products they sell, you can gauge who their competitors are, perhaps what their customer base is looking at. So, that list I mentioned above does kind of look like a mess of expensive car brands in its original form. But it can be broken down into competing segments with some degree of overlap.
Opulence
Both are British brands. Both used to be closely related. Both now belong to German automotive groups. These luxury brands have a few other things in common:
Large cars
Large displacement engines
An emphasis on luxury lifestyle
Bentley has shown a greater willingness to try new things and have bean faster than Rolls Royce to 4 fundmental shifts: introduction of a more practical limo/willingness to share platforms (Flying Spur vs Ghost), introduction of cheaper engines (W16 and V8 models vs only V12 models), introduction of SUV (Bentayga vs Cullinan), substituting larger limo with more practical limo (No Mulsanne replacement versus Phantom Series VIII). To be fair, in this segment, the way Rolls Royce does things has its advantages too. Greater exclusivity, keeping traditions alive, sticking to values – these are all old world values that resonate with the brand.
Luxury Performance
Bentley features here again because some of their vehicles are performance-oriented and they continue to push themselves in the motorsport scene. They even sold a Continental GT3 for the road at one point. They even made it a point to set a hill climb record when they launched their Bentayga SUV.
Practical Performance
Maserati
Porsche
Aston Martin
Maserati offer 2 V6-powered sedans (Ghibli, Quattroporte) that go up against mid-to-high range Benzes and Bimmers. They've also got an SUV (Levant) for those with a family to move around. This makes them one of the few brands to offer daily drivable vehicles. Even their more performance-oriented vehicles don't compromise too much on luxury lifestyle aspects, though they have made track-focused vehicles and variants in the past. The bulk of their products are aimed at practical luxury performance.
Porsche have a compact SUV (Macan), a mid-sized SUV (Cayenne), a 5-door liftback/wagon (Panamera) and a 4-door electric sedan (Taycan) that make daily commuting with supercar power a doable task. They even offer their smallest SUV with a 4-cylinder turbo engine. It shows the brand is willing to cater to those looking for everyday performance and luxury. Most variants of the models mentioned above are built on shared and enhanced parts from VW Group to ensure high benchmarks for quality, performance and mass production are met.
Aston Martin only have one foot in this segment at this point. Their Rapide is a 4-door sports saloon that's rapidly aging. But it's worth pointing out that their grand tourer model (DB11) is a little more comfort oriented than an all-out supercar. They also have an SUV in the works (DBX).
Lifestyle Performance
Porsche
Aston Martin
Lamborghini
Ferrari
McLaren
Fundamentally, the image of Porsche in the public eye has been defined by cars like the 911, Cayman and Boxster (today known as the 718 models). These models are performance-focused, but most variants have loads of luxury and tech. They also retain a strong lifestyle aspect, making them accessible to owners who wish to be associated with the brand without being speed obsessed drivers themselves.
Aston Martin have a more performance-oriented version of their DB11 called the DBS Superleggera. Upcoming models like the Valhalla shows that the brand has ambitions to shift their product line from practical performance to this segment. They've also shown some interest in moving into the lean performance category with cars like the Valkyrie, but this has yet to materialise.
Lamborghini have recently released an SUV called the Urus, which might make you think that they're willing to move down to Practical Performance territory. And while this might become true in future revisions of the Urus, we're still reluctant to say the brand image has shifted in that direction by much. In the public eye, Lamborghini is still known for their V10 and V12 supercars (Huracan and Aventador) and still relies heavily on one-offs/spin-offs based on these models to build their image.
Ferrari is practically dominant in this segment. In recent years, models like the California, Portofino, Roma and their upcoming SUV show an indication that the company is willing to move into practical performance territory. However, they've yet to put out smaller displacement V6 models, nor have 4-door models made it to their lineup yet. Ferrari's image as a performance brand comes from their motorsports success, as well as their one-offs/limited production supercars and hypercars. This trickles down to help move lifestyle flagships like the 812 Superfast and GTC4Lusso and more agile and performance-oriented mid-engined cars like the F8 Tributo and SF90 Stradale.
McLaren may have kept itself in the public eye for decades, but McLaren Automotive is actually a relatively new venture. Since the MP4-12C, the company has been refining and expanding their formulaic V8, carbon-tubbed, mid-engined range of supercars to cater to lifestyle performance, track focused, and even collector oriented buyers.
Lean Performance
Ferrari
Porsche
Lotus
McLaren
Koenigsegg
It would be unfair to say Ferrari's image is not associated with highly performance oriented machines. Right now though, this is slightly lacking. The last time they sold cars in this segment was with the FXX-K. However, they continue to straddle the line here pretty well, with variants of their mid-engined models often ditching occupant comfort for performance gains. This is not their bread and butter though.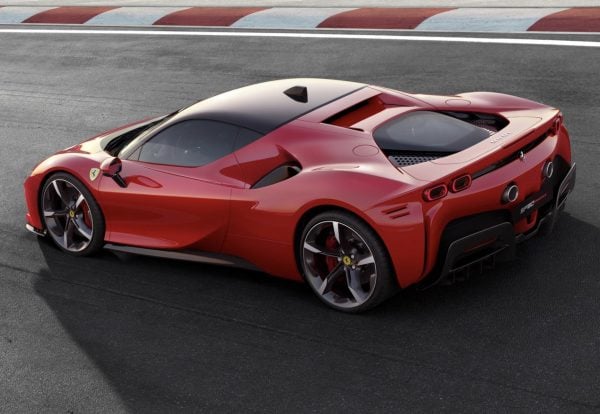 Porsche seem to show a willingness to dip its toes in this category. The 911 GT3 RS and GT2 show the true track capabilities of the model. That being said, this also isn't the bread and butter of Porsche.
It's a bit silly to put Lotus up here and say they take lean performance more seriously than Porsche and Ferrari or any of the other brands not in this category. But we would argue the Lotus flavour of lean performance is still true in a sort of traditionalist sense. Instead of focusing on high power, lifestyle elements, technology, or even passenger comfort, Lotus products are largely kept focused on being fast around a corner. The upcoming Evija hypercar builds on that image but finally has tech and passenger comfort in mind thanks to Geely capital.
McLaren is probably the best fit for this segment. Every one of their current products is mid-engined, has a twin turbo V8, is rear-wheel driven and has a carbon fibre chassis. Some models try and creep toward more lifestyle performance (GT, 570GT). However, unlike Lamborghini and Ferrari, they haven't any plans for an SUV. If anything, the company is more willing to make collector-edition and track-focused variants or models than to make more practical cars.